Yi-Sung Oliver Ho is a Toronto-based writer and editor. His writing has appeared in a number of literary journals and individual comic stories appeared in Toronto Comics Anthology, Vol. 1 and Vol. 2. Under the name Oliver Ho, he wrote about a dozen juvenile works for Sterling Publishing including works on card games, card tricks and magic games and literary classics adapted for young readers. Titles include The Adventures of Huckleberry Finn (2006), The Call of the Wild (2005), The Three Musketeers (2006), The Red Badge of Courage (2006), The Man in the Iron Mask (2008).
Poetry
Counterfeit Skin: Poems
[Place not named]: Oliver Ho, 2012.
Publisher's Synopsis
Meditative, playful and strange, the poems in Counterfeit Skin blend three distinct identities.
There are observational poems, deeply aware of lineage and history, friendship and family, travel and inhabitance, and the struggle to be a self tugged in many directions. Then there are poems by an often awestruck lover, who spurs the imagination on to confess love as a cephalopod but also fears what's unsayable in love, what love forgets to say until it's too late. Finally, there are poems that marvel at peculiar cultural artifacts, from kung fu and cartoons, to comic books, magic shops and post cards.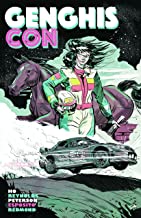 Fiction (Graphic novel)
Genghis Con
[Place not named]: Genghis Comics, 2020 [i.e. 2021].
Distributed by Renegade Arts and Entertainment.
Co-writer: Daniel Reynolds.
Art: Chris Peterson.
Lettering: Taylor Esposito.
Publisher's Synopsis (From Renegade Arts and Entertainment website)
Genghis Con is the story of guilt-ridden grifter, Alexis, who seeks redemption for herself and justice for her sister, Abigail, by taking part in a win or die rally race from England into the mountains of Mongolia. Along the way, she must team up with her erstwhile lover and fend off attacks from parties unknown, including one particularly ruthless gangster. Meanwhile, the spirit of a mysterious Mongol warrior haunts Alexis on her journey.
Awards and Honours
2022 Graphic Novel of the Year (Alberta Book Publishing Awards) (Finalist)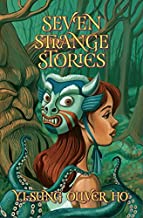 Fiction (Graphic Short stories)
Seven Strange Stories
Art by Brice Hall, BC Holmes, Tuhin Giri, Rina Rozsas and Christopher Yao.
[Place unnamed]: Oliver Ho, 2016.
Publisher's Synopsis
These tales take you on a weird voyage from the bottom of the ocean to the moon and beyond!
Experience bizarre visions that include surreal ghost trees taking over Toronto, Chinese demons haunting the Yukon gold rush, silent film stars battling aliens in outer space, and a futuristic floating girl breaking free with her Ziggy Stardust cyber-rabbit!