J F Garrard is a Chinese Canadian editor, novelist, writer of speculative fiction and founder of Dark Helix Press, an indie publisher that specializes in multicultural fantasy, science fiction, and "raw non-fiction." She is interested in increasing awareness of diversity issues and breaking down cultural stereotypes through her dark stories. Garrard was born in Toronto and earned bachelor degrees in Nuclear medicine (University of Toronto) and Biology (University of Waterloo) prior to earning an MBA in Marketing and Strategy at York University. Garrard currently serves as a Marketing Consultant on the Editorial Board for Ricepaper Magazine. She co-edited, with Jen Frankel, an anthology of new writing from around the world entitled Trump: Utopia or Dystopia. With Allan Cho, Dawn Chow and Silvia Leung, Garrard edited the third volume in Ricepaper Magazine Books series, Belief.
Fiction
The Undead Sorceress
Toronto: Dark Helix Press, 2014.
Series: The International House of Vampires ; v. 1
Publisher's Synopsis
Ever since Tamara became a vampire, things have gone downhill. Her grandmother runs off with her daughter's soul and her husband thinks she is going crazy. Caught in the middle of a war between vampires, sorceresses and warlocks, she discovers an alternative history to the world she thought she knew.
This fantasy adventure is a bittersweet tale about dealing with devastating choices, filial responsibilities, betrayal, redemption and finding the strength to carry on when it seems like there is no future.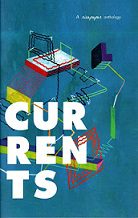 Anthology (Poetry)
Currents: A Ricepaper Anthology
Vancouver: Ricepaper Magazine/Asian Canadian Writers Workshop, 2017.
PS8235 .A8 C87 2017
Garrard, JF. "Three Microaggressions." In Currents, A Ricepaper Anthology, edited by Karla Comanda, Leila Lee and William Tham. Vancouver: Asian Canadian Writers Workshop, 2017, 44-45.
Non-fiction
The Literary Elephant: The Beginner's Guide to Indie Publishing
Toronto: Dark Helix Press, 2015.