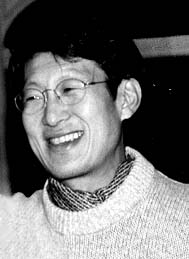 Poet and text-sound performance artist, editor and prose-writer, Gerry Osamu Shikatani has also worked as a writing instructor, broadcaster and journalist specializing in gastronomy and sports. Born in Toronto to Japanese-Canadian parents, Shikatani now divides his time between Ontario and the Spanish province of Granada. Shikatani studied religion at the University of Toronto. His creative activities extend to film as both a documentary filmmaker and as a performer in Phillip Hoffman's experimental film Opening Series.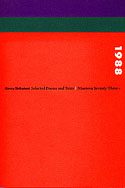 Poetry
1988: Selected Poems and Texts, Nineteen Seventy Three-1988
Toronto: Aya Press, 1989.
PS8587 .H53 N56

Poetry
Aqueduct
Toronto: The Mercury Press : Underwich Editions : Wolsak and Wynn Publishers, 1996.
Publisher's Synopsis
On cover: Poems and texts from Europe 1979-1987.
Poetry (Chapbook)
Barking of Dog
Toronto: The Missing Link Press, 1973.
Poetry
The Book of Tree, a Cottage Journal
Toronto: Underwich Editions, 1987.
PS8587 .H53 B66 1987
Author's Note (from p. 38)
"In the winter of 1984, I spent a week at my friend's family cottage near Gravenhurst in the Muskoka vacationland area of Ontario. During the week — snowshoeing across that white pine-covered landscape, and then relaxing indoors in the repose style common to all cottagers, I wrote this journal."
Poetry
End of April
Toronto: CURVD H&Z, 1983.
Limited ed. of 45 signed copies..
Poetry
Haliburton
Toronto: The Missing Link Press, 1975.
Poetry
Language: Voice Hitting the Form (After an Observation by Rosalind Goss) From the Eastern White Pine Language Project #1
Toronto :Curvd H&Z, 1983.
Limited ed. of 100 copies.
Poetry
Mortar Rake Glove Sausan Broom Basin Sansui : First Book, Three Gardens of Andalucia
The Capilano Review, s. 2, no. 39/40 (winter/spring 2003):1-188. [The complete issue features poetry and photographs by Shikatani.]
Poetry
Our Nights in Perugia
Toronto: No hPress, 1983.
Limited ed. of 100 copies
Poetry
Q Tangent 4
Toronto: Curry, 1991.
Limited ed. of 100 copies.
Poetry
Ship Sands Island
Toronto: Ganglia Press, 1978.
Concrete poem.
Limited ed. of approx. 150 copies.
Poetry
A Sparrow's Food: Poems 1971/82
Drawings by Rosalind Goss.
Toronto: Coach House Press, 1984.
Publisher's Synopsis
[Shikatani] presents the major gathering of the full range of his work– experimental, visual & traditional. A craftsman with a particular ear for silence, Shikatani's poetry is rooted in compassion, in an attention to, & a respect for, life as it is actually lived.
Anthology (Poetry)
The House Poets: Eight Toronto Poets
Jewinski, Hans, ed.
Toronto: The Missing Link Press, [1974].
PS8292 .H7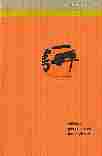 Anthology (Poetry)
Paper Doors: An Anthology of Japanese-Canadian Poetry
Shikatani, Gerry and David Aylward, eds. Translations by David Aylward.
Toronto: Coach House Press, 1981.
PS8283 .J3 P3713 1981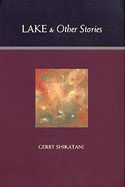 Fiction (Short Stories)
Lake & Other Stories
Stratford, Ont.: Mercury Press, 1996.
Publisher's Synopsis
In these beautiful, sensuous stories about Japanese-Canadian life and family history, Gerry Shikatani explores, with a fine, enamoured eye, a man in the middle of life, looking both forward and backward.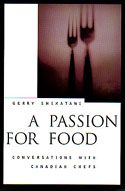 Non-Fiction
A Passion for Food: Conversations With Canadian Chefs
Toronto: Mercury Press, 1999.
Publisher's Synopsis
In this book, 12 leading chefs in three Canadian cities share their ideas and feelings about food, with intimacy, insight and humour.