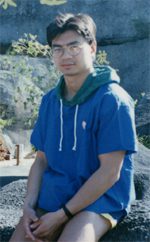 Weyman Chan's parents immigrated to Canada from the Toi San district of Guangdong province in China. Chan was born in Calgary, Alberta and he continues to live there. He has published poetry and short stories in a variety of literary journals and anthologies. In 2002, he was awarded a silver prize in the poetry category of the National Magazine Awards for his poem "At work", that appeared in The Capilano Review. Chan was awarded the 2021 Latner Writers' Trust Poetry Prize that honours a writer in mid-career who masters the poetic form. His poetry chapbook Isobars was published by Calgary's Loft on Eighth Press in 2017 as part of its "Inner City Stories" series.

Poetry
Before a Blue Sky Moon
Calgary, Alta.: Frontenac House, 2002.
(Series: Quartet 2002)
Publisher's Synopsis (From its website)
Before a Blue Sky Moon deals with themes of childhood, displacement, loss and redemption both spiritual and secular, the meaning of personal love, and at the same time gives us stunning and magical insights into a Chinese Canadian family.
Awards and Honours
2003 Stephan G. Stephansson Award for Poetry–Alberta Literary Awards (Writers' Guild of Alberta) (Winner)

Poetry
Chinese Blue
Vancouver: Talonbooks, 2012.
PS8555 .H39246 C45 2012
Publisher's Synopsis (From its website)
Drawing on more than two thousand years of ancient Chinese tradition that present diverse philosophical modes of being, whether it be the spiritual teachings of Kong Zi or Lao Tzu, the military dicta of Sun Tzu or the complex sensibilities expressed by poets such as Ssu-ma Hsiang-ju, Li Bai, Du Fu and Wang Wei in the wake of a tumultuous imperial government, Weyman Chan restates these concerns of the past while addressing other "first world problems" in our own contemporary era.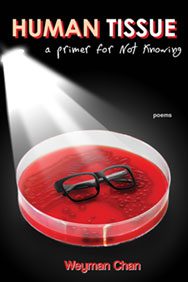 Poetry
Human Tissue: A Primer of Not Knowing
Vancouver: Talonbooks, 2016.
PS8555 .H39246 H85 2016
Publisher's Synopsis (From its website)
These poems try to get along with each other – but can't. The series of poems titled "Parables for Frankenstein", traces the socialization and making of a prototype misfit. "Panic Room", is a series of poems about a loner whose isolation at a house party starts taking a sinister turn. "Unboxing the Clone" deals precisely with the simultaneous interpenetration of terms that bombard the conscious moment to reshape the life that's being lived out – a kind of proprioceptive kaleidoscope. Alienation arises from all the failed language-registers of our technocratic society, which continue to defy our powers of decryption. What's a monster to do?
A recurring motif throughout the book is the overarching empty universal space surrounding life's not-knowing. If we think too hard on it – why the statistical fluke that puts us here on this ball of dirt – we'll have a stroke. Instead, read these poems.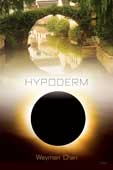 Poetry
Hypoderm: Notes to Myself
Vancouver: Talonbooks, 2010.
PS8555 .H39246 H96 2010
Publisher's Synopsis (From its website)
The idea for this book, says Weyman Chan, is simple—approach the world as metaphor, and it will come to you. Subtitled "notes to myself," Hypoderm is a manifesto of observations, intimations and recognitions of mortality that get under the poet's skin—that remind the reader that poetry is documentation and speculation, not a sentimental fabrication of the rapture (rupture) of our "end times."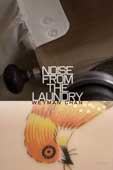 Poetry
Noise From the Laundry
Vancouver: Talonbooks, 2008.
PS8555 .H39246 N63 2008
Publisher's Synopsis (From its website)
As Weyman Chan crafts words for his stratified layers of landscape across space and time, a path is made for the reader to follow. Beneath the narrative foliage of Chinese pre-history, family stories of love and survival, and wanderings from the compass point of the conventional, our sage "teaches all / and leaves none out"—what it takes to enter this new world is our willingness to travel with some unlikely spirit guides: a five-thousand-year-old, elixir-wearied Lunar rabbit; an old man who wears the sun's countenance; a microscopist in search of constellations in the illusion of darkness beyond death.
Awards and Honours
2008 Governor General's Literary Awards–Poetry (English) (Finalist)
2009 Stephan G. Stephansson Award for Poetry–Alberta Literary Awards (Writers' Guild of Alberta) (Finalist)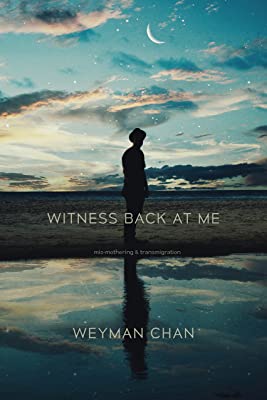 Poetry
Witness Back at Me: Mis-mothering & Transmigration
Vancouver: Talonbooks, 2022.
Ordered
Publisher's Synopsis (From its website)
Drawing on biology, myth, ecology, and the anthropocalypse, Weyman Chan's poetry interrogates fear's flight from embodiment and one soul's struggle to stake everything on what makes us human.
Suffused with a collage-like immersion of stream-of-conscious voices, Witness Back at Me parallels Chan's childhood loss of his mother to breast cancer with the loss of his Two-Spirit Métis friend and mentor, writer Sharron Proulx-Turner.
This book's metanarratives reach way back, then return us to our shared history of a broken world, made anew. The biography of the land, always the land, must be listened to. Only the keepers of that humility will source our not-knowing and teach us how to be.