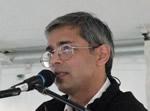 Musharraf Ali Farooqi was born in Hyderabad, Pakistan and lived for a time in both Toronto and Karachi. He has translated some major Indo-Islamic works into English and also writes in English for both adults and children. He founded the publishing house Kitab in 2012.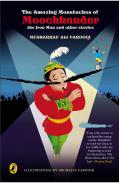 Fiction (Juvenile, Chapter book)
The Amazing Moustaches of Moochhander the Iron Man and Other Stories
Illustrated by Michelle Farooqi.
New Delhi: Puffin/Penguin Books India, 2011.
Publisher's Synopsis (From its website)
Welcome to the wonderful world of Moochhander the Iron Man, whose moustaches can do just about anything. They can lift weights and pull cars; they can be tied to the circus dome and used to swing in the air without a trapeze. But will they be able to console poor Moochander when he is sad and lonely?
You will also find in this book a giant baker who makes giant buns and cakes that will make your mouth water; a wicked monkey who interrupts a wedding by stealing the bride; and a little piglet who solves the case of the missing piglets.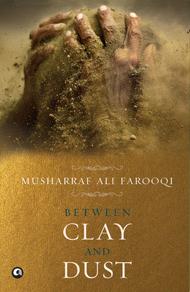 Fiction
Between Clay and Dust
New Delhi, India: Aleph Book Company, 2012.
Calgary: Freehand Books, 2014.
Publisher's Synopsis (From Aleph Book Co. website)
In an old ruined city, emptied of most of its inhabitants, Ustad Ramzi, a famous wrestler past his prime, and Gohar Jan, a well-known courtesan whose kotha once attracted the wealthy and the eminent, contemplate the former splendour of their lives and the ruthless currents of time and history that have swept them into oblivion.
Awards and Honours
2012 Man Asian Literary Prize (Finalist)
Fiction (Juvenile, Picture book)
The Cobbler's Holiday or Why Ants Don't Wear Shoes
Illustrated by Eugene Yelchin.
New York: Roaring Brook Press, 2008.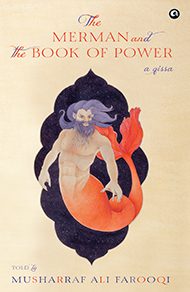 Fiction
The Merman and the Book of Power: A Qissa
New Delhi : Aleph Book Company, 2019.
Synopsis (From Farooqi's website)
The Merman and the Book of Power brings into the English the classical qissa genre, a fabulist storytelling form. The book begins with the Mongol conquest of Baghdad in 1258. The city are convinced they are the manifestation of the creatures of Apocalypse, Gog and Magog, imprisoned by the legendary King Alexander. A year later, when the city gates open to allow a strange creature—half man, half beast—caught by Mediterranean fishermen, fresh rumours begin to circulate. Is Gujastak the Merman one of Creation's marvels or an ill omen whose appearance signals the Apocalypse? In parallel to the Merman's story is the story of a talismanic book discovered by a Caliph that confers diabolical powers on the one who possesses it. The qissa comes to glowing life as it spins a tale of magical creatures, ill-starred lovers, and the phenomena that might bring the world to its end.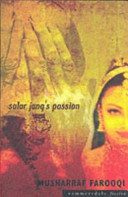 Fiction
Passion in the Time of Termites
New Delhi: HarperCollins Publishers, India, 2001.
This editions may have appeared under the title: The Time of the Termites.
Published in the UK under title: Salar Jang's Passion.  (Chichester: Summersdale Publishers, 2012)
Publisher's Synopsis
The sleepy Indian town of Purana Shehr trundles along in a round of petty arguments over tea and frustrated fantasies. Until, that is, the arrival of the termites. As the pests set to with their pincers, Purana Shehr flounders in Shakespearian farce in the heat of post-monsoon India.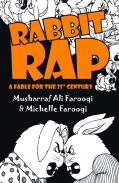 Fiction (Juvenile)
Rabbit Rap: A Fable for the 21st Century
Illustrated by Michelle Farooqi.
New Delhi: Viking/Penguin Books India, 2013.
Publisher's Synopsis (From its website)
In an age when rabbits live in happy freedom from their natural predators and are busy violently taming Nature, some of them seek to do away with warren dwelling, and liberate themselves from the old ways. They find a true believer in Rabbit Hab, an enterprising head rabbit. As the ambitious Hab presses forward with his futuristic vision, he must contend with opposition, sabotage, and dirty double-dealing from some unlikely quarters.

Fiction
The Story of a Widow: A Novel
Toronto: Knopf Canada, 2008.
PS8611 .A76 S86 2008
Publisher's Synopsis
In a neighbourhood in Karachi, a recently widowed mother of two grown daughters is trying to settle into her new life. Things take an unexpected turn when the mysterious Salamat Ali becomes a tenant at her neighbour's house. Mona is quite flummoxed by him, and a series of encounters leaves her uncertain as to what his intentions are towards her. …
Awards and Honours
2010 DSC Prize for South Asian Literature (Finalist)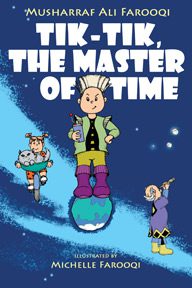 Fiction (Juvenile)
Tik-Tik, the Master of Time
Illustrated by Michelle Farooqi.
Pakistan: Kitab (Pvt) Ltd./Red Turtle, 2012.
Synopsis (From Farooqi website)
Tik-Tik lives on the planet Nopter, where the slowness of growing up troubles him, so he embarks on a cosmic journey of discovery with his best friend, Nib-Nib; his grandpa Kip-Kip; and the inter-galactic traveling cat, Dum-Dum. The Growing-Up-Project takes the four of them to the small blue planet, Earth, where amazing, and sometimes hilarious adventures await them. But will Tik-Tik find there the solution to his problem?
Selected Criticism and Interpretation
Chilana, Rajwant Singh. "Musharraf Ali Farooqi." In South Asian Writers in Canada: A Bio-Bibliographical Study. Surrey, BC: Asian Publications, 2017, 229.
Z1376 .S68 C45 2017