Shilpi Somaya Gowda was born and raised in Toronto, Ontario. Her parents moved to Canada from Mumbai, India. Gowda earned a BA in economics from the University of North Carolina at Chapel Hill, and an MBA from Stanford University. She currently lives in California.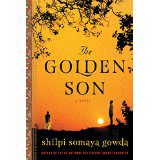 Fiction
The Golden Son: A Novel
Toronto: HarperAvenue, 2015.
PS3607 .O8696 G65 2015
Publisher's Synopsis (From its website)
Anil is the cherished son of a large family in rural India. As the eldest boy, he is expected to inherit the role of leader of his clan and arbiter of its disputes, dispensing wisdom and good advice. Leena is his closest companion, a fiercely brave girl who loves nothing more than the wild terrain they inhabit and her close-knit family. As childhood friends, they are inseparable—but as adulthood approaches, they grow apart.
Anil is the first person in his family to leave India, the first to attend college, the first to become a doctor. Half a world away in Dallas, Texas, he is caught up in his new life, experiencing all the freedoms and temptations of American culture: he tastes alcohol for the first time, falls in love, and learns firsthand about his adopted country's alluring, dangerous contradictions. Though his work in a gritty urban hospital is grueling, Anil is determined to carve out his own life in America.
…
As the two old friends discover each other again, they must also weigh the choice between responsibility and freedom, and between loyalty and love.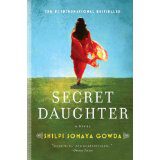 Fiction
Secret Daughter: A Novel
New York: William Morrow, 2010.
PS3607 .O896 S43 2010
Publisher's Synopsis (From its website)
Secret Daughter, a first novel by Shilpi Somaya Gowda, explores powerfully and poignantly the emotional terrain of motherhood, loss, identity, and love through the experiences of two families—one Indian, one American—and the child that binds them together. A masterful work set partially in the Mumbai slums so vividly portrayed in the hit film Slumdog Millionaire, Secret Daughter recalls the acclaimed novels of Kim Edwards and Thrity Umrigar, yet sparkles with the freshness of a truly exciting new literary voice.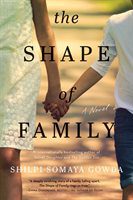 Fiction
The Shape of Family: A Novel
Toronto: HarperCollins, 2019.
Publisher's Synopsis (From its website)
The Olanders embody a modern family in a globalized world. Jaya, the cultured daughter of an Indian diplomat, and Keith, an ambitious banker from middle-class Philadelphia, meet in a London pub in 1988 and make a life together in suburban California. Their strong marriage is built on shared beliefs and love for their two children: headstrong teenager Karina and young son Prem, the light of their home.But love and prosperity cannot protect them from sudden, unspeakable tragedy, and the family's foundation cracks as each member struggles to seek a way forward. Jaya finds solace in spirituality. Keith wagers on his high-powered career. Karina focuses relentlessly on her future and independence. And Prem watches helplessly as his once close-knit family drifts apart.
When Karina heads off to college for a fresh start, her search for identity and belonging leads her down a dark path, forcing her and her family to reckon with the past, the secrets they've held and the weight of their choices.
The Shape of Family is an intimate portrayal of four individuals as they grapple with what it means to be a family, leaving a painful past and entering a hopeful future. It is a profoundly moving exploration of the ways we all seek belonging—in our families, in our communities and ultimately, within ourselves.