Rina Singh grew up in a small town in India and immigrated to Canada in 1980. She lived and worked in Montreal, Quebec for many years. Singh earned an MFA in Creative Writing from Concordia University and a teaching degree from McGill University. She now lives in Toronto, Ontario where she teaches literature, visual arts and drama to teenagers and continues to write. Photography is another pursuit that Rina Singh has embraced. Many of Rina Singh's books are no longer in print. A couple, including two titles published by Scholastic Education were issued as part of guided reading series. Why Snow is White: A Story for Holi was issued as part of Scholastic Literacy Place for the Early Years, Grade 2, Guided Reading, Level O (2007) and Trickster Tales (2008) was issued as part of Scholastic Canada's Moving Up With Literacy, Grade 4, Guided Reading, Level S. Singh's first published work in English, Silences: Selected Poems (New Delhi: Rupa, 1994), is a translation of Hindi poetry by Gulzar. Her non-fiction works include the boardbooks Diwali Lights (2018), Holi Colors (2018), and My Heart Beats (2021) and juvenile books: Diwali: Festival of Lights (2016), A Meeting in the Sky (2019), and the picture book biography of Sundar Paliwal: 111 Trees: How One Village Celebrates the Birth of Every Girl (2020).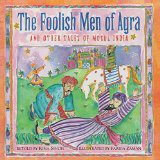 Fiction (Juvenile, Folklore)
The Foolish Men of Agra: And Other Tales of Mogul India
Illustrated by Farida Zaman.
Toronto: Key Porter Books, 1996.
Available since 2014 as a print on demand title from CreateSpace Independent Publishing.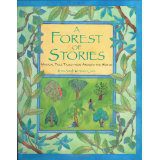 Fiction (Juvenile, Folklore)
A Forest of Stories: Magical Tree Tales from Around the World
Illustrated by Helen Cann.
Cambridge, Mass.: Barefoot Books, 2003.
Publisher's Synopsis
This unique collection of folktales, compiled by Rina Singh, encourages us to rethink our relationship with trees through the telling of fantastic tales filled with dancing palms, healing fig trees and magical cherry blossoms. Illustrated in radiant hues by artist Helen Cann and containing notes about the individual characteristics of each species, this vibrant collection will encourage all of us, young and old alike, to appreciate the essential place of trees in our lives, and help us to translate our appreciation into the desire to protect our many endangered forests.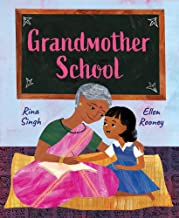 Fiction (Juvenile, Picture book)
Grandmother School
Illustrated by Ellen Rooney.
Vancouver: Orca Book Publishers, 2020.
Publisher's Synopsis (From its website)
Every morning, a young girl walks her grandmother to the Aajibaichi Shala, the school that was built for the grandmothers in her village to have a place to learn to read and write. The narrator beams with pride as she drops her grandmother off with the other aajis to practice the alphabet and learn simple arithmetic. A moving story about family, women and the power of education—when Aaji learns to spell her name you'll want to dance along with her. Women in countless countries continue to endure the limitations of illiteracy. Unjust laws have suppressed the rights of girls and women and kept many from getting an education and equal standing in society. Based on a true story from the village of Phangane, India, this brilliantly illustrated book tells the story of the grandmothers who got to go to school for the first time in their lives.
Awards and Honours
2021 The Egghead: The Doug Wright Award for best kids' book (Finalist)
Fiction (Juvenile, Picture book)
The Magic Braid
Illustrated by Farida Zaman.
Toronto: Sister Vision Press, 1995.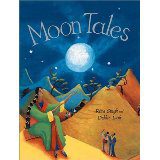 Fiction (Juvenile, Folklore)
Moon Tales
Illustrated by Debbie Lush.
London: Bloomsbury, 1999.
Publisher's Synopsis
Each night the moon shines above us casting down its silver light, and everywhere the moon is seen, people have created stories to elucidate its beauty and mystery. In this spellbinding collection of stories from countries around the world, the moon is a man, a woman, a princess, a sister to the sun, even a mischief-maker. These tales of wonder are sacred: they are the attempts of the world's people to understand the moon-its mysterious existence and amazing beauty. Enhanced with the gorgeous illustrations of Debbie Lush, these stories will lift you to a realm where the mysteries are still alive and the magic of the moon is yours to discover.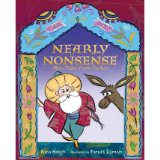 Fiction (Juvenile, Folklore)
Nearly Nonsense: Hoja Tales From Turkey
Illustrated by Farida Zaman.
Toronto: Tundra Books, 2011.
Publisher's Synopsis (From its website)
Nasrudin Hoja was a mullah (teacher) in Turkey. He was a busy man – he worked in a vineyard, gave sermons at the mosque, and was sometimes even a judge. He did all of this with a nagging wife, a constant stream of uninvited visitors, and many animals. Although Hoja's life wasn't easy, his heart was always light and his observations about life held a witty twist. For instance, when his donkey got lost, his neighbors offered sympathy, but Hoja found the bright side: "Imagine if I were riding the donkey at the time. I'd be lost too!"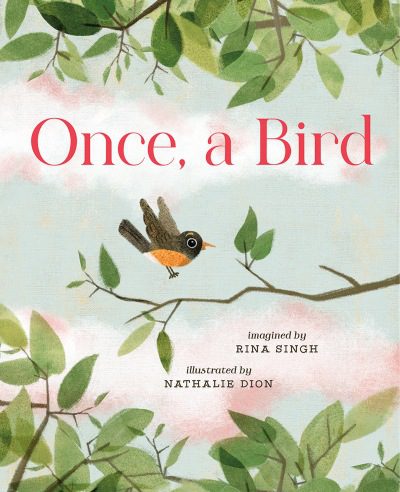 Fiction (Juvenile, Picture book)
Once, a Bird
Imagined by Rina Singh
Illustrated by Nathalie Dion
Victoria, BC: Orca Book Publishers, 2023.
forthcoming Sept. 2023
Publisher's Synopsis (From its website)
The streets were empty and the playgrounds still. Puzzled but determined, the bird explores the town in search of a suitable place to nest. The residents of an apartment building notice her resting in a tree outside and take comfort in her song. Watching through their windows, they look beyond their lives and pause to appreciate the wonders of nature. The bird chooses to make this community her home and builds a nest, an act of resilience and hope that inspires the humans to emerge as well, reminding them that natural rhythms continue, seasons change and life goes on. Once again.
This wordless picture book is a hopeful contemplation of our interconnectedness with the natural world and the joy that nature brings us, even in unusual times.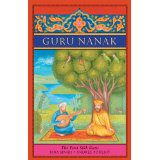 Non-Fiction (Juvenile)
Guru Nanak: The First Sikh Guru
Illustrated by Andree Pouliot.
Toronto: Groundwood Books, 2011.
Publisher's Synopsis (From its website)
The Sikh faith, the world's fifth largest religion, began with the teachings of Guru Nanak in the fifteenth century and evolved with the nine gurus who followed him. Their writings as well as those of Hindu and Muslim mystics are collected in the Sikh holy book, the Guru Granth Sahib. Guru Nanak tells the story of the first guru of the Sikhs, who was born in 1469 in India at a time when there were great tensions between Hindus and Muslims. Born into a humble Hindu family, Nanak was an extraordinary child who from a very young age questioned the rituals of religion and the ways of the world around him. He grew up to be a great spiritual teacher, revolutionary for his times, declaring that there was no difference between Hindus and Muslims, that men and women were equal and that caste was irrelevant. His attempt to define a universal humanity resulted in Sikhism — a religion that embraces everyone. This biography, exquisitely illustrated in the Indian miniature-painting tradition, tells the story of his life, including his spiritual journeys, the miracles he performed to illustrate his teachings, and his poetry.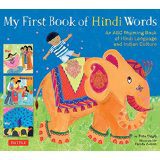 Non-Fiction (Juvenile alphabet book)
My First Book of Hindi Words: An ABC Rhyming Book of Hindi Language and Indian Culture
Illustrated by Farida Zaman.
North Clarendon, VT: Tuttle Publishing, 2016.
Publisher's Synopsis (From its website)
The words profiled in this book are all commonly used in the Hindi language and are both informative and fun for English-speaking children to learn. The goals of My First Book of Hindi Words are multiple: to familiarize children with the sounds and structure of Hindi speech; to introduce core elements of Indian culture; to illustrate the ways in which languages differ in their treatment of everyday sounds; and to show how, through cultural importation, a single word can be shared between languages.
Both teachers and parents will welcome the book's cultural and linguistic notes, and appreciate how the book is organized in a familiar ABC structure. Each word is presented in Devanagari (Hindi script) and English.
Non-Fiction (Juvenile)
Pitseolak Ashoona: Inuit Artist
Illustrated by Andree Pouliot.
Don Mills, ON: Pearson Education Canada, 2005.
(Reaching Readers. Canadian Biographies.)
Publisher's Synopsis
Pitseolak Ashoona loved to draw. She drew animals, people, and even monsters! Her pictures tell stories about her people, the Inuit. Learn about how she became a famous artist in Pitseolak Ashoona: Inuit Artist.