Farah Heron is a Toronto native. She writes romantic comedies and women's fiction that reflect the diversity in her own life. Specifically, she features large South Asian families, food, and "most importantly, brown people falling stupidly in love."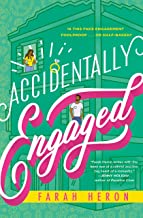 Fiction
Accidentally Engaged
New York: Forever/Grand Central Station, 2021.
Publisher's Synopsis (From its website)
When it comes to bread, Reena Manji knows exactly what she's doing. She treats her sourdough starters like (somewhat unruly) children. But when it comes to Reena's actual family—and their constant meddling in her life—well, that recipe always ends in disaster.
Now Reena's parents have found her yet another potential Good Muslim Husband. This one has the body of Captain America, a delicious British accent, and lives right across the hall. He's the perfect, mouthwatering temptation . . . and completely ruined by the unwelcome side dish of parental interference.
Reena refuses to marry anyone who works for her father. She won't be attracted to Nadim's sweet charm or gorgeous lopsided smile. That is, until the baking opportunity of a lifetime presents itself: a couples' cooking competition with the prize of her dreams. Reena will do anything to win—even asking Nadim to pretend they're engaged. But when it comes to love, baking your bread doesn't always mean you get to eat it too.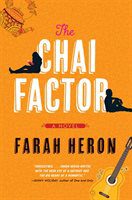 Fiction
The Chai Factor
Toronto: HarperCollins Publishers, 2019.
Publisher's Synopsis (From its website)
Thirty-year-old engineer Amira Khan has set one rule for herself: no dating until her grad-school thesis is done. Nothing can distract her from completing a paper that is so good her boss will give her the promotion she deserves when she returns to work in the city. Amira leaves campus early, planning to work in the quiet basement apartment of her family's house. But she arrives home to find that her grandmother has rented the basement to . . . a barbershop quartet. Seriously? The living situation is awkward: Amira needs silence; the quartet needs to rehearse for a competition; and Duncan, the small-town baritone with the flannel shirts, is driving her up the wall.
As Amira and Duncan clash, she is surprised to feel a simmering attraction for him. How can she be interested in someone who doesn't get her, or her family's culture? This is not a complication she needs when her future is at stake. But when intolerance rears its ugly head and people who are close to Amira get hurt, she learns that there is more to Duncan than meets the eye. Now she must decide what she is willing to fight for. In the end, it may be that this small-town singer is the only person who sees her at all.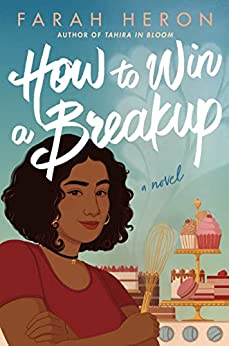 Fiction (Young adult)
How to Win a Breakup
New York: Skyscape, 2023.
Publisher's Synopsis (From its website)
First, math genius and gamer-nerd Samaya gets dumped by her boyfriend. Then he sabotages her job and hooks up with her frenemy. What could be worse? Clearly, her golden-boy ex is winning the breakup. The only way Samaya can get some rebound cred is to find someone new. Even if she has to fake it.
At a volunteer bake sale, Samaya meets a sweet opportunity. Daniel is a handsome hockey jock and a whiz when it comes to lemon squares and brownies. And he agrees to play along. Quid pro quo. He'll pretend to be the boyfriend of her dreams if Samaya helps him pass calculus.
This may well be the recipe for the best revenge, but Samaya has no idea how complicated it will get. As they whip up an imitation romance, and a bumbleberry pie, resisting each other's very real charms proves impossible. Samaya finds herself on an unexpected journey of secrets, self-discovery, and the true meaning of moving on.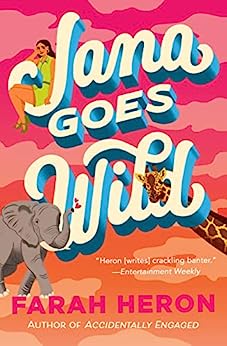 Fiction
Jana Goes Wild
New York: Forever, 2023.
Publisher's Synopsis (From its website)
Jana Suleiman has never really fit in—everyone always sees her as too aloof, too cool, too perfect. The one time she stepped out of her comfort zone she ended up with a broken heart and a baby on the way. Aaaand lesson learned. Now she's a bridesmaid for a destination wedding in Serengeti National Park, and almost everyone she knows will be there. Her five-year-old daughter. Her mom. Her friends. Even her potential new boss. And of course (because who doesn't love surprises!) her gorgeous-but-not-to-be-trusted ex.
Fortunately, Anil Malek is a great dad, even if Jana hasn't quite forgiven him for lying to her all those years ago. Determined to show he has no effect on her whatsoever, she and the bridesmaids concoct a go-wild list to get Jana through the week. Sing karaoke? Sure. Perform their high school dance routine in front of strangers? Okay. But the more she lets down her guard, the less protection she has against her attraction to Anil. And Jana soon realizes it's one thing to walk on the wild side . . . and quite another to fall for her ex all over again.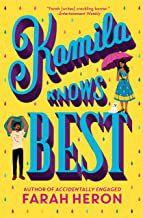 Fiction
Kamila Knows Best
New York: Forever, 2022
Publisher's Synopsis (From its website)
Kamila Hussain's life might not be perfect, but, whew, it's close. She lives a life of comfort, filled with her elaborate Bollywood movie parties, a dog with more Instagram followers than most reality stars, a job she loves, and an endless array of friends who clearly need her help finding love. In fact, Kamila is so busy with her friends' love lives, she's hardly given any thought to her own . . .
Fortunately, Kamila has Rohan Nasser. A longtime friend of the family, he's hugely successful, with the deliciously lean, firm body of a rock climber. Only lately, Kamila's "harmless flirting" with Rohan is making her insides do a little bhangra dance.
But between planning the local shelter's puppy prom, throwing a huge work event, and proving to everyone that she's got it all figured out, Kamila isn't letting herself get distracted—until her secret nemesis returns to town with an eye for Rohan. Suddenly, it seems like the more Kamila tries to plan, the more things are starting to unravel—and her perfectly ordered life is about to be turned upside down.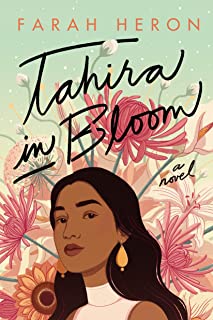 Fiction (Young Adult)
Tahira in Bloom
Skyscape/Amazon Publishing, 2021.
PS8615.A73 T34 2021
Synopsis
When seventeen-year-old aspiring designer Tahira Janmohammad's coveted fashion internship falls through, her parents have a Plan B. Tahira will work in her aunt's boutique in the small town of Bakewell, the flower capital of Ontario. It's only for the summer, and she'll get the experience she needs for her college application. Plus her best friend is coming along. It won't be that bad.
But she just can't deal with Rowan Johnston, the rude, totally obsessive garden-nerd next door with frayed cutoffs and terrible shoes. Not to mention his sharp jawline, smoldering eyes, and soft lips. So irritating. Rowan is also just the plant-boy Tahira needs to help win the Bakewell flower-arranging contest―an event that carries clout in New York City, of all places. And with designers, of all people. Connections that she needs!
No one is more surprised than Tahira to learn that floral design is almost as great as fashion design. And Rowan? Turns out he's more than ironic shirts and soil under the fingernails. Tahira's about to find out what she's really made of―and made for. Because here in the middle of nowhere, Tahira is just beginning to bloom.