Roberto Lavidez was born in Manila, Philippines. He moved with his family to Canada in 1992 and settled in southern Ontario. He is the senior editor for Kultura Life & Art Magazine, an accomplished painter, and has written for the theatre, television and film. remember why, his first book of selected poetry, may well be the first book of poetry published in English by a Filipino Canadian.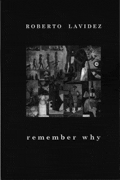 Poetry
remember why
Brampton, Ont.: Kultura Publishing, 2003.
PS8573 .A79 R46 2003
Review by V.K. Lem
In a recently rebroadcast interview, Mordecai Richler stated that most writers really have one thing to say and that they do so in different ways in their various books. For Filipino-Canadian Roberto Lavidez, both his poetry and his painting reflect his quest "for signposts of humanism in the conundrum of historical reality."
Remember why, the author's first book of poetry contains forty-nine poems that explore humankind's capacity for inhumanity as manifested in acts of genocide, warfare, assassination, violence and terrorism that span both the globe and the twentieth century. Black and white reproductions of five of Lavidez's oil paintings and two collages featuring several paintings complement the poems by visually posing questions like that expressed in the poem "backdoor policy":
when will man outgrow
his madness
reject the notion that
lasting peace could be
achieved through war
Lavidez ponders why it is that vows to "never again" permit inhuman acts of war and genocide seem impossible to keep. He takes a narrative approach to his work. As such, his poems and paintings are very accessible. While many poems including the first, "The Art of Counting" are very powerful, others like "RwandaBout" are more blatantly didactic and less effective.
In addition to posing questions and sometimes pointing fingers of blame, Lavidez also calls the reader to action. In "The Praxis of Good and Evil" he writes:
The teaching of goodness
alone
is not enough.
…
While passivity,
(learning about evil
and doing nothing)
demanded
of the bystander
facilitates
the praxis
of evil
and evil
alone.
Lavidez challenges people everywhere to abandon the us versus them mindset in "all of you, all of me" where he writes:
i am human
just like you
just like them
man oh man
why is that so hard
to understand?
While the historical record of humankind's inhumanity remains, Lavidez avoids cynicism and leaves the reader with hope and encouragement that in the 21st century we may yet learn a few important lessons from our past. We can live, act and dream for a better world.