SJ (Sinduja Sathiyaseelan) Sindu is a Tamil diaspora author and educator who was born in Sri Lanka and raised in Massachusetts. She earned an MA in English (Creative Writing) from the University of Nebraska-Lincoln and a PhD in English and Creative Writing from Florida State University. Sindu is an assistant professor in the English Department of the University of Toronto Scarborough.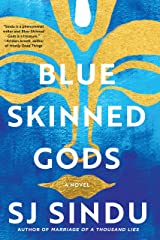 Fiction
Blue-Skinned Gods
New York: Soho Press, 2021.
In processing
Publisher's Synopsis (From its website)
In Tamil Nadu, India, a boy is born with blue skin. His father sets up an ashram, and the family makes a living off of the pilgrims who seek the child's blessings and miracles, believing young Kalki to be the tenth human incarnation of the Hindu god Vishnu. In Kalki's tenth year, he is confronted with three trials that will test his power and prove his divine status and, his father tells him, spread his fame worldwide. While he seems to pass them, Kalki begins to question his divinity.
Over the next decade, his family unravels, and every relationship he relied on—father, mother, aunt, uncle, cousin—starts falling apart. Traveling from India to the underground rock scene of New York City, Blue-Skinned Gods explores ethnic, gender, and sexual identities, and spans continents and faiths, in an expansive and heartfelt look at the need for belief in our globally interconnected world.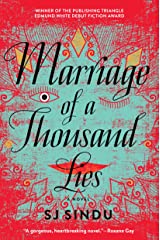 Fiction
Marriage of a Thousand Lies
New York: Soho Press, 2017.
PS3619.I5688 M37 2017
Publisher's Synopsis (From its website)
Lucky and her husband, Krishna, are gay. They present an illusion of marital bliss to their conservative Sri Lankan–American families, while each dates on the side. It's not ideal, but for Lucky, it seems to be working. But when Lucky's grandmother has a nasty fall, Lucky returns to her childhood home and unexpectedly reconnects with her former best friend and first lover, Nisha, who is preparing for her own arranged wedding with a man she's never met. As the connection between the two women is rekindled, Lucky tries to save Nisha from entering a marriage based on a lie. But does Nisha really want to be saved? And is Lucky willing to leave the life she's known behind?
A necessary and beautiful addition to both the Sri Lankan-American and LGBTQ canons, SJ Sindu's debut novel, Marriage of a Thousand Lies, offers a moving and sharply rendered exploration of friendship, family, love, and loss.
Awards and Honours
2018 Edmund White Award for Debut Fiction (Publishing Triangle) (Winner)
2018 Golden Crown Literary Society Award for Debut Fiction
2018 Stonewall Honor Books in Literature (American Library Association)
2018 Lambda Literary Awards (Lesbian Fiction category) (Finalist)
2018 VCU (Virginia Commonwealth University) First Novelist Award (Finalist)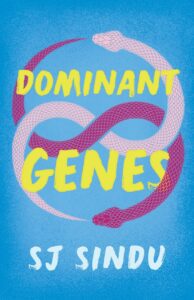 Mixed Forms (Chapbook)
Dominant Genes
Black Lawrence Press, 2022.
forthcoming Feb. 2022
Publisher's Synopsis (From its website)
Dominant Genes, the new hybrid collection from Stonewall Honor author and Lambda Literary Award finalist SJ Sindu, is equal parts power and astonishing beauty, tenderness and shimmering anger, poetry and lyric essays interwoven in a gorgeous exploration of family, heritage, and the construction of nonbinary and queer identities. "We learn our anger through osmosis," Sindu writes of the inherited rage of South Asian women, "or maybe it's in the breast milk, spreading through our veins long before we learn how to look only at the floor and walk without showing our ankles."
There is hope in this collection, and the lead weight of expectation, and warm moments of empathy too. Thematically linked and stylistically nimble, Sindu's pieces play with the fragmentary nature of memory and identity, her speakers traversing with intelligence and compassion the complexities of mental health, love, and pressurized relationships with the people closest to us—those who love us intensely, even when they understand us the least.
Awards and Honours
2020 Black River Chapbook Competition (Winner)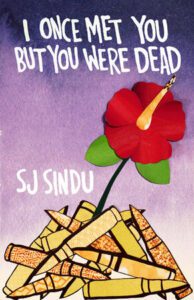 Mixed forms (Chapbook)
I Once Met You But Your Were Dead
Split Lip Press, 2016.
Publisher's Synopsis (From its website)
I Once Met You But You Were Dead is a hybrid chapbook of fiction and nonfiction that juxtaposes girlhood, womanhood, and cultural gender politics with war and violence
Awards and Honours
2016 Turnbuckle Chapbook Contest (Winner)