Uma Krishnaswami was born in New Delhi, India and lived in Maryland and New Mexico before relocating to Victoria, British Columbia. Her books for children and young adults number more than twenty. She teaches in the MFA program in Writing for Children and Young Adults, Vermont College of Fine Arts.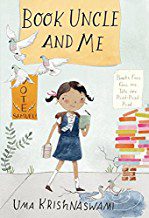 Fiction (Juvenile, Chapter book)
Book Uncle and Me
Illustrations by Julianna Swaney
Toronto: Groundwood Books, 2016.
First published by Scholastic India, 2012.
PZ7 .K878 B66 2016
Publisher's Synopsis (from its website)
Every day, nine-year-old Yasmin borrows a book from Book Uncle, a retired teacher who has set up a free lending library next to her apartment building. But when the mayor tries to shut down the rickety bookstand, Yasmin has to take her nose out of her book and do something.
But what can she do? The local elections are coming up but she's just a kid. She can't even vote!
Still, Yasmin has friends — her best friend, Reeni, and Anil, who even has a black belt in karate. And she has grownup family and neighbors who, no matter how preoccupied they are, care about what goes on in their community.
Then Yasmin remembers a story that Book Uncle selected for her. It's an old folktale about a flock of doves trapped in a hunter's net. The birds realize that if they all flap their wings at the same time, they can lift the net and fly to safety, where they seek the help of a friendly mole who chews a hole in the net and sets them free.
And so the children get to work, launching a campaign to make sure the voices of the community are heard.
Awards and Honours
Scholastic Asian Book Award, winner
2017-18 Hackmatack Children's Book Award — English fiction (Shortlist)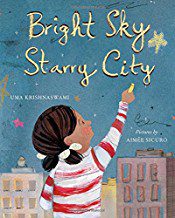 Fiction (Juvenile, Picture book)
Bright Sky, Starry City
Illustrations by Aimée Sicuro
Toronto: Groundwood Books, 2016.
First published by Scholastic India, 2012.
PZ7 .K878 B74 2015 
Publisher's Synopsis (from its website)
Phoebe helps her dad set up telescopes on the sidewalk outside his store. It's a special night — Saturn and Mars are going to appear together in the sky. But will Phoebe be able to see them with all the city lights?
Raindrops begin to fall, followed by lightning and thunder. Phoebe is filled with disappointment as she and her father hurry inside to wait out the storm.
But suddenly the power fails and then, amazingly, the rain and clouds disappear. Phoebe and her dad and all kinds of people spill into the street. And there, in the bright night sky, the splendor of the planets and a multitude of stars are revealed for all to see.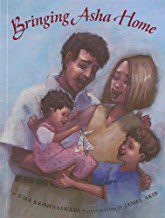 Fiction (Juvenile, Picture book)
Bringing Asha Home
Illustrations by Jamel Akib.
New York: Lee and Low Books, 2015.
PZ7 .K878 B75 2019
Publisher's Synopsis
It's Rakhi, the Hindu holiday special to brothers and sisters, and Arun wishes he had a sister with whom to celebrate. Soon it looks as if his wish will come true. His parents are going to adopt a baby girl named Asha. She is coming all the way from India, where Arun's dad was born.
The family prepares for Asha's arrival, not knowing it will be almost a year until they receive governmental approval to bring Asha home. Arun is impatient and struggles to accept the long delay, but as time passes he finds his own special ways to build a bond with his sister, who is still halfway around the world.
With warmth and honesty, this tender story taps into the feelings of longing, love and joy that adoption brings to many families. Readers will find reassurance knowing there is more than one way to become part of a loving family.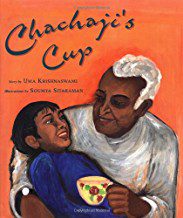 Fiction (Juvenile, Picture book)
Chachaji's Cup
Illustrations by Soumya Sitaraman
New York: Lee and Low Books/Children's Book Press, 2003.
PZ7 .K878 C43 2003
Publisher's Synopsis (from Lee and Low Books website)
Neel loves listening to Chachaji's many stories over steaming cups of tea. Chachaji's tales of great Hindu gods and demons and of his adventures in the Indian Army leave Neel openmouthed. But it is the tale of his great-uncle's favorite teacup that teaches Neel the most, for Chachaji's cup holds far more than sweet, spicy masala chai. When the precious cup and Chachaji's health both prove to be more fragile than they look, Neel knows what he must do.
Uma Krishnaswami weaves a gentle tale of family love and the power of memory, which Soumya Sitaraman brings to vivid life in her richly hued paintings. Chachaji's Cup will captivate and comfort readers of all ages, long after the last sip.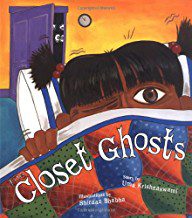 Fiction (Juvenile, Picture book)
The Closet Ghosts
Illustrations by Shiraaz Bhabha.
New York: Lee and Low Books/Children's Book Press, 2006.
PZ7 .K878 C56 2006
Publisher's Synopsis
Moving to a new place is hard enough without finding a bunch of mean, nasty ghosts in your closet. This looks like a job for Hanuman, the Hindu monkey god, who can change shape in the blink of an eye and chase goblins and demons away with his thundering voice. When Hanuman answers Anu's plea for help, Anu rejoices-until she realizes that those pesky ghosts don't seem to be going anywhere.
Uma Krishnaswami effortlessly weaves motifs from Indian mythology into this bubbly story of ultimately finding comfort in a new place, and Shiraaz Bhabha's exquisitely detailed acrylic paintings glow on the page. The Closet Ghosts is a treat that will delight and amaze any child who has faced a big change. . . or had ghosts in her closet.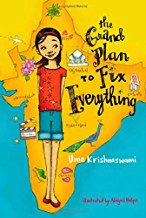 Fiction (Juvenile)
The Grand Plan to Fix Everything
Illustrated by Abigail Halpin.
New York: Atheneum Books for Young Readers, 2011.
Publisher's Synopsis (from its website)
Eleven-year old Dini loves movies—watching them, reading about them, trying to write her own—especially those oh-so-fabulous Bollywood movies where you don't need to know the language to get what's going on. But when her mother reveals some big news, it does not at all jibe with the script Dini had in mind. Her family is moving to India. And not even to Bombay, which is the "center of the filmi universe" (and home to Dini's all-time most favorite star, Dolly Singh). No, they're moving to a teeny, tiny town that she can't even find on a map: Swapnagiri. It means Dream Mountain, a sleepy little place where nothing interesting can happen….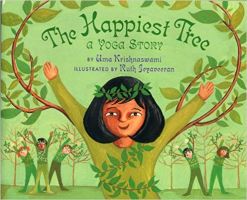 Fiction (Juvenile, Picture book)
The Happiest Tree: A Yoga Book
Illustrations by Ruth Jeyaveeran
New York: Lee and Low Books, 2005.
PZ7.K878 H37 2005
Publisher's Synopsis
Meena is excited about writing and making sets for the class play, an "improved" version of Red Riding Hood. But when her teacher insists Meena be one of the trees in the forest, she is miserable. "I can't," Meena says. "I'm too clumsy."
The next day at the Indian store with her mother, Meena sees a yoga class underway in the back. Soon Mrs. Vohra, the owner, convinces Meena to try the new children's class. Over time Meena learns to breathe slowly and deeply—in, and out—and to make herself quiet inside. She learns to move in smooth, slow movements. But at school during play rehearsals, Meena still has trouble being a quiet, steady tree.
The night of the play, Meena trips on her branches as she walks onstage. Drawing on what she learned in yoga class, Meena quiets herself and begins to move slowly and carefully. Turning near disaster into triumph, she becomes the happiest tree in the forest.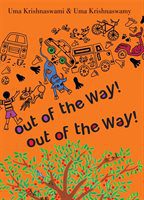 Fiction (Juvenile, Picture book)
Out of the Way! Out of the Way!
Illustrated by Uma Krishnaswamy.
Toronto: Groundwook Books/House of Anansi Press, 2012.
First published in India by Tulika Publishers, 2010.
PZ7 .K878 O98 2012
Publisher's Synopsis (from its website)
A young boy spots a baby tree growing in the middle of a dusty path in his village. He carefully places rocks around it as the local mango seller rushes past shouting, "Out of the way! Out of the way!" As the tree grows bigger, people and animals traverse the path until it becomes a lane, flowing like a river around the tree. Over time, the lane becomes a road, and a young man crossing the road with his children remembers the baby tree from long ago. By the time he is an old man, the tree has become a giant. The city traffic continues to rattle past, noisier and busier than ever, but sometimes the great tree works its magic, and people just stop, and listen.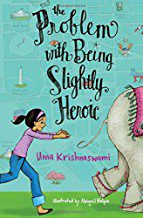 Fiction (Juvenile)
The Problem with Being Slightly Heroic
Illustrated by Abigail Halpin.
New York: Atheneum Books for Young Readers, 2014.
Publisher's Synopsis (from its website)
Dini and Maddie, very best friends, are back in the same country at the same time! Better still, Dolly Singh, the starriest star in all of Bollywood, is in America too. Dini's only just returned from India, and already life is shaping up to be as delicious as a rose petal milk shake. Perfect. Then why can't she untie the knot in her stomach? Because so much can go wrong when a big star like Dolly is in town. All Dini has to do is make sure Dolly has everything she needs, from a rose petal milk shake to her lost passport to…a parade? And an elephant?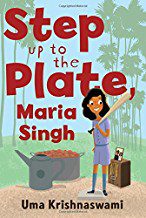 Fiction (Juvenile)
Step Up to the Plate, Maria Singh
New York: Tu Books, an imprint of Lee & Low Books, 2017.
PS8571 .R57 S83 2017
Publisher's Synopsis
Nine-year-old Maria Singh longs to play softball in the first-ever girls' team forming in Yuba City, California. It's the spring of 1945, and World War II is dragging on. Miss Newman, Maria's teacher, is inspired by Babe Ruth and the All-American Girls' League to start a girls' softball team at their school.
Meanwhile, Maria's parents—Papi from India and Mamá from Mexico—can no longer protect their children from prejudice and from the discriminatory laws of the land. When the family is on the brink of losing their farm, Maria must decide if she has what it takes to step up and find her voice in an unfair world.
In this fascinating middle grade novel, award-winning author Uma Krishnaswami sheds light on a little-known chapter of American history set in a community whose families made multicultural choices before the word had been invented.
Awards and Honours
2017-2018 Asian/Pacific American Award for Children's Literature (Winner)