Nahid Kazemi is an artist, illustrator and graphic designer who received a master's degree in painting from Tehran's University of Art. Now living in Montreal, Kazemi continues to illustrate numerous children's books written by others and has begun to create picture books that feature both her own text and illustrations. Kazemi has been a finalist for the Governor General's Literary Awards in the category Young People's Literature–Illustrated Books.
Fiction (Juvenile, Picture book)
I'm Glad That You're Happy
Toronto: Groundwood Books, 2018.
Publisher's Synopsis (From its website)
When a florist puts two plants in the same rosy-colored pot, he tells the bigger, stronger plant to look after the smaller, weaker one. An artist buys the plants and takes them home, where they become part of the family, celebrating happy occasions and feeling sorrowful during hard times. But as time passes and the plants grow, the pot becomes too small, and the two must be separated. While this makes the larger plant sad, it still rejoices in the way the smaller one flourishes on its own, and looks forward to the day when they will be planted in the artist's garden to grow into trees together.
Nahid Kazemi has created a charming, beautifully illustrated story about accepting growth and change in close relationships.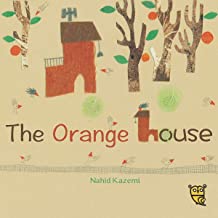 Fiction (Juvenile, Picture book)
The Orange House
London, UK: Tiny Owl Publishing, 2016.
Publisher's Synopsis (From its website)
The small Orange House stands at the end of the alley, feeling sad and left out as all the nearby tall buildings admire another new building being built. Her old stone stairs and pipes are no match for the new building's elevator and brand new pipes that they say will never burst.
Feeling she has no place in the world anymore, the Orange House finds surprising new friends as the workmen advance towards her with their shovels and picks.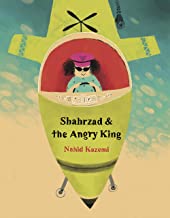 Fiction (Juvenile, Picture book)
Shahrzad & the Angry King
Brooklyn, NY: Enchanted Lion Books, 2022.
Publisher's Synopsis (From its website)
In this reimagined Scheherazade tale, story-loving, scooter-riding Shahrzad meets a boy who recounts fleeing from his home, where the king has grown angry and cruel. Shahrzad imagines herself zooming off in her toy airplane to confront the king. She tells him story after story, making him reflect on the kind of leader he really wants to be. Brought to life by Iranian artist Nahid Kazemi, this bold heroine reminds us of how powerfully intertwined reality is with the stories we tell.