Mahtab Narsimhan was born in Mumbai (Bombay) India. She lived in the Middle East for more than a year prior to immigrating to Canada in 1997. Narsimhan lived in Toronto for many years before relocating to Vancouver.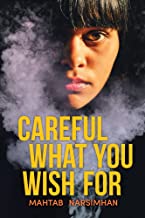 Fiction (Juvenile)
Careful What You Wish For
Victoria, BC: Orca, 2022
Series: Orca Anchor
Publisher's Synopsis (From its website)
Eshana is a bit of a social misfit. She feels more comfortable talking to people online than in person. One day she discovers a website that claims to be a safe space where young people can support each other in making their dreams come true. She starts talking with someone called Wise One. They hit it off immediately. Eshana admits to the Wise One how hard it is for her to make friends. The next day she goes to school and suddenly everyone wants to talk to her. Eshana is thrilled. But then, after telling Wise One about a girl who has been bullying her, she hears that the girl has been injured in a car accident. Are Eshana's wishes really coming true? If so, is having the life she's always wanted worth the costs?

Fiction (Juvenile)
The Deadly Conch
Toronto: Dundurn Press, 2011.
Tara Trilogy, Book III.
Publisher's Synopsis (From its website)
After the conclusion of The Silver Anklet, Taras triumphant return to Morni is short-lived. Taras deceased former stepmother, Kali, seeks revenge through her daughter, Layla. And so begins a series of carefully orchestrated events to cast suspicion on Tara: a dead dog in the village temple, contaminated well water, and whispers that Tara is still possessed.
Layla fuels the villagers blind superstitions and fears. Soon all of Morni is against Tara, even her own family. Death seems to be the only way to stop her evil stepsister.
Tara turns to Lord Yama and his deadly conch for help. He takes her to the Underworld to seek advice, but when she returns, she has only 24 hours to prove her innocence and to save the village before she must go back to the World of the Dead. Forever.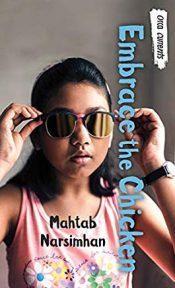 Fiction (Juvenile)
Embrace the Chicken
Victoria, BC: Orca, 2019.
Orca Currents series.
Publisher's Synopsis (From its website)
Even though she only left Mumbai a few months ago, Shivani isn't feeling like such an outsider anymore. She likes her new school. She finally has a best friend. But when her mother volunteers for the school's annual fundraiser, Shivani is sure she will completely embarrass her. Especially if she cooks one of the "stinky" dishes that Shivani loves but is too ashamed to eat in front of her friends.
On the day of the fair, the moment Shivani walks into the gym she knows her worst fears have come true: the unmistakable scent of Indian spices is in the air. But then she sees that dozens of people are lined up at her mom's stall. It's the most popular one!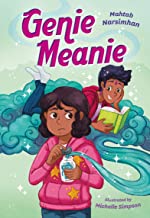 Fiction (Juvenile)
Genie Meany
Illustrated by Michelle Simpson.
Vancouver: Orca Book Publishers, 2021.
Publisher's Synopsis (From its website)
When eight-year-old Kiara discovers that her recently deceased grandmother left her a genie, trapped in a bottle of garam-masala, she's elated. She'll be a modern-day Aladdin and have someone to do her bidding without argument. And Kiara could really use a little magic. Third grade is just about to start and she's spent the summer worried about being in class with Matt, a bully who seems to have nothing else to do but make Kiara and her best friend Bai's lives miserable. Unfortunately, the genie has decided he's on vacation after working for ten thousand years and is looking for someone to do his bidding. A battle of wills ensues, and Kiara realizes that you don't really need magic to solve your problems.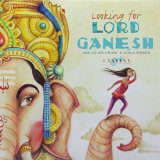 Fiction (Juvenile, Picture book)
Looking for Lord Ganesh
Illustrated by Sonja Wimmer.
London: Lantana Publishing, 2016.
Publisher's Synopsis (From its website)
Anika has recently emigrated from India and is having a difficult time adjusting to life in a new country, not to mention life in a new school. Remembering the advice her grandmother gave her, she prays to Lord Ganesh, the Hindu elephant god. But Lord Ganesh is slow to respond and Anika takes to the internet to attract his attention. When her problems begin to resolve themselves, she can breathe a sigh of relief. But has Lord Ganesh truly been helping her, or has she been relying on her own inner wisdom all along? This is a sweet and witty story about staying true to one's beliefs and finding strength in unlikely places.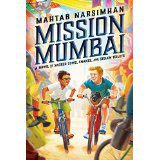 Fiction (Juvenile / Young adult)
Mission Mumbai
Markham, ON: Scholastic Press, 2016.
Synopsis
Travel to the colorful and chaotic streets of India from the comfort of your home in this hilarious and heartfelt story about friendship and family.
When aspiring photographer Dylan Moore is invited to join his best friend Rohit Lal on a family trip to India, he jumps at the chance to embark on an exciting journey just like their Lord of the Rings heroes, Frodo and Sam. But each boy comes to the trip with a problem: Rohit is desperate to convince his parents not to leave him behind in Mumbai to finish school, and Dylan is desperate to use his time in India to prove himself as a photographer and to avoid his parents' constant fighting. Keeping their struggles to themselves threatens to tear the boys apart. But when disaster strikes, Dylan and Rohit realize they have to set aside their differences to navigate India safely, confront their family issues, and salvage their friendship.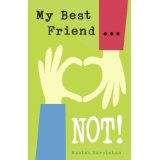 Fiction (Juvenile)
My Best Friend … NOT!
Don Mills, ON: Pearson Canada, 2015.
Well Aware series. (Grade 5 level)
Synopsis
One of a series of short novels raising awareness of mental health issues and designed to foster classroom discussion.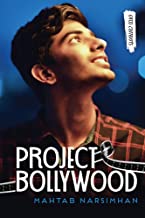 Fiction (Juvenile)
Project Bollywood
Victoria, BC: Orca, 2022
Series: Orca currents
Publisher's Synopsis (From its website)
Salman loves Hindi movies and wants to produce a short Bollywood film for his school project.
He gathers his friends when he's ready with the script, which is a mashup of all the movies he has ever seen. As director, Salman insists everyone follows the script exactly. But it's full of stereotypes and the cast and crew are not shy about expressing their concerns. Salman wants to remain true to the Bollywood model for his film but when his entire cast threatens to walk out, he has to decide whether to stand firm or find a way to collaborate.
Fiction (Juvenile)
The Silver Anklet
Toronto: Dundurn Press, 2009.
Tara Trilogy, Book II.
Publisher's Synopsis (From its website)
What if the only way to get rid of your worst enemy was to sacrifice your brother?
When hyenas snatch Taras brother, Suraj, and two other children from the local fair in Morni, Tara and her newfound companions decide to rescue them on their own. Tara soon discovers that Zarku, her nemesis with the third eye, is back and intent on revenge.
A deadly game of hide and seek ensues, and Tara and her companions must work together to survive. But it is soon clear that Zarku is only after Tara; the others are dispensable.
Should Tara risk the lives of her friends? Or can she once again defeat Zarku and save her brother, armed only with belief in herself and a silver anklet?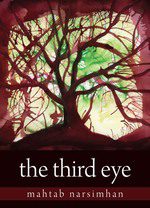 Fiction (Juvenile)
The Third Eye
Toronto: Dundurn Press, 2007.
Tara Trilogy, Book I.
Publisher's Synopsis (From its website)
For Tara and her brother, Suraj, the year their mother and grandfather fled the village of Morni in the middle of the night has been a nightmare. Their new stepmother is cruel and deceptive, and the village itself is lacking a healer. What's more, men of the village have been disappearing, often returning in a strange, altered form.
When a new healer, Zarku, a mysterious man with a third eye possessing strange power, suddenly appears in Morni, all are mesmorized by his magic — all except Tara, who sees through his evil disguise.
Awards and Honours
2009 Silver Birch Fiction Award (Forest of Reading, Ontario Library Association) (Winner)

Fiction (Juvenile / Young adult)
The Tiffin
Toronto: Dancing Cat Books, 2011.
PS8627 .A77 T54 2011
Publisher's Synopsis
Bombay is home to the dabbawallas, a group of deliverymen who bring boxed lunches – called tiffins – to workers all over the city. For every six million lunches that are sent, a tiffin goes missing only once.
This is a story about one of those times.
Awards and Honours
2012 CLA Book of the Year for Children Award (Canadian Library Association) (Finalist)
2013 Red Maple Award (Forest of Reading, Ontario Library Association) (Finalist)
2013 Snow Willow Award (Saskatchewan Young Readers' Choice) (Finalist)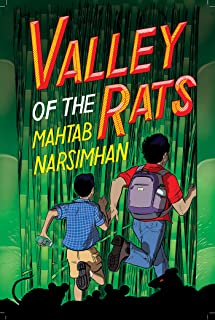 Fiction (Juvenile)
Valley of the Rats
Toronto: DCB, an imprint of Cormorant Press, 2021.
Publisher's Synopsis (From its website)
Book nerd Krish hates the outdoors, and camping. But especially germs. When Krish and his father, Kabir, take a camping trip to Ladakh, he convinces himself that they will bond, despite their differences.​
When they're lost in a bamboo forest, teeming with black rats, and germs, Krish is at an all-time low. His GF (gut feel) and a couple of rats lead them to a hidden village, Imdur, unmarked on any map.​
Krish and his father are allowed to stay, only if they follow rules. But Krish soon realizes the village has an odd custom of worshipping rats. They also have a secret. And so does his dad. Turns out, Krish has a secret too.​
When all the secrets explode into the open, Krish and Kabir are in grave danger. Can Krish overcome his fears and phobias to take the chance offered to him? Or are he and his dad doomed to spend the rest of their lives among rats?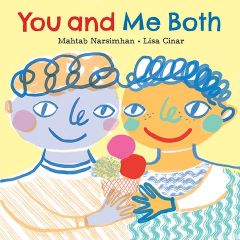 Fiction (Juvenile, Picture book)
You and Me Both
Illustrated by Lisa Cinar.
Toronto: Owlkids Books, 2020.
Publisher's Synopsis (From its website)
This is the story of two classmates who love all the same things: building tall block towers and knocking them down; strawberry jam on toast; jumping into big puddles in their matching boots. The narrator and his best friend, Jamal, might as well be twins—they have so much in common! And they always stick together.
When Jamal gets a haircut, his best friend gets his cut the same way. They're sure their teacher will never be able to tell them apart. The vibrant, playful illustrations eventually reveal that the boys each have a different skin color.
Inspired by a true story that went viral on social media, about two boys with different skin colors who got the same haircut thinking it would make them identical, this is a joyful story about friendship, diversity, and how the things we share are more than skin-deep.

Anthology (Short stories)
Her Mother's Ashes 3: Stories by South Asian Women in Canada and the United States
Narsimhan, Mahtab. "Love, Long Distance." In Her Mosher's Ashes 3, edited by Nurjehan Aziz. Toronto: TSAR, 2009, [146]-156.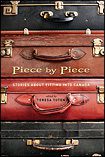 Anthology (Memoir, Juvenile)
Narsimhan, Mahtab. "What's in a Name." In Piece by Piece: Stories About Fitting Into Canada, edited by Teresa Toten. Toronto: Puffin Canada, 2010, 93-103.