Hudson Lin is a pen name that an author uses when writing romances featuring queer and disabled people of color. Lin's family emigrated from Taiwan to Toronto in the 1980s. She worked in finance and related industries before focusing on writing, co-hosting a podcast and working as a writing coach. Many of Lin's titles are only available as e-books. These include Fly With Me (2019), Stepping Out in Faith (2018), and the short stories/novellas Lessons for a Lifetime, Ipso Facto ILU, Take Me Home.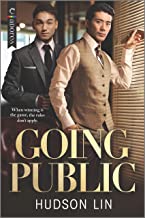 Fiction
Going Public
Toronto: Carina Press, 2022.
(Jade Harbour Capital; bk. 2)
Synopsis
As an operating partner at Jade Harbour, Raymond Chao prides himself in fixing even the most disastrous of portfolio companies—no matter the cost. While his colleagues might not always like his methods, they love his results. But his latest business partner isn't cooperating, and what's worse, Raymond's underhanded tactics have landed him in hot water with the law.

Elvin Goh has been Raymond's assistant for years, and he's been in love with the charming, ruthless playboy for just as long. There's very little that Elvin won't do—or hasn't done—for Raymond. Impossible crush aside, it's his job. But this time, even Elvin can't see a way out.

When long nights in the office lead to whispered confessions and a newfound intimacy, it seems like a dream come true—for both of them. But with the prospect of failure on the horizon, can this dream team beat the odds and come out the victors in the office and in their hearts?
Fiction
Hard Sell
Toronto: Carina Press, 2021.
(Jade Harbour Capital ; bk. 1)
Publisher's Synopsis (From its website)
Danny Ip walks into every boardroom with a plan. His plan for struggling tech company WesTec is to acquire it, shut it down, and squeeze the last remaining revenue out of it for his Jade Harbour Capital portfolio. But he didn't expect his best friend's younger brother—the hottest one-night stand he ever had—to be there.
Tobin Lok has always thought the world of Danny. He's funny, warm, attractive—and totally out of Tobin's league. Now, pitted against Danny at work, Tobin might finally get a chance to prove he's more than just Wei's little brother.
It takes a lot to get under Danny's skin, but Tobin is all grown up in a way Danny can't ignore. Now, with a promising patent on the line and the stakes higher than ever, all he can think about is getting Tobin back into his bed—and into his life for good.
If only explaining their relationship to Wei could be so easy…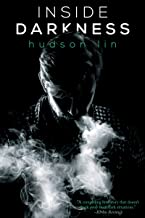 Fiction
Inside Darkness
Burnsville, NC: Riptide Publishing, 2018.
(My Own Skin ; bk. 1)
Synopsis
After a decade as an aid worker, Cameron Donnelly returns home jaded, tired, and with more than just a minor case of PTSD. Plagued by recurring nightmares but refusing to admit he has a problem, Cam quickly spirals into an alcohol-infused depression, and everyone around him is at a loss for how to help.
Journalist Tyler Ang met Cam on a reporting assignment in Kenya, and their first encounters were rife with hostility and sexual tension. Back in New York, their paths continually cross, and each time, Cam's brokenness reminds Ty more and more of his own difficult childhood. Letting Cam in goes against Ty's instinct to live life autonomously, but the damaged aid worker manages to sneak past his guard.
Their relationship is all sharp corners and rough edges, and just as they're figuring out how to fit together, a life-threatening accident puts it all in jeopardy. If they want a future together, both will have to set aside their egos and learn to carry each other's burdens.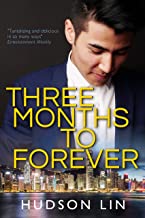 Fiction
Three Months to Forever
: Yellow Lantern Press, 2020.
version 2.0
Synopsis
Ben is looking for an adventure when he accepts a temporary assignment in Hong Kong, but he never anticipates how his life might change when he meets a sophisticated, intriguing man named Sai. Their initial attraction is sizzling and soon grows into more as Sai takes Ben on a tour of the city's famous landmarks and introduces him to the local cuisine. Sai stimulates Ben's intellect and curiosity, and for jaded corporate lawyer Sai, Ben's innocent eagerness is a breath of fresh air. It would be so easy to fall in love….
But nothing is that simple. Sai's job forces him to do things that violate his morals, and the difficult dynamics with his family is a major obstacle to any lasting relationship with Ben. For Ben, he misses his family back in Toronto, and can he really leave behind his home for a man he's only known a short time? With the clock ticking, they must decide whether to risk it all and turn three months into forever.