Tetsuro Shigematsu is a Vancouver-based playwright, performer, comedian and radio broadcaster who was born in England. In 2018 he earned a Ph.D. from the University of British Columbia as a Vanier scholar.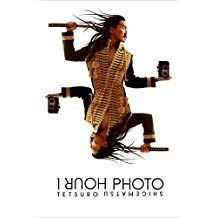 Drama
1 Hour Photo
Vancouver: Talonbooks, 2018.
PS8637 .H522 A63 2018
Publisher's Synopsis (From its website)
The year is 1977, the place planet Earth, and even though some of you were not yet born, believe me when I say it was very cool time in which to be alive … Some of the things you know and love today were just being introduced. A movie named Star Warscame out. The U.S. Department of Defense launched a series of satellites you know as GPS. 1977 was the year the Apple II went on sale. You wouldn't have wanted the Apple I. It was made of wood. Seriously! … But for my money, the coolest thing to launch in 1977 was one of the very first digital cameras. It was the size of a Volkswagen Beetle, if you can believe it, but here's the cool thing: they called it Voyager.
From growing up in a fishing village on the banks of the Fraser River in British Columbia, to being confined at a Japanese Canadian internment camp during the Second World War, to helping build the Distant Early Warning Line in the Canadian Arctic during the height of the Cold War, 1 Hour Photo 's Mas Yamamoto is a grand theatrical persona, his life saturated with the most vivid colours of our times.
Awards and Honours
2019 Governor General's Literary Award for Drama, English language (Finalist)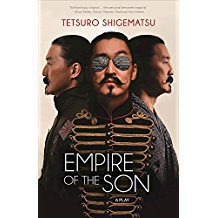 Drama
Empire of the Son
Vancouver: Talonbooks, 2016.
PS8637 .H522 E47 2016
Publisher's Synopsis (From its website)
Empire of the Son is an original one-hander that blurs the boundaries between artistic disciplines and continents. It is a unique theatrical hybrid that combines cinematography with the raw immediacy of a performance piece intimately connected to real life in real time. Through a series of audio interviews, playwright Tetsuro Shigetmatsu discovers vast worlds contained within his emotionally remote father – from the ashes of World War II and Hiroshima to swinging London in the 1960s and work in broadcasting at the BBC. As the playwright learns about how his own father was once a son, he realizes all the ways in which he himself needs to step up and become a better dad. This funny, poignant story of one immigrant family and their intergenerational conflicts reminds us that no matter how far we journey out into the world to find ourselves – across decades and continents – we never stop being our parents' children. It is the story of two generations of CBC broadcasters and the radio silence between them. The 2016 remount in Vancouver completely sold out, and Empire of the Son is currently touring across Canada.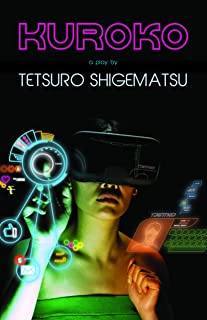 Drama
Kuroko
Vancouver: Talonbooks, 2020.
will be ordered
Publisher's Synopsis (From its website)
A father who feels his family is better off without him … a daughter who retreats completely into the virtual world … a family torn apart by the past with little hope for a future. But each discovers the desire to save each other, and perhaps themselves. From the acclaimed Canadian playwright, comedian, and radio broadcaster Tetsuro Shigematsu, author of the award-winning plays Empire of the Son and 1 Hour Photo, comes a powerful display of theatrical and literary emotion: Kuroko. Maya is a hikikomori (引きこもり), an extreme recluse who hasn't left her bedroom in five years, spending all her time in Virtual Reality. So her father hires an actor to befriend her online and entice her back into the real world. How? By visiting the scariest place on earth, Aokigahara, the "Suicide Forest." When we lose what gives our lives purpose, when the distance between us and those closest to us seems impossible to bridge, where do we turn? Can virtual worlds offer real solutions? Is an honourable death better than a meaningless life? Kuroko is a story about a family who are worlds apart, separated by pain, from past and present, alone in the real and virtual worlds, each unsure of the way back home. It is a story about finding something real in the places we least expect it, of building bridges where healing seems impossible, and saving others as a way of saving ourselves. Like good speculative fiction that is ostensibly about the future, but actually addresses the present, Kuroko may be set in Japan, but it is in fact an examination of contemporary Western culture.