Ramabai Espinet was born in Trinidad and Tobago. Since the 1970s she has divided her time between Canada and the Caribbean. Her Indo-Caribbean heritage figures prominently in much of her work. In addition to poetry and fiction, Espinet is an established essayist and critic. A graduate of York University, she also completed a Ph.D. in English at the University of the West Indies in St. Augustine, Trinidad. Her thesis examined the place of Euro-creole women writers, with particular reference to the work of Jean Rhys and Phyllis Shand Allfrey. Espinet taught English and Caribbean Studies at York University and Seneca College in Toronto, Ontario, Canada.
Espinet's performance pieces
Beyond the Kalapani
, and
Indian Robber Talk
both explore the historical record of South Asian immigration to the Caribbean. One of Espinet's earliest publications is
Creation Fire: A CAFRA Anthology of Caribbean Women's Poetry
, edited by Ramabai Espinet (Toronto: Sister Vision,Black Women and Women of Colour Press, 1990.)
Fiction (Juvenile, Picture book)
Ninja's Carnival
Art by Farida Zamen.
Toronto: Sister Vision, 1993.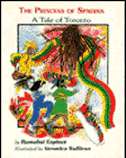 Fiction (Juvenile, Picture book)
The Princess of Spadina: A Tale of Toronto
Illustrated by Veronica Sullivan.
Toronto: Sister Vision, 1992.
PZ7 .E76 P75 1992
Publisher's Synopsis
[This] is a wonderful tale of magic and adventure on the streets of Toronto. A real princess with dreadlocks and magical running shoes lives on the streets of Spadina, the Kensington Market is really an enchanted avenue, and three little girls of diverse heritage can be best friends, and can perform heroic exploits together. A fun-filled, action-packed, exciting experience for readers from 5-95!

Fiction
The Swinging Bridge
Toronto: HarperFlamingoCanada, 2003.
PS8559 .S68 S94 2003
Publisher's Synopsis
The Swinging Bridge is a moving story of race and displacement, a story that carries us effortlessly from nineteenth-century India, with its cast-out Brahmin widows, to the cane fields of Trinidad, where impoverished Indians become indentured labourers, to the optimism of the twentieth century, when the island sheds its colonial past and reimagines itself as a new homeland for many cultures. But by the 1960s, racial politics and the promise of economic security draw Mona's family to North America, where they discover a new continent with old problems.
Awards and Honours
2004 Commonwealth Book Prize–Best First Book (Caribbean and Canada Region)(Nominated)
Poetry
Nuclear Seasons: Poems
Toronto: Sister Vision Press, 1991.
PS8559 .S68 N8 1991
Publisher's Synopsis
Ranging through these poems is a voice–Caribbean, Indian, rural, urban, unplaced, angry, lyrical–challenging conventional ways of seeing, raging against the winner-takes-all morality of power politics and engaging with the turbulence of war, hunger and imbalance: the voice of the unfed, still hungry, refusing to pay for the alligator shoes of the well-shod…
Anthology (Short story)
Trinidad Noir
Espinet, Ramabai. "Nowarian Blues." In Trinidad Noir, edited by Lisa Allen-Agostini & Jeanne Mason. New York: Akashic Books, 2008, 81-95.
Selected Criticism and Interpretation
Chilana, Rajwant Singh. "Ramabai Espinet." In South Asian Writers in Canada: A Bio-Bibliographical Study. Surrey, BC: Asian Publications, 2017, 254.
Z1376 .S68 C45 2017
---
Espinet, Ramabai. "An Interview with Ramabai Espinet." Interview by Elaine Savory. In Writers of the Caribbean Diaspora: Shifting Homelands, Travelling Identities.  New Delhi: Sterling Publishers, 2008, 257-274.
PR9205 .W75 2008
---
Espinet, Ramabai. "Ramabai Espinet." Interview by Kwame Dawes. In Talk Yuh Talk: Interviews with Anglophone Caribbean Poets.  Charlottesville: University Press of Virginia, 2001, 108-123.
PR9205.2 .T35 2001
---
Hamilton, Njelle W.  "Sound Writing: Popular Music in the Contemporary Caribbean Novel."  Ph.D. diss., Brandeis University, 2012.
---
Kandiuk, Mary. "Ramabai Espinet." In Caribbean and South Asian Writers in Canada: A Bibliography of Their Works and of English-language Criticism.  Lanham: Scarecrow Press, 2007, 51-53.
PS8089.5 .C37 K36 2007
---
Khan, Aliyah R.  ""Calling the Magician": The Metamorphic Indo-Caribbean."  Ph.D. diss., University of California, Santa Cruz, 2012.
Available from Proquest Dissertations and Theses
Available as an open access dissertation from http://www.escholarship.org/uc/item/8p63v91p
---
Kuwabong, Dannabang. "Landscape and Diasporic Citizenzhip(s) in Ramabai Espinet's The Swinging Bridge and Nuclear Seasons," chap. in Confluences 2: Essays on the New Canadian Literature, ed. by Nurjehan Aziz. Toronto: Mawenzi House, 2017, pp. 31-46.
PS8117 .C66 2017
---
Mathur, Charu. "A Narrative of Self-Reclamation: Ramabai Espinet's The Swinging Bridge". In Literary Constructs of the Self: Socio-Cultural Contexts, ed. Santosh Gupta and Mini Nanda. Jaipur: Rawat Publications, 2010, 170-178.
PN56 .S46 L58 2010
---
McKeown, Judith Antoinette Jeannette.  "Si(gh)t[e]-ing and (Re)writing Home(lessness): African and Indian Caribbean Women En/gendering Multiple Migratory Identifications in Canada."  M.A. diss., York University, 2005.
Available from Proquest Dissertations and Theses
---
Rahemtullah, Omme-Salma. "Interrogating "Indianness": Identity and Diasporic Consciousness Among South Asian Twice Migrants in Canada." M.A. diss., Toronto Metropolitan University, 2007.
FC106 .S66 R34 2007
Electronic versions also available from RShare.
---
Ramabai Espinet: Coming Home
Produced and directed by Frances-Anne Solomon. 49. min. Leda Serene Films, 2005.
Audio-visual, 5th floor PS8559. S68 R36 2005
---
Sarbadhikary, Krishna. "Contesting Identities, Claiming Spaces: Ramabai Espinet." In Surviving the Fracture: Writers of the Indo-Caribbean Diaspora.  New Delhi: Creative Books, 2007, 204-238.
PS8089.5 .S68 S37 2007
---
Waisvisz, Sarah Gabriella.  "Fugitive Rhythms: Re-imagining Diasporic Caribbean-Canadian Communities in Ramabai Espinet's "The Swinging Bridge", Tessa McWatt's "Out of My Skin", and Dionne Brand's "What We All Long For"."  M.A. diss., McGill University, 2006.
Available from Proquest Dissertations and Theses