Elen Ghulam is an Iraqi-Canadian writer living in Vancouver. Ghulam worked for almost two decades as a computer programmer before devoting herself to a career in writing. Her writing is informed by her Arab ancestry and experiences living in several Middle Eastern countries.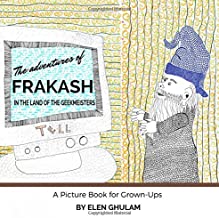 Fiction
The Adventures of Frakash in the Land of the Geekmeisters: A Picture Book for Grown-ups
[Vancouver]: ihath publishing, 2016.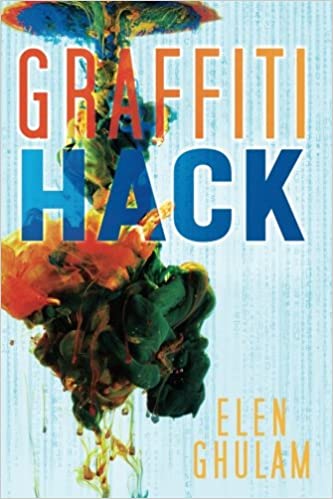 Fiction
Graffiti Hack
[Vancouver, BC]: ihath publishing, 2014
Synopsis (From the author's website)
Nelly Nasah grew up in a culture obsessed with decoration. In her native country, straight lines are anathema. Letters are hand-written into anthropomorphic shapes. Even heart monitoring machines are covered with colourful mosaics. So when Nelly arrives in Washington, D.C. she has a mission—to make the Internet beautiful. She lands a job as a graphic designer in Georgetown, and gets to work trying to inspire her colleagues—aloof boss Jack, talkative middle-aged Ashley and Don Juan-wannabe Ralf—to greater heights of embellishment with her unique brand of storytelling. Her modern fairy tales are misinterpreted by the three, with hilarious results. Despite all her efforts, Nelly's only friend in this new country is a rickety old elevator, who communicates with her through the language of his gentle sways and flickering lights.
After a failed presentation at the office, Nelly turns to the dark world of hacking. When lavish designs begin to appear on unsuspecting high-profile websites, the Internet starts to pay attention. Nelly's latest "hits" go viral as the multitudes read political and social messages into her digital decorations. Is Nelly headed for deep trouble?
Graffiti Hack is a wild ride into a collision of art, internet, obsession, culture, fairy tales and loneliness. Buckle up!
Awards and Honours
2016 Whistler Independent Book Awards (Honourable Mention)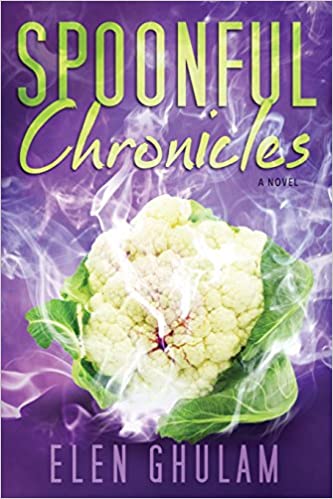 Fiction
Spoonful Chronicles
[Vancouver, BC]: ihath publishing, 2017.
Synopsis (From the author's website)
Thaniya Rasid grew up in the Middle East dreaming of becoming a surgeon. Now living an ordinary life as a mother, wife and a hospital lab tech in Vancouver, Canada, she garners unexpected fame as youTube's Queen of Hummus when her video demonstrating the recipe goes viral. How could blending chickpeas in a food processor generate so much excitement? And how could her life have ended up so far away from all her expectations?
To make sense of the unlikely events that have brought her to this place, Thaniya turns to food, curating memorable eating experiences of her life, searching for clues. Between her childhood aversion to cucumbers, her search for an authentic Iraqi kubeh in the city of Jerusalem, her 10-year tomato wars with her husband Samih, a mood altering encounter with a blood pudding in Edinburgh, and a Kafkaesque nightmare involving a cauliflower, Thaniya unravels repeated patterns occurring in her life. The secrets of love, friendship and destiny hidden in her cauldron of mishmashed cultures begin to reveal themselves.
Between lust and disgust there is a thin line. Spoonful Chronicles is the beguiling story of one woman taking hold of her fate by uncovering the clandestine geography of this divide in her heart. Yes! You guessed it, this is a novel with recipes.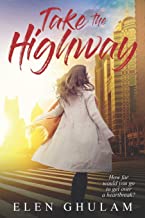 Fiction
Take the Highway
[Vancouver, BC]: ihath publishing, 2019.
Synopsis (From the author's website)
Carmen Franka thought she left heartbreak in her rear-view mirror, but a chance encounter with a taxi driver brings a flood of painful memories back. Her husband, Ismail, had walked away one day, leaving behind a cryptic note. To move forward, Carmen must decipher the reason their seemingly happy marriage ended. All she has to go on are bedtime stories Ismail told her to help with her insomnia. At the time, she thought they were amusing stories from a wild imagination, but upon deeper examination they seem to hide a trail of secret clues. Between a story of a sixth century noble warrior poet, a bizarre tale of Da Vinci Code-inspired conspiracy theory and a yarn of a deeply touching, yet shockingly vulgar love story, Carmen begins to gain insight into her past.
No one warned Carmen that traveling down memory lane was dangerous, or that it would lead her to risk her life. Surrounded by mysteries, Carmen finds solace in her daily bus commute to work where she meets Sylvester, a wise retired traffic engineer. Sylvester quickly becomes Carmen's bus buddy who provides her with a unique perspective on life that has been honed by experience. When Sylvester unexpectedly dies, a revelation at his funeral sparks more questions than answers. Carmen is sent into a tailspin, wondering if she can trust her own perceptions let alone anybody else's. Without knowing who or what to trust, Carmen must grab the steering wheel of her life to face her ultimate fear.
Told with ferocious energy and sly wicked humor, Take The Highway is a testament to the unfathomable courage it takes to get over a breakup.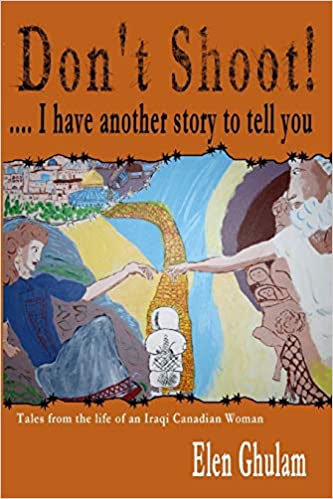 Non-fiction (Memoir)
Don't Shoot! … I Have Another Story to Tell You
[Vancouver, BC: ihath publishing], 2006.