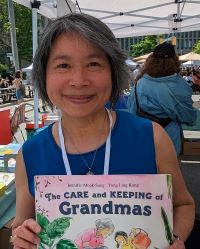 Jennifer Mook-Sang was born in Guyana to Chinese-Guyanese parents and moved to Canada as a teenager. She earned a bachelor and master degree in psychology at the University of Toronto and University of Waterloo. She now lives in Burlington, Ontario. Her interest in children's literature was inspired by her own experience reading with her children.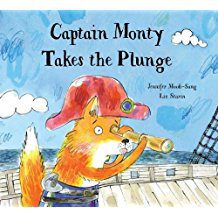 Fiction (Juvenile, Picture book)
Captain Monty Takes the Plunge
Illustrated by Liz Starin.
Toronto: Kids Can Press, 2017.
Publisher's Synopsis (From its website)
Monty the Malodorous is a daring pirate. He is brave. He is bold. He is feared by all who sail the six or seven seas. But Monty has a secret: he can't swim. He never goes into the ocean — and he never takes a bath. "Real pirates don't bathe. Yar-har-har!" he says. But things change when he meets a mermaid named Meg. "Monty's heart went ka-thunk. He tumbled head over boot heels in love." And, one day, when Meg's life is put into peril, Monty realizes he's the only one who can jump into the ocean to save her. Monty is faced with a terrible dilemma: is his love strong enough to overcome his fear?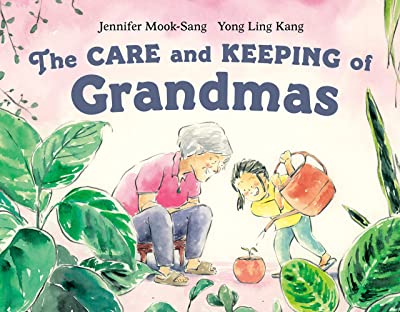 Fiction (Juvenile, Picture book)
The Care and Keeping of Grandmas
Illustrated by Yong Ling Kang.
Toronto: Tundra Books, 2023.
Publisher's Synopsis (From its website)
It can be discombobulating for all involved when a grandma moves in permanently. Fortunately, our narrator has gone through it and has LOTS of tips on how to make your grandma feel at home.
In a story filled with humor, confusion and moments of sweetness, Jennifer Mook-Sang introduces us to a delightful family dynamic and a grandma who doesn't really need the help settling in but appreciates it anyway. As Grandma goes about her days, her well-meaning granddaughter sees her caring for her plants, and makes sure that Grandma is getting the proper care too.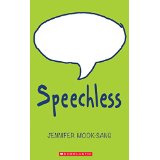 Fiction (Juvenile)
Speechless
Markham, ON: Scholastic Canada, 2015.
Publisher's Synopsis (From its website)
Jelly Miles would rather be playing video games with his best friend P.B. than preparing for a speech competition. In fact, he'd rather be doing just about anything else. So he's as surprised as anyone that he's taking this year's competition seriously. At first, it's for the awesome prize. But when the competition turns ugly, Jelly realizes it's his chance to finally get the last word with the class know-it-all. With his reputation, self-respect and the friendship he values most on the line, can Jelly find the courage to get up in front of the whole school and show his true self?
Laugh-out-loud funny, Speechless is about standing up to bullying, knowing who your friends are and finding your own unique voice.
Awards and Honours
2016 OLA Silver Birch Award (Shortlist)