Born in Japan and raised in Canada, Tamai Kobayashi is a writer, songwriter, and videomaker who lives in Toronto. Her writing has appeared in a number of lesbian anthologies and literary magazines. Kobayashi is one of the founding members of Asian Lesbians of Toronto. Her story "Panopte's Eye" is an excerpt from a novel-in-progress.  Kobayashi was awarded the
2014 Dayne Ogilvie Prize for LGBT Emerging Writers
.
Poetry
All Names Spoken: Poetry and Prose
Co-author, Monika Oikawa.
Toronto: Sister Vision, 1992.
Publisher's Synopsis
All Names Spoken is an arresting and diverse collection. Extremely provocative and uninhibited, it's pages shimmer with beautiful imagery and sensual, sexy eroticism. The partnership and compatibility of Kobayashi's and Oikawa's writing is made all the more effective by their difference of style and perception. This has resulted in the book's rich and affective texture, a wonderful gathering of complimentary individuality.

Fiction
Exile And The Heart: Lesbian Fiction
Toronto: Women's Press, 1998.
online version (Access restricted to members of the TMU community)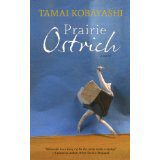 Fiction
Prairie Ostrich
Fredericton, NB: Goose Lane Editions, 2014.
PS8571 .O33 P73 2014
Publisher's Synopsis (from its website)
In 1974 Bittercreek, Alberta, eight-year-old Egg Murakami lives a day-to-day existence on the family ostrich farm. Since her brother's death, Egg's mother has curled up inside a bottle and her father has exiled himself to the barn. Egg and big sister Kathy find solace in each other, Kathy reading books to Egg, reinventing them so that the stories end happily — and so that the world does not seem so awful. And Kathy, in love with her best friend, has her own problems.
The Murakami family is not happy. But in the hands of Tamai Kobayashi, Prairie Ostrich is a warm and compelling drama of rare insight and virtuoso verve. Kobayashi introduces a fresh perspective to Canadian literature, blending physical, cultural, ancestral, and sexual isolation into an account of one girl's attempt to find her place against schoolyard battles and the mysteries of the adult world.
As Kathy's last year in high school counts down to an unknown future, Egg sits a quiet witness against a vast prairie canvas. As she watches her family unravel, she slowly begins to realize that not every story can have a happy ending.

Fiction (Short stories)
Quixotic Erotic
Vancouver: Arsenal Pulp Press, 2003.
Publisher's Synopsis (from its website)
Step into a world of dream, of fantasy, of erotic tales spiked with poetic imagery. Step into Quixotic Erotic, the new collection of lesbian erotica from Tamai Kobayashi.
Like being awakened from a dream by a soft, sensuous caress, the stories in Quixotic Erotic stimulate the senses. From a birthday surprise to a torrid office dalliance, these tales roam the worlds of women loving women.
Anthology (Short stories)
"Panopte's Eye ." In So Long Been Dreaming: Postcolonial Science Fiction & Fantasy, ed. Nalo Hopkinson and Uppinder Mehan, 95-106. Vancouver: Arsenal Pulp Press, 2004.
PN6071 .S33 S6 2004