Nancy Vo is an illustrator and creator of children's picture books. She was born on the prairies but grew up on the West Coast, and now lives in Vancouver. Her first three books will comprise the Crow Stories trilogy.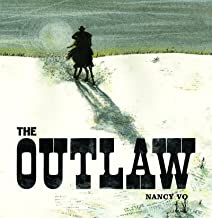 Fiction (Juvenile, Picture book)
The Outlaw
Toronto: Groundwood Books, 2018.
Publisher's Synopsis (From its website)
In this spare and powerful story set in the Old West, people in a small town live in constant worry of another visit from the Outlaw. Then the Outlaw suddenly and mysteriously disappears. Time passes, and one day a stranger rides into town. He takes it upon himself to fix everything that is in disrepair — the clapboard schoolhouse, the train station platform. He even builds a horse trough. But when someone recognizes him as the Outlaw, the crowd turns on him. It takes the courage of a small boy to change the course of events …
The subtle, beautiful mixed-media art with its nineteenth-century textural references perfectly complements this original story from debut author and illustrator Nancy Vo.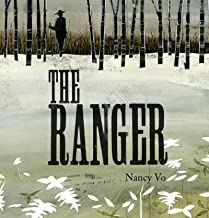 Fiction (Juvenile, Picture book)
The Ranger
Toronto: Groundwood Books, 2019.
Publisher's Synopsis (From its website)
In this memorable and beautifully illustrated story, a ranger comes across a fox caught in a trap. The ranger frees the fox and promises only to tend to its wounds. The fox recovers and remains curiously close to the ranger, and when unexpected twists occur, the fox ends up being the helper. The ranger asks the fox, "Does this make us even?" and almost immediately feels regret – keeping score has no place in friendship. And so the two continue their journey together.
In this second book in the Crow Stories trilogy, Nancy Vo explores themes of friendship and how meaningful bonds form when we can give and receive openly. Vo's stunning, spare illustrations are a delight, and complement the journey of these two nuanced characters toward understanding and companionship.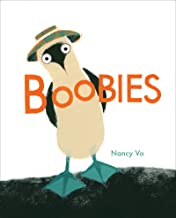 Non-fiction (Juvenile)
Boobies
Written & illustrated by Nancy Vo.
Toronto: Groundwood Books, 2022.
Publisher's Synopsis (From its website)
"You have just opened a book about boobies." Meet the Blue-footed Booby, who does not have any boobies at all, since only mammals have boobies. We learn that mammals have boobies to feed babies — even though milk can also come from plants. And did you know that boobies, or breasts, vary from person to person, that boobies change over time, and that different animals have different numbers of boobies? Witty and wide-ranging, this eye-opening picture book goes on to explore connections between boobies and mountains, boobies and ancient art and, of course, boobies and you!
Nancy Vo's latest creation is fresh and funny, while serving up just the right amount of fact. Punchy prose is complemented by striking stencil art in a retro palette, making this the perfect gift for curious young children, older children getting to know their bodies, and anyone ready to boldly celebrate boobies!
Awards and Honours
2023 Marilyn Baillie Picture Book Award (Finalist)