S. K. Ali was born in south India and immigrated with her family to Canada as a young child. Ali not only writes and creates visual art, she is a school teacher based in Toronto.
Fiction (Juvenile)
Grounded: A Novel
Aisha Saeed, Huda Al-Marashi, Jamilah Thompkins-Bigelow, S.K. Ali.
New York: Amulet Books/Abrams, 2023.
Publisher's Synopsis (From its website)
When a thunderstorm grounds all flights following a huge Muslim convention, four unlikely kids are thrown together. Feek is stuck babysitting his younger sister, but he'd rather be writing a poem that's good enough for his dad, a famous poet and rapper. Hanna is intent on finding a lost cat in the airport—and also on avoiding a conversation with her dad about him possibly remarrying. Sami is struggling with his anxiety and worried that he'll miss the karate tournament that he's trained so hard for. And Nora has to deal with the pressure of being the daughter of a prominent congresswoman, when all she really wants to do is make fun NokNok videos. These kids don't seem to have much in common—yet.
Told in alternating points of view, Grounded tells the story of one unexpected night that will change these kids forever.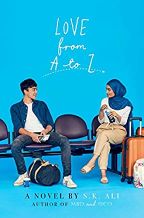 Fiction (Young adult)
Love From A to Z
New York: Salaam Reads/Simon & Schuster Books for Young Readers, 2019.
Publisher's Synopsis (From its website)
When [Zayneb] gets suspended for confronting her teacher, and he begins investigating her activist friends, Zayneb heads to her aunt's house in Doha, Qatar, for an early start to spring break.
Fueled by the guilt of getting her friends in trouble, she resolves to try out a newer, "nicer" version of herself in a place where no one knows her.
Then her path crosses with Adam's.
Since he got diagnosed with multiple sclerosis in November, Adam's stopped going to classes, intent, instead, on perfecting the making of things. Intent on keeping the memory of his mom alive for his little sister.
Adam's also intent on keeping his diagnosis a secret from his grieving father.
Alone, Adam and Zayneb are playing roles for others, keeping their real thoughts locked away in their journals.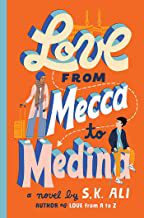 Fiction (Young adult)
Love From Mecca to Medina
New York: Simon and Schuster Books for Young Readers, 2022.
A sequel to Love From A to Z.
Forthcoming Sept. 2022.
Publisher's Synopsis (From its website)
Adam is in Doha, Qatar, making a map of the Hijra, a historic migration from Mecca to Medina, and worried about where his next paycheck will come from. Zayneb is in Chicago, where school and extracurricular stresses are piling on top of a terrible frenemy situation, making her miserable.

Then a marvel occurs: Adam and Zayneb get the chance to spend Thanksgiving week on the Umrah, a pilgrimage to Mecca and Medina, in Saudi Arabia. Adam is thrilled; it's the reboot he needs and an opportunity to pray for a hijra in real life: to migrate to Zayneb in Chicago. Zayneb balks at the trip at first, having envisioned another kind of vacation, but then decides a spiritual reset is calling her name too. And they can't wait to see each other—surely, this is just what they both need.

But the trip is nothing like what they expect, from the appearance of Adam's former love interest in their traveling group to the anxiety gripping Zayneb when she's supposed to be "spiritual." As one wedge after another drives them apart while they make their way through rites in the holy city, Adam and Zayneb start to wonder: was their meeting just an oddity after all? Or can their love transcend everything else like the greatest marvels of the world?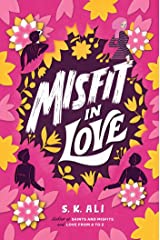 Fiction (Young adult)
Misfit in Love
Simon and Schuster Books for Young Readers, 2021.
Forthcoming
Publisher's Synopsis (From its website)
In this fun and fresh sequel to Saints and Misfits, Janna hopes her brother's wedding will be the perfect start to her own summer of love, but attractive new arrivals have her more confused than ever.
Awards and Honours
2022 Amy Mathers Teen Book Award (Finalist)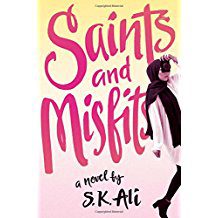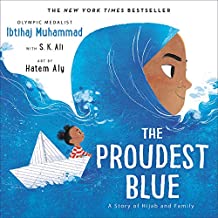 Fiction (Juvenile, Picture book)
The Proudest Blue: A Story of Hijab and Family
Ibtihaj Muhammad with S. K. Ali. Art by Hatem Aly.
New York: Little, Brown and Company, 2019.
PZ7.1 .M76 P76 2019
Publisher's Synopsis (From its website)
With her new backpack and light-up shoes, Faizah knows the first day of school is going to be special. It's the start of a brand new year and, best of all, it's her older sister Asiya's first day of hijab–a hijab of beautiful blue fabric, like the ocean waving to the sky. But not everyone sees hijab as beautiful, and in the face of hurtful, confusing words, Faizah will find new ways to be strong.
Paired with Hatem Aly's beautiful, whimsical art, Olympic medalist Ibtihaj Muhammad and Morris Award finalist S.K. Ali bring readers an uplifting, universal story of new experiences, the unbreakable bond between siblings, and of being proud of who you are.