Uzma Jalaluddin is a secondary school teacher who grew up in the Scarborough area of Toronto and now lives in Markham, Ontario. She used to write a popular column for the Toronto Star about modern Muslim life.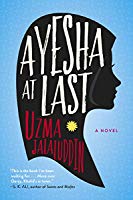 Fiction
Ayesha at Last: A Novel
Toronto: HarperAvenue, 2018.
PS8619 .A38 A94 2018
Publisher's Synopsis (From its website)
Ayesha Shamsi has a lot going on. Her dreams of being a poet have been set aside for a teaching job so she can pay off her debts to her wealthy uncle. She lives with her boisterous Muslim family and is always being reminded that her flighty younger cousin, Hafsa, is close to rejecting her one hundredth marriage proposal. Though Ayesha is lonely, she doesn't want an arranged marriage. Then she meets Khalid who is just as smart and handsome as he is conservative and judgmental. She is irritatingly attracted to someone who looks down on her choices and dresses like he belongs in the seventh century.
When a surprise engagement between Khalid and Hafsa is announced, Ayesha is torn between how she feels about the straightforward Khalid and his family; and the truth she realizes about herself. But Khalid is also wrestling with what he believes and what he wants. And he just can't get this beautiful, outspoken woman out of his mind.
Awards and Honours
2018 The Globe 100 (Globe and Mail, 1 Dec. 2018)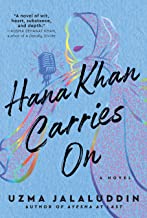 Fiction
Hana Khan Carries On
HarperAvenue, 2021.
PS8619.A38 H36 2021
Publisher's Synopsis (From its website)
Sales are slow at Three Sisters Biryani Poutine, the only halal restaurant in the close-knit Golden Crescent neighbourhood. Hana waitresses there part time, but what she really wants is to tell stories on the radio. If she can just outshine her fellow intern at the city radio station, she may have a chance at landing a job. In the meantime, Hana pours her thoughts and dreams into a podcast, where she forms a lively relationship with one of her listeners. But soon she'll need all the support she can get: a new competing restaurant, a more upscale halal place, is about to open in the Golden Crescent, threatening Three Sisters.
When her mysterious aunt and her teenage cousin arrive from India for a surprise visit, they draw Hana into a long-buried family secret. A hate-motivated attack on their neighbourhood complicates the situation further, as does Hana's growing attraction for Aydin, the young owner of the rival restaurant—who might not be a complete stranger after all.
As life on the Golden Crescent unravels, Hana must learn to use her voice, draw on the strength of her community and decide what her future should be.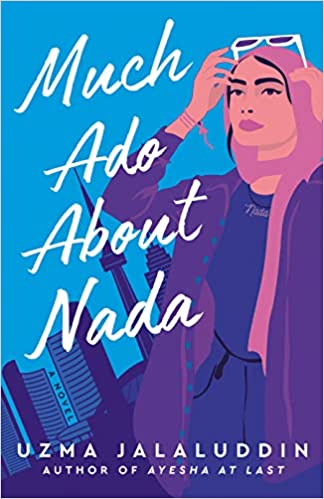 Fiction
Much Ado About Nada
Toronto: HarperAvenue, 2023.
PS8619.A424 M83 2023
Publisher's Synopsis (From its website)
Nada Syed is stuck. On the cusp of thirty, she's still living at home with her brothers and parents in the Golden Crescent neighbourhood of Toronto, resolutely ignoring her mother's unsubtle pleas to get married already. While Nada has a good job as an engineer, it's a far cry from realizing the start-up dreams for her tech baby, Ask Apa, the app that launched with a whimper instead of a bang because of a double-crossing business partner. Nothing in her life has turned out the way it was supposed to, and Nada feels like a failure. Something needs to change, but the past is holding on too tightly to let her move forward.
Nada's best friend, Haleema, is determined to pry her from her shell . . . and what better place than at the giant annual Muslim conference downtown, where Nada can finally meet Haleema's fiancé, Zayn? And did Haleema mention Zayn's brother Baz will be there?
What Haleema doesn't know is that Nada and Baz have a past—some of it good, some of it bad, and all of it secret. At the conference, that past all comes hurtling back at Nada, bringing new complications and a moment of reckoning. Can she truly say goodbye to what once was, or should she hold tight to her dreams and find their new beginnings?
Fiction
Three Holidays and a Wedding
Co-author: Marissa Stapley
Toronto: Penguin Canada, 2023.
forthcoming October 2023
Publisher's Synopsis (From its website)
From two bestselling Canadian authors comes a multi-faith holiday rom-com about the delightful havoc that occurs when Christmas, Ramadan, and Hanukkah all fall at the same time, and two strangers-turned-friends are snowbound in the small, charming town of Snow Falls along with the cast and crew of a holiday romance movie, nosy family members, and their lifelong crushes.