Sarah Tsiang is the form of name the author uses for her children's books, while she prefers the form Yi-Mei Tsiang or Sarah Yi-Mei Tsiang for poetical works and young adult fiction. Motherhood is an important source of inspiration for Tsiang who lives in Kingston with her daughter and husband, and who is enrolled in the MFA Program at the University of British Columbia. Tsiang is the editor of Desperately Seeking Susans, an anthology of poetry by Canadian women named Susan. She currently works as the Poetry Editor for Arc Poetry Magazine.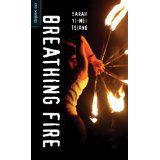 Fiction (Young adult)
Breathing Fire
Victoria, BC: Orca Book Publishers, 2014.
Publisher's Synopsis (From its website)
When Ally's mom dies, Ally is left with no family, no friends and no future. Put into foster care at the age of fifteen, she has less than $200 to her name and nothing left to lose. When Ally meets Tate, a busking fire breather, she starts to see a new life for herself as a street performer. Ally decides to run away from her foster home, but her problems follow her. Hiding her age, sleeping on the streets and avoiding fights with other buskers, Ally discovers that there's more to life as a fire-breathing busker than not getting burned.

Fiction (Juvenile, Picture book)
Dogs Don't Eat Jam and Other Things Big Kids Know
Art by Qin Leng.
Toronto: Annick Press, 2011.
Publisher's Synopsis (From its website)
New babies have a lot to learn; lucky for them, the older sibling in this delightful picture book is here to tell them everything they have to remember … and look forward to. Whether it's advice on turning regular people into parents, learning how to go—and stop—or figuring out the most important words (Mama! Dada! Up!), Dogs Don't Eat Jam is filled with useful tips and lessons from an experienced older sibling that will help newborns navigate the uncertainties of their new world.
Awards and Honours
2012 Best Books for Kids & Teens — Canadian Children's Book Centre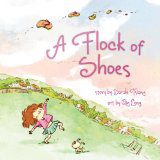 Fiction (Juvenile, Picture book)
A Flock of Shoes
Art by Qin Leng.
Toronto: Annick Press, 2010.
Publisher's Synopsis (From its website)
Abby loves her pink and brown sandals with the lime green trim, and she wears them wherever she goes. But as summer draws to a close, Abby's mom announces that it's time for the sandals to go. Abby is determined to keep them on — until one day, while swinging at the park, her sandals flip off and fly away.
All winter long, Abby wonders what her sandals are up to. Postcards of sandy white beaches and glorious sunsets reassure her that they are having a wonderful time in far away places.
Come February, Abby realizes that she has also grown to love her cozy, comfy boots. As the warm weather comes, she watches sadly as they march off, but a swish in the sky announces the return of her pink and brown sandals — all ready for another summer of fun.
Awards and Honours
2011 Best Books for Kids & Teens — Canadian Children's Book Centre (starred selection)
2012 Blue Spruce Award (Ontario Library Association) (nominated)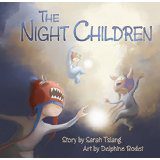 Fiction (Juvenile, Picture book)
The Night Children
Art by Delphine Bodet.
Toronto: Annick Press, 2015.
Publisher's Synopsis (From its website)
When the streets are empty and kids are called home for dinner and put to bed, the world becomes a magical place. It's only then that the night children emerge from the shadows, ready to play. In this evocative and lyrical picture book, it is the night children who rule, taking over the world that the day children have left behind. …
Complemented by beautiful, glowing artwork, this poetic story about the allure of a world unknown and the parallels between imagination and reality will ignite the creative souls of children everywhere.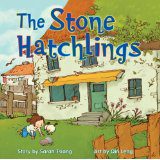 Fiction (Juvenile, Picture book)
The Stone Hatchlings
Art by Qin Leng.
Toronto: Annick Press, 2012.
Publisher's Synopsis (From its website)
When Abby finds two warm, round stones in the backyard, she "adopts" them, pretending they're unhatched birds. She lovingly builds them a cozy nest and watches over them constantly until one day she imagines that with a crick and a crack, the stones hatch to reveal two gray chicks. With a flourish of her paintbrush, Abby colors the birds yellow, blue, and green, and proceeds to take excellent care of them.
Then the make-believe birds stop singing. Soon they also stop eating, and when they start to lose their feathers Abby realizes it is time to let them go. She waves goodbye as they fly off. But every morning, two new birds appear at the window and sing to Abby.
Awards and Honours
2013 Best Books for Kids & Teens — Canadian Children's Book Centre
2012 First & Best selection — Toronto Public Library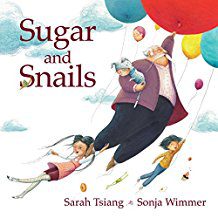 Fiction (Juvenile, Picture book)
Sugar and Snails
Art by Sonja Wimmer.
Toronto: Annick Press, 2018.
Publisher's Synopsis (From its website)
Who says that little girls are made of sugar and spice and everything nice? Or that boys are made of frogs and snails and puppy dog tails ? What if girls were made of boats and snails and dinosaur tails? And little boys of flowers and swings and bumblebee wings?
When the traditional rhyme just doesn't seem to fit the boy and girl visiting their grandpa, he comes up with a list of unusual alternatives. Soon the children are coming up with their own versions that challenge the old stereotypes with a whimsical list of ingredients. To add to the new quirky version are lively illustrations that beautifully capture the children's imaginative flights of fancy.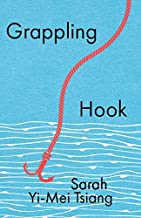 Poetry
Grappling Hook
Windsor, Ont.: Anstruther Books, 2022.
PS8639.S583 G73 2022
Publisher's Synopsis (From its website)
Taking its title from Tomas Tranströmer, Sarah Yi-Mei Tsiang's Grappling Hook sifts the debris of the twenty-first century for insights into identity, desire, and the everyday struggles inherent to motherhood. In doing so, she presents vivid portraits of the joys and perils of marriage, the evolving fight for social justice in a world divided by inequity, and the uncertain future that's left for children of the digital age. Grappling Hook is an impressive display of Sarah Yi –Mei Tsiang's considerable poetic gifts, and a love letter to those who are making meaningful change in unprecedented times.
Awards and Honours
2023 Raymond Souster Award (League of Canadian Poets)(Finalist)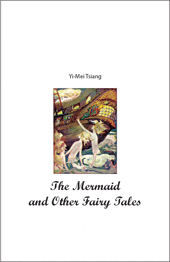 Poetry (Chapbook)
The Mermaid and Other Fairy Tales
Lantzville, B.C.: Leaf Press, 2010.
Limited edition of 100 copies.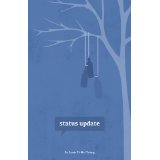 Poetry
Status Update
Fernie, B.C.: Oolichan Books, 2013.
PS8639 .S583 S83 2013
Publisher's Synopsis (From its website)
Status Update, Sarah Yi-Mei Tsiang's second book of poetry, is a collection of epigraph poems, each one composed in response to an entry pulled from a real status update posted on Facebook. Tsiang plays with a wide variety of subjects, from the deeply personal, to the banal, to the puzzling, to the philosophical. Her reverence for language, her playfulness and understanding, often mischievous, weave poems of rich diversity, irony and curiosity.

Poetry
Sweet Devilry
Fernie, B.C.: Oolichan Books, 2011.
Publisher's Synopsis (From its website)
… explores the tenderness of loss that informs motherhood as well as the power and the conflict that come with being a woman. Both celebration and elegy, these poems find their centre in familial love. Lyric and traditional, though attuned to the visual and the experimental, Sweet Devilry also has a whimsical, and sometimes biting, sense of humour. Tsiang's smart, imaginative, and emotionally resonant work offers a keen and woman-centred perspective on the stories we tell ourselves about love, personal and societal struggle, and the inevitability of death.
Awards and Honours
2012 Gerald Lampert Memorial Award–League of Canadian Poets (Winner)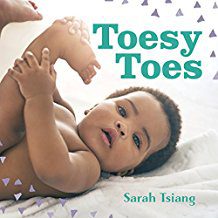 Poetry (Board book)
Toesy Toes
Victoria, B.C.: Orca, 2018.
Publisher's Synopsis
Toes have long had their place in songs, where they head off to market and enjoy roast beef, but they have been overlooked and underrepresented in children's books. That's all about to change with this rhyming board book featuring piggledy-wiggledy digits in all their delightful glory. Toesy Toes head to the beach, jump around, take a bath and delight in being one of a baby's most adorable parts. Sarah Tsiang's clever couplets will have little ones reaching for this book come story time, perhaps even with their toes.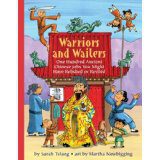 Non-fiction (Juvenile)
Warriors and Wailers: One Hundred Ancient Chinese Jobs You Might Have Relished or Reviled
Illustrated by Martha Newbigging.
Toronto: Annick Press, 2012.
Publisher's Synopsis (From its website)
China was one of the most advanced societies in the ancient world. Whether in medicine, the arts, or education, the Chinese far outpaced the Europeans. Although most people were peasants, society included a myriad of other jobs.
It may sound like a great position, but being emperor had its downside. If you displeased the gods, you could be put to death. As a silk maker, you would be sworn to secrecy so foreigners wouldn't learn how to spin the precious thread. Other jobs included wailer (yes, you'll cry whether you want to or not), noodle maker (noodles were not only delicious, but also a symbol of long life), or Shaolin warrior monk (if you were really good, you could break stone slabs with your fists).