Lindsay Wong's family memoir The Woo-Woo: How I Survived Ice Hockey, Drug-Raids, Demons, and My Crazy Chinese Family was a bestseller. Now she follows up this debut with a novel for young adults. Wong has a BFA in creative writing from the University of British Columbia and an MFA in literary nonfiction from Columbia University. She is based in Vancouver, BC.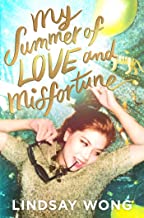 Fiction (Young adult)
My Summer of Love and Misfortune
Toronto: Simon Pulse, 2020.
Publisher's Synopsis (From its website)
Iris Wang is having a bit of a rough start to her summer: Her boyfriend cheated on her, she didn't get into any colleges, and she has no idea who she is or what she wants to do with her life. She's always felt torn about being Chinese-American, feeling neither Chinese nor American enough to claim either identity. She's just a sad pizza combo from Domino's, as far as she's concerned.
In an attempt to snap her out of her funk, Iris's parents send her away to visit family in Beijing, with the hopes that Iris would "reconnect with her culture" and "find herself." Iris resents the condescension, but even she admits that this might be a good opportunity to hit the reset button on the apocalyptic disaster that has become her life.
With this trip, Iris expects to eat a few dumplings, meet some family, and visit a tourist hotspot or two. Instead, she gets swept up in the ridiculous, opulent world of Beijing's wealthy elite, leading her to unexpected and extraordinary discoveries about her family, her future, and herself.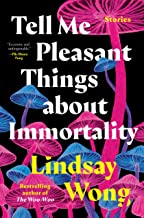 Fiction (Short stories)
Tell Me Pleasant Things about Immortality: Stories
Toronto: Penguin Random House Canada, 2023.
PS8645.O46 T45 2023
Publisher's Synopsis (From its website)
Living forever isn't everything it's cracked up to be. Hearts can still break, looks can still fade, and money still matters, even in eternity. The ghosts, zombies, and demons in this collection are all shockingly human, and they're ready to spill their guts. Vanity, love, and tragedy are all candidly explored as the unfulfilled desires of the dead are echoed in the lives of modern-day immigrants. Story-by-story, the line between ghost and human, life and death, becomes increasingly blurred.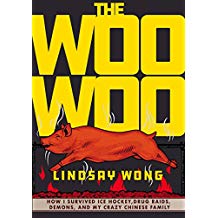 Non-fiction (Memoir)
The Woo-Woo: How I Survived Ice Hockey, Drug Raids, Demons and My Crazy Chinese Family
Vancouver: Arsenal Pulp Press, 2018.
RC512 .W65 2018
Awards and Honours
2018 The Globe 100 (Globe and Mail, 1 Dec. 2018)
2019 Hubert Evans Nonfiction Prize (BC Book Prizes) (Winner)