Neesha Meminger was born in the Punjab, India, and grew up in Toronto, Ontario, Canada. She lived in New York City for 25 years and now divides her time between Toronto and New York. She earned a Bachelor's degree in Film and Media Studies from Toronto Metropolitan University, and a Master's degree in Creative Writing from The New School For Social Research in New York City. Meminger is an independent filmmaker, teacher, and writer.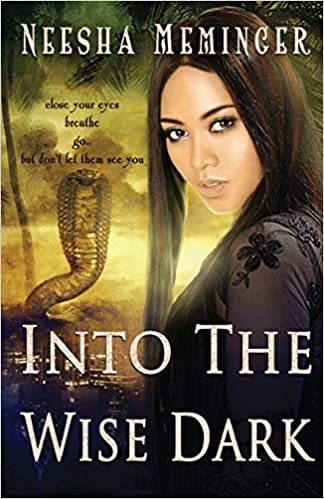 Fiction (YA, Fantasy)
Into the Wise Dark
New York: Ignite Books, 2012.
Synopsis
Pammi has a secret – she is an Able. At night, she travels through time to an ancient city called Zanum. She's been visiting Zanum since she was seven and she's kept it a secret from everyone, including her own mother. Especially her mother.Everything's been fine . . . until now. On the night of an important Zanum ceremony, Pammi follows her gut instinct and defies an elder's orders, inadvertently leading evil directly to the door of the city she loves. Now the evil that plans to wipe out the ancient city is coming after her. Can she save herself, and Zanum, before it's too late? Or will she seal the doom of all Ables and witness the annihilation of everyone she loves?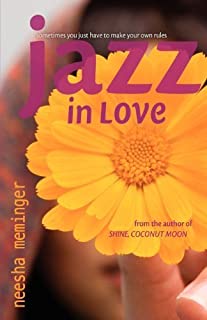 Fiction (YA)
Jazz in Love
New York: Ignite Books, 2009.
[No place]: Lightning Source, 2011.
Synopsis
Jasbir, a.k.a. Jazz, has always been a stellar student and an obedient, albeit wise-cracking, daughter. Everything has gone along just fine–she has good friends in the "genius" program she's been in since kindergarten, her teachers and principal adore her, and her parents dote on her. But now, in her junior year of high school, her mother hears that Jazz was seen hugging a boy on the street and goes ballistic. Mom immediately implements the Guided Dating Plan, which includes setting up blind dates with "suitable," pre-screened Indian candidates. The boy her mother sets her up with, however, is not at all what anyone expects; and the new boy at school, the very UNsuitable hottie, is the one who sets Jazz's blood boiling. When Jazz makes a few out-of-the-ordinary decisions, everything explodes, and she realizes she'll need a lot more than her genius education to get out of the huge mess she's in. Can Jazz find a way to follow her own heart, and still stay in the good graces of her parents?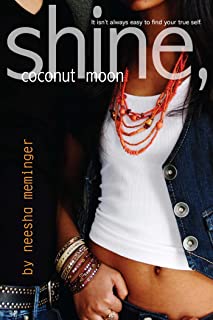 Fiction (YA)
Shine, Coconut Moon
New York: Margaret K. McElderry Books, 2009.
Synopsis
Seventeen-year-old Samar — a.k.a. Sam — has never known much about her Indian heritage. Her mom has deliberately kept Sam away from her old-fashioned family. It's never bothered Sam, who is busy with school, friends, and a really cute but demanding boyfriend.
But things change after 9/11. A guy in a turban shows up at Sam's house, and he turns out to be her uncle. He wants to reconcile the family and teach Sam about her Sikh heritage. Sam isn't sure what to do, until a girl at school calls her a coconut — brown on the outside, white on the inside. That decides it: Why shouldn't Sam get to know her family? What is her mom so afraid of? Then some boys attack her uncle, shouting, "Go back home, Osama!" and Sam realizes she could be in danger — and also discovers how dangerous ignorance can be. Sam will need all her smarts and savvy to try to bridge two worlds and make them both her own.
Awards and Honours
2009 Notable Books for Children (Smithsonian)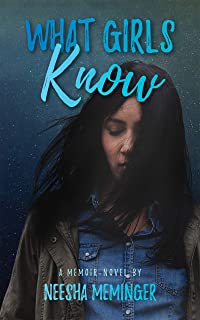 Fiction (YA)
What Girls Know
[No Place]: See It Be It Books, 2019.
Synopsis
Anji is holding on to big secrets. When she begins to spiral into a scary depression, she realizes she will need to do something drastic to bring herself out of it. With the help of a guidance counselor at school, Anji starts working through what, exactly, led her to the desperate feelings she's now drowning in. She joins a group of other girls who've been through experiences of sexual assault and violence, and learns to face her secrets with the help of the girls and a caring group leader. Together, they help one another heal old wounds through art, creativity, mobilizing for social justice, and learning to trust again.