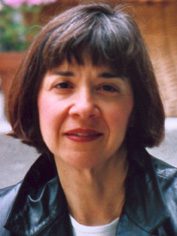 Carolyn Marie Souaid was born in and raised in Montreal, Quebec. She earned a teaching degree at McGill Univeristy and in 1995 an M.A. in English from Concordia University. Her thesis, "Hollow Grass," is a collection of poetry about motherhood in the context of adoption. Souaid taught at the elementary and university levels, taught high school English to adult students, and has worked as a freelance journalist and magazine columnist. Her ancestral heritage is Lebanese. In 2009 Souaid was one of the founding editors of Poetry Quebec, an online review showcasing English-language poetry and poets of Quebec.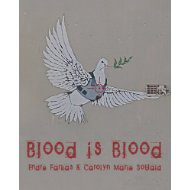 Poetry
Blood is Blood
Co-author: Endre Farkas.
Winnipeg: Signature Editions, 2010.
PS8561 .A72 B56 2010
Accompanied by a 15-minute video-poem on DVD.
Publisher's Synopsis
Blood is Blood is a powerful encounter between two poets, from diametrically opposed backgrounds, whose cultural and personal lives intersect, clash and confront the truths and fictions that have become the destructive reality of Jews and Arabs trying to co-exist. Although set in the troubled Middle East, its narrative speaks to tribal wars that have wreaked havoc around the globe: in Ireland, in the former Yugoslavia, in Russia, in Zimbabwe, and elsewhere. Endre Farkas, the child of Jewish Holocaust survivors, and Carolyn Marie Souaid, of Lebanese Christian descent, give this piece a special resonance.
Awards and Honours
2011? ZEBRA International Poetry Film Festival, "Best Film for Tolerance" (Winner)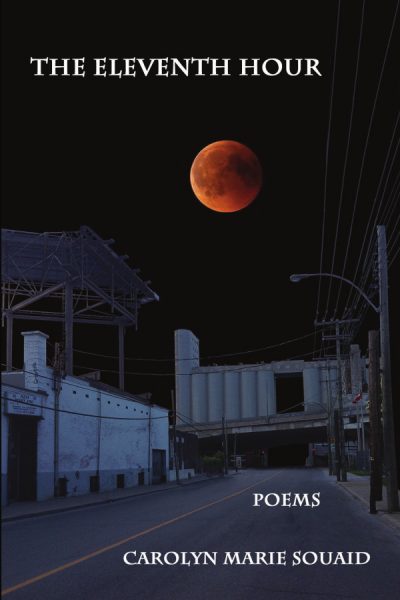 Poetry
The Eleventh Hour
Victoria, BC: Ekstasis Editions, 2020.
Publisher's Synopsis (From its website)
In her much-anticipated eighth collection, Carolyn Marie Souaid distils the complex emergencies of the everyday with a keen eye, sharp ear and sure hand. Cycling through themes of aging, dying and the inescapable erosion of life, her poems are a poignant catalogue of finite moments, a nod to the "inadequacy of the present" and the "incremental withdrawal" of earthly things, peppered with insistent, eleventh-hour reminders that what ultimately matters is not the "finish line" or the "final performance" of a career, but the human spirit "orbiting the nucleus of time." Whether it's the irony of the Exit sign on a crashed plane or the wind arriving in the nick of time to depose our received ideas of the world, these poems of the eleventh hour are bridges connecting life and death, where nothing and everything matters, the sayable and the unsayable, the necessary and the futile.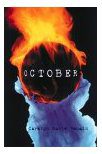 Poetry
October
Winnipeg, Man.: Nuage Editions, 1999.
PS8587 .O87 O38 1999
Includes some text in French. Reprinted by Signature Editions with a new cover image.
Publisher's Synopsis (from the Signature Editions website)
October spans three decades of Quebec life, chronicling one woman's attempt to forge some kind of reconciliation between the "warring" cultures, to find the common ground of the French and the English. It is a personal, unabashed look at her own marriage to a French Quebecer which finds her straddling two worlds, two cultures, two very different mentalities. From start to end, echoes of the October Crisis are carefully woven into the text, a constant reminder that the fractious past is never very far behind.
Awards and Honours
1999 or 2000 A.M. Klein Prize for Poetry (Quebec Writers' Federation)(Nominated)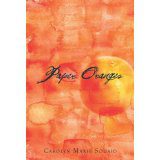 Poetry
Paper Oranges
Winnipeg, Man.: Signature Editions, 2008.
PS8587 .O87 P36 2008
Publisher's Synopsis (From its website)
Paper Oranges is a poetic response to Vladimir and Estragon, Beckett's infamous pair, who pin their hopes on salvation that never arrives. It explores the notion of human existence as an extended wait characterized by quiet desperation, loneliness, suffering and the search for self. …

Using the metaphor of flight, these evocative poems examine how habit and daily routine, societal convention and moral obligation trap us in the emotional death of repetitive cycles. Perhaps the only truth in this random universe lies in the present moment. …

Poetry
Satie's Sad Piano: A Long Poem
Winnipeg, Man.: Signature Editions, 2005.
PS8587 .O87 S28 2005
Publisher's Synopsis (From its website)
Satie's Sad Piano is a long poem charting the convergent deaths of Pierre Elliott Trudeau, a love affair, and a fetus through the intersecting voices of an unlikely cast of characters—among them Radio, Mont-Royal, a series of old love letters, and a modern-day apostle.
Awards and Honours
2006 A.M. Klein Poetry Award (Quebec Writers' Federation) (Shortlisted)
2006 Pat Lowther Award (Shortlisted)
2005 or 2006 Mary Scorer Award for the Best Book by a Manitoba Publisher (Manitoba Book Awards)(Shortlisted)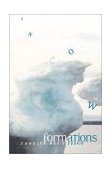 Poetry
Snow Formations
Winnipeg, Man.: Signature Editions, 2002.
Publisher's Synopsis (From its website)
Weary of her humdrum existence, a woman packs up and heads for Arctic Quebec, where she hopes to find a new lease on life teaching native children. She quickly discovers, however, that the Inuit have far more to teach her than she, them, as she slowly learns that each day on this earth is a rich sensory experience, not merely to be lived, but savoured. Loosely based on the author's own three-year experience in settlements along the Hudson-Ungava coast, Snow Formations takes a realistic look at the modern Inuit world through post-industrial eyes, always walking the fine line between idealism and cynicism, hope and despair.
Awards and Honours
2003 A.M. Klein Prize for Poetry (Quebec Writers' Federation)(Shortlisted)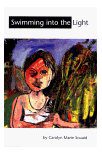 Poetry
Swimming Into the Light
Montreal: Nuage Editions, 1995.
PS8587 .O87 S95 1995
Publisher's Synopsis (from the Signature Editions website)
Swimming into the Light is a sequence of poems charting a woman's struggle with infertility and her entry into motherhood through the back door of international adoption. The book traces these events in a connected narrative, from her frustration and despair over infertility to the uncertainty of international adoption and rescuing a new life from a war-torn country, and finally to the quiet reflections on motherhood.
Awards and Honours
1995 or 1996 A.M. Klein Prize for Poetry (Quebec Writers' Federation) (Nominated)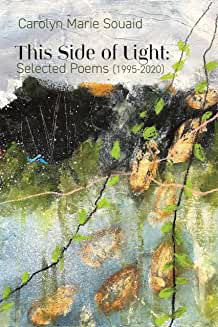 Poetry
This Side of Light: Selected Poems (1995-2020)
Winnipeg: Signature Editions, 2022.
Publisher's Synopsis (From its website)
This Side of Light is Carolyn Marie Souaid's ninth book of poetry. Selected and introduced by Governor General award-winning poet Arleen Pare, this timely volume celebrates the evolution and scope of Souaid's work over a 25-year period–from the early titles focused on human connectedness and the difficult bridging of worlds, to more recent ones exploring themes of aging, loss, letting go, and the vulnerability of life. Praised for her bold experiments with the long poem, Souaid is known for her evocative imagery, "surprising lyric twists" (Event) and "sudden illuminations on the rim of our consciousness" (Rover Montreal), and has been described by P.K. Page as having a "dark and powerful voice."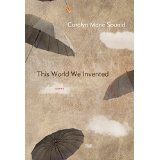 Poetry
This World We Invented
London, ON: Brick Books, 2015.
PS8587 .O87 T47 2015
Publisher's Synopsis (From its website)
The world in Carolyn Marie Souaid's latest collection is both an act of the imagination and a responsibility. Souaid's poems zoom in and out, shifting focus to accommodate varied dimensions of experience. We move from the breakdown of a relationship to primordial ooze to a suicide bomb to a son doing his math homework. In a disarmingly personable voice, Souaid investigates our darker moments, faces up to losses and failures both intimate and public, often with wry humour. If our world is an imperfect invention, it is also, for Souaid, a source of wonder— where "the trick was not to fall asleep but to notice everything / in its brevity."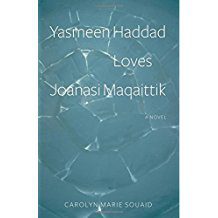 Fiction
Yasmeen Hadad Loves Joanasi Maqaittik
Montreal: Baraka Books, 2017.
PS8587 .O87 Y37 2017
Publisher's Synopsis (From its website)
Yasmeen's tradition-bound mother wants her to stay in Montreal, get married, and have babies. But the young Syrian-Canadian wants more. Her appetite for adventure leads her to a teaching job in the northern Quebec village of Saqijuvik. Eager to adopt her new home and its Inuit inhabitants, Yasmeen embraces every experience that comes her way: camping on the tundra, hunting for ptarmigan, sewing with the local women. She plunges into her northern adventure, no holds barred.
But it's 1983 and instead of the ideal, pristine Arctic Yasmeen imagined, she uncovers a contradictory world of igloos and pool halls, Sedna and Jesus, raw caribou and alcohol. In the middle of everything is Joanasi, a beautiful but volatile man who leads her into territory that is almost as unsettling as the land itself.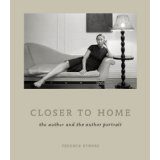 Anthology
Closer to Home: The Author and the Author Portrait
Byrnes, Terence. "Carolyn Marie Souaid in the Courtyard of a Pub." In Byrnes, Terence. Closer to Home: The Author and the Author Portrait. Montréal: Véhicule Press, 2008, 48-49.
Selected Criticism and Interpretation
Souaid, Carolyn Marie. "Carolyn Marie Souaid." Interview with Poetry Quebec, reprinted. Language Matters: Interviews with 22 Quebec Poets. Ed. by Carolyn Marie Souaid & Endre Farkas. Winnipeg: Signature Editions, 2013, 181-190.
PS8295.5 .Q8 L35 2013