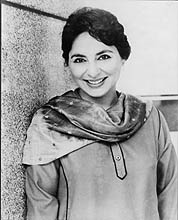 Shauna Singh Baldwin was born in Montreal and raised in India. She completed an M.B.A. at Marquette University. Baldwin also completed an MFA at the University of British Columbia. She has worked as a website designer and as an independent radio producer. Today, she resides in Milwaukee, Wisconsin.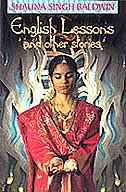 Fiction (Short stories)
English Lessons and Other Stories
Fredericton, N.B.: Goose Lane, 1996.
Fredericton, N.B.: Goose Lane, 2007 (reader's guide edition)
PS8553 .A4493 E53 2007
Publisher's Synopsis
Shauna Singh Baldwin's passionate stories dramatize the lives of Indian women from 1919 to today, from India to North America, and from the closed circle of the family to the wilderness of office and university. These women inhabit silence; by saying little, they can know everything. Some, imprisoned by silence, choke on their knowledge. Some use knowledge with bloody force against their oppressors. And some harness its power to seize their freedom.
Awards and Honours
1996 Friends of American Writers Award (Winner)

Fiction
The Selector of Souls
Toronto: A.A. Knopf Canada, 2012.
PS8553 .A4493 S44 2012
Publisher's Synopsis (from its website)
The Selector of Souls begins with a scene that is terrifying, harrowing and yet strangely tender: we're in the mid ranges of the Himalayas as a young woman gives birth to her third child with the help of her mother, Damini. The birth brings no joy, just a horrible accounting, and the act that follows–the huge sacrifice made by Damini out of love of her daughter–haunts the novel.
Awards and Honours
2012 Anne Powers Fiction Prize (Wisconsin Wrtiers Awards)(Winner)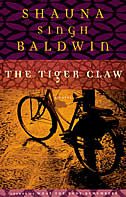 Fiction
The Tiger Claw
Toronto: A.A. Knopf Canada, 2004.
PS8553 .A4493 T44 2004
Publisher's Synopsis (from its website)
[A]n extraordinary story of love and espionage, cultural tension and displacement, inspired by the life of Noor Inayat Khan (code name "Madeleine"), who worked against the Occupation after the Nazi invasion of France …
In its portrayal of intolerance, The Tiger Claw eerily mirrors our own times, and progresses with moments of great beauty and white-knuckle tension towards a moving and astonishing denouement.
Awards and Honours
2004 Giller Prize (Nominated)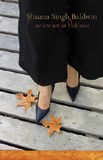 Fiction (Short stories)
We Are Not in Pakistan
Fredericton, N.B.: Goose Lane, 2007.
PS8553 .A4493 W4 2007
Publisher's Synopsis (from its website)
In the title story, 16-year-old Megan hates her Pakistani grandmother – until Grandma disappears. In the enchanting magical realism of "Naina," an Indo-Canadian woman is pregnant with a baby girl who refuses to be born. "The View from the Mountain" introduces Wilson Gonzales, who makes friends with his new American boss, the aptly named Ted Grand. But following 9/11, Ted's suspicions cloud his judgment and threaten his friendship with Wilson.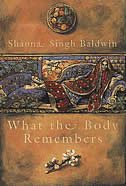 Fiction
What the Body Remembers
Toronto: Alfred A. Knopf Canada, 1999.
Toronto: Vintage Canada, 2000.
PS8553 .A4493 W42 2000
Publisher's Synopsis (from its website)
Roop is a sixteen-year-old village girl in the Punjab region of undivided India in 1937 whose family is respectable but poor — her father is deep in debt and her mother is dead. Innocent and lovely, yet afraid she may not marry well, she is elated when she learns she is to become the second wife of a wealthy Sikh landowner, Sardarji, whose first wife, Satya, has failed to bear him any children. Roop trusts that the strong-willed Satya will treat her as a sister, but their relationship becomes far more ominous and complicated than expected.
Awards and Honours
2000 Commonwealth Book Prize Best Book–Canada and Caribbean Region(Winner)
2000 Commonwealth Book Prize Best Book
1999 Commonwealth Book Prize Best First Book
Drama
We Are So Different Now
Toronto: Playwrights Guild of Canada, [2011].
PS8553 .A4493 W415 2011
Publisher's Synopsis (from its website)
With her arranged marriage in jeopardy, Sheetal Talwar attempts suicide.  The woman who talks her out of it claims to be Draupadi – the Draupadi from the Mahabharat, the epic drama about the battle of the Pandava and the Kauravs three millenia ago.  When Sheetal recovers and thanks her, Draupadi asks an expensive and difficult favour.  Sheetal tries to evade her obligation to reciprocate – and her life begins to echo Draupadi's.  Sheetal's very name means cool, and she believes we are so different now – are we?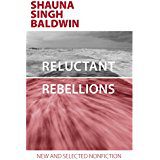 Non-Fiction
Reluctant Rebellions
Abbotsford, BC: Centre for Indo-Canadian Studies, University of the Fraser Valley, 2016.
Publisher's Synopsis (from its website)
In 15 speeches and essays written between 2001 and 2015, Baldwin brings a new perspective and voice to Canadian public discourse. Offering examples from her personal journey as a writer and a South Asian woman born in Canada, married to an American, living in the United States, and with strong ties to India, Baldwin transcends homogenized national identities and is an example of a truly global citizen.
Selected Criticism and Interpretation
Chilana, Rajwant Singh. "Shauna Singh Baldwin." In South Asian Writers in Canada: A Bio-Bibliographical Study. Surrey, BC: Asian Publications, 2017, 281.
Z1376 .S68 C45 2017
---
Chopra, Vinod K. Partition Stories: Mapping Community, Communalism and Gender. New Delhi: Anamika Publishers, 2009.
PK5423 .C54 2009
---
De, Aparajita. "Mapping Subjectivities: The Cultural Poetics of Mobility & Identity in South Asian Diasporic Literature." Ph.D. diss., West Virginia University, 2009.
Available from Proquest Dissertations and Theses
---
Kasibhatla, Jaya Nandita. "Constituting the Exception: Law, Literature and the State of Emergency in Postcolonial India." Ph.D. diss., Duke University, 2005.
Available from Proquest Dissertations and Theses
---
Muirhead, Lisa Dawn. "Re-membering Women's Bodies: The Problems of Voice and Representation in Two Partition Narratives." M.A. diss., The University of Manitoba, 2002.
Available from Proquest Dissertations and Theses
---
Parmar, Prabhjot. "Divided Land, Divided Bodies: Representations of Nationalism and Violence in Literature and Films on Partition of India." Ph.D. diss., The University of Western Ontario, 2007.
Available from Proquest Dissertations and Theses
---
Ruprai, Sharanpal Kaur. "Europe's Poisoned Kiss: Navigating Hybrid Space in Shauna Singh Baldwin's Fiction." M.A. diss., University of Calgary, 2007.
Available from Proquest Dissertations and Theses
---
Sayed, Asma. "Gendered Violence and Feminist Interventions in Shauna Singh Baldwin's The Selector of Souls," chap. in Confluences 2: Essays on the New Canadian Literature, ed. by Nurjehan Aziz. Toronto: Mawenzi House, 2017, pp. 94-104.
PS8117 .C66 2017