Rahat Kurd is a Vancouver-based writer, cultural critic and editor who was born and raised in Hamilton, Ontario and also lived in Ottawa. As a Canadian Muslim woman of Kashmiri descent, she draws on a rich cultural heritage to inform her work. She is at work on a memoir.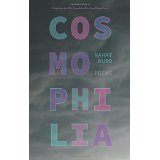 Poetry
Cosmophilia: Poems
Vancouver: Talonbooks, 2015.
PS8561 .U73 C68 2015
Publisher's Synopsis (From its website)
What earthly use is the love of ornament? Slowing down to look closely at an inherited shawl made by hand, the title poem in Rahat Kurd's Cosmophilia traces an object of luxury to the traditionally male art of Kashmiri shawl embroidery. The poet works with images from Kashmir, her maternal family's place of origin, where the ability to make and appreciate beautiful things is both absolutely essential and taken for granted; where increasingly rare levels of artistic mastery are simultaneously prized and trivialized; where the struggle to carry on traditional art forms is strained by awareness of increasing obsolescence, severe political repression, and environmental degradation; a place both celebrated and dismissed as spectacle, as "paradise on earth."
…
The emotionally powerful collection follows the elaborate, unexpected turns of the poet's imagination, enlisting intricate details of memory and language and the occasional plain truth – "the hard solitude of the maker." They intertwine political conflict and family history; they imagine Hamlet reluctantly confronting the partition of India and Pakistan. Cosmophilia translates multiple glittering facets of Muslim culture into, and reflects back from, the immediacy of embodied, urban Canadian experience.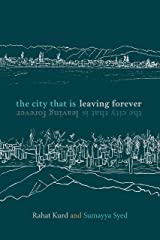 Non-fiction (Correspondence)
The City that is Leaving Forever: Kashmiri Letters
Co-author Sumayya Syed.
Vancouver: Talonbooks, 2021.
Forthcoming August 2021
Publisher's Synopsis

The City That Is Leaving Forever is a unique twenty-first-century time capsule: an instant-message exchange between Kashmir and British Columbia spanning more than five years in the lives of two Muslim Kashmiri women poets. In 2016, as India's military carries out extrajudicial killings and imposes a lengthy curfew in Srinagar, Kurd is forced to cancel her family trip to Kashmir. Syed and Kurd confide in each other as the weeks and months pass, working through drafts of new poems, reading each other's work, discussing multilingual poetics, the challenges of translation, and the contrasts of daily life in their two cities. The result is a rigorously feminist record of thinking through trauma as it unfolds and a document of life under military lockdown, "a book like a cluster of thorns with some few fragrant petals caught in them.