Ayelet Tsabari was born in Israel of Yemeni descent. She moved to Canada in 1998 and completed an MFA in Creative Writing from the University of Guelph. Tsabari lived in Toronto for a number of years but recently relocated to Tel Aviv, as she explains in a article published in the Globe and Mail on April 6, 2019.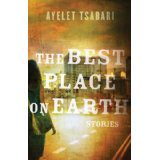 Fiction (Short stories)
The Best Place on Earth: Stories
Toronto: HarperCollins, 2013.
PS8639 .S22 B47 2013
Publisher's Synopsis
Poets, soldiers, siblings and dissenters, the protagonists here are mostly Israelis of Mizrahi background (Jews of Middle Eastern and North African descent), whose stories have rarely been told in literature. In illustrating the lives of those whose identities swing from fiercely patriotic to powerfully global, Ayelet Tsabari explores Israeli history even as she reveals the universality of war, love, heartbreak and hope.
Awards and Honours
2015 Sami Rohr Prize for Jewish Literature (Winner)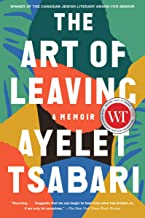 Non-fiction (Memoir)
The Art of Leaving: A Memoir
Toronto: HarperCollins, 2019.
PS8639.S22 Z46 2019
Publisher's Synopsis (From its website)
Ayelet Tsabari was 21 years old the first time she left Tel Aviv with no plans to return. Restless after two turbulent mandatory years in the Israel Defense Forces, Tsabari longed to get away. It was not the never-ending conflict that drove her, but the grief that had shaken the foundations of her home. The loss of Tsabari's beloved father in years past had left her alienated and exiled within her own large Yemeni family and at odds with her Mizrahi identity. By leaving, she would be free to reinvent herself and to rewrite her own story.
For nearly a decade, Tsabari travelled, through India, Europe, the US and Canada, as though her life might go stagnant without perpetual motion. She moved fast and often because—as in the Intifada—it was safer to keep going than to stand still. Soon the act of leaving—jobs, friends and relationships—came to feel most like home.
But a series of dramatic events forced Tsabari to examine her choices and her feelings of longing and displacement. By periodically returning to Israel, Tsabari began to examine her Jewish-Yemeni background and the Mizrahi identity she had once rejected, as well as unearthing a family history that had been untold for years. What she found resonated deeply with her own immigrant experience and struggles with new motherhood.
Awards and Honours
2019 Hilary Weston Writers' Trust Prize for Non-fiction (Finalist)
Selected Criticism and Interpretation
Tsabari, Ayelet, "Ayelet Tsabari, January 16, 2019," interview by Kim Davids Mandar, In Appropriate: Interviews with Canadian Authors on the Writing of Difference (Guelph: Gordon Hill Press, 2020), 1-14.