C.E. Gatchalian studied music before switching to creative writing and theatre at the University of British Columbia where he earned both a B.F.A. in 1996 and a M.F.A. in 2002. Gatchalian was born in Vancouver, B.C. and describes himself as a queer Filipinx-Canadian. His first play,
Motifs & Repetitions
was adpated into a film that aired on the Bravo! channel in 1997. His freelance writing has appeared in
Xtra! West
, the
Georgia Straight
, and the
Vancouver Sun
. His poetry and fiction have appeared in a number of literary journals. Gatchalian has also worked as a playwriting instructor at Langara College in Vancouver.  From December 2011-2017 he was the Artistic Producer of Screaming Weenie Productions/
Frank Theatre Company
.  Gatchalian is the recipient of the 2013
Writers' Trust of Canada's Dayne Ogilvie Grant
for LGBT Emerging Writers.

Drama
Broken: A Play
Edmonton: New Bard Press, 2006.
PS8613 .A875 B76 2006
Publisher's Synopsis (from its website)
Like a shard of glass to the spine, Gatchalian's Broken is razor sharp, digging deep to scrape the nerve. Emotional dysfunction spreads like a plague through a namelessly familiar urban sprawl. In its wake, nothing survives unbroken: hearts, families, rhythms, dreams. At the epicentre of the maelstrom is a young man named Adrian, godlike and hurting, struggling to discern the sickness from the cure. New Bard Press is excited to publish this script as an artifact of Broken's world premiere at Vancouver's Firehall Arts Centre, March 2006.
Drama
Crossing and Other Plays
Maple Shade, N.J.: Lethe Press, 2011.
PS8613 .A875 C76 2011
Publisher's Synopsis
Crossing explores the tormented, sexually charged relationship between a mother and her teenage son, bound together by guilt and fear over a horrific incident that occurred ten years prior.  Diamond is an elliptical, metatheatrical dissection of one woman's intimate story.  Ticks is the frantic, metronome-accompanied monologue of a self-appointed, disease-stricken messiah, eager to birng a plague upon the city.

Drama
Falling in Time
Winnipeg: Scirocco Drama, 2012.
PS8613 .A875 F35 2012
Publisher's Synopsis
Set in Vancouver in 1994, the year of the death of North Korean leader Kim Il-Sung, the play criss-crosses two hemispheres and spans more than forty years.  Through all this, four distinctly different lives intertwine.  Steve is an aging, outrageous, bisexual Korean War vet who embodies the sadistic tendencies of Western imperialism that polite society has too often tried to sweep from view.  Jamie is an aloof, repressed ESL teacher haunted by a troubled childhood.  Chang Hyun is a young Korean student brimming with anti-Western sentiment and still reeling from a traumatic experience in the military.  In the middle of it all is Eun Ha, a woman who lives through the Korean War and, against all odds, finds the will to survive.

Drama
Motifs & Repetitions & Other Plays
Cranston, R.I.: Writers' Collective, 2003.
PS8613 .A875 M69 2003
Publisher's Synopsis
[This] is a collection of one-act plays by one of North America's most promising young playwrights. The title play is a racy, comical, and ultimately shattering portrait of young love; Hands traces the disintegration of a tormented family; Claire is an absurdist, Sartrean meditation on the brutal power structures in relationships; and Stars is a brief but bracing monologue about the nature of obsession. With his minimalist settings and spare, rhythmic dialogue, C.E. Gatchalian creates a dark, claustrophobic world where sex, love and obsession mix to form terrifying realities.
Awards and Honours
2003 Lambda Literary Award – Drama (Nominated)
Poetry
Tor/sion
Ottawa: Ransom Works Press, 2005.
Anthology (Drama, Monologue excerpt)
"C.E. Gatchalian: Falling in Time." In Refractions: Solo, ed. Donna-Michelle St. Bernard and Yvette Nolan. Toronto: Playwrights Canada Press, 2014, 63-67.
PS8309 .M6 R44 2014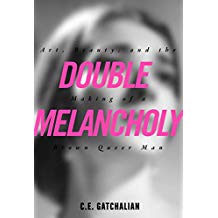 Non-fiction (Memoir)
Double Melancholy: Art, Beauty, and the Making of a Brown Queer Man
Vancouver: Arsenal Pulp Press, 2019.
PS8613 .A875 Z46 2019
Publisher's Synopsis (From its website)
According to Didier Eribon, melancholy is where it all starts and where it also ends: the lifelong process of mourning that each homosexual experiences, and through which they construct their own identity. In this beguiling book, an introverted, anxious, ambitious, artistically gifted queer Filipino-Canadian boy finds solace, inspiration, and a "syllabus for living" in art — works of literature and music, from the children's literary classic Anne of Green Gables to the music of Maria Callas. But their contribution to his intellectual, emotional, and spiritual edification belies the fact that they were largely heteronormative and white, which had the effect of invisibilizing him as a queer person of colour.
Part memoir, part cultural commentary, and a hybrid of besotted aesthetic appreciation and unsparing critique, Double Melancholy is by turns a passionate love letter to art and an embattled examination of its oppressive complicity with the society that produces it, and the depths to which art both enriches and colonizes us.