Gurjinder Basran studied creative writing at Simon Fraser University and the Banff Centre for the Arts. She lives in Delta, British Columbia.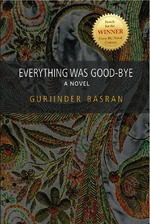 Fiction
Everything Was Good-bye: A Novel
Salt Spring Island, B.C.: Mother Tongue Press, 2010.
Toronto: Penguin, 2012.
PS8603 .A789 E93 2012
Publisher's Synopsis (from Mother Tongue Press website)
Everything Was Good-bye centers around Meena, a young Indo Canadian woman growing up in the lower mainland of British Columbia and traces her life as she struggles to assert her independence in a Punjabi community. Raised by her tradition bound widowed mother, Meena knows the freedoms of her Canadian peers can never be hers, but unlike her sisters, she is reluctant to submit to a life that is defined by a suitable marriage. Though a narrative moving between race and culture, it is ultimately a story of love, loss and self acceptance amidst shifting cultural ideals.
Awards and Honours
2010 Search for the Great B.C. Novel Contest (Winner)
2011 Ethel Wilson Fiction Prize-BC Book Prizes (Winner)
2012 Chatelaine Book Club selection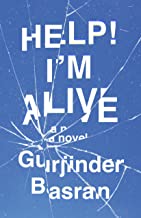 Fiction
Help! I'm Alive: A Novel
Toronto: ECW Press, 2022.
will order
Publisher's Synopsis (From its website)
After video footage of Jay's death is shared on social media, a suburban Vancouver community is left to try to make sense of what happened to Jay and whether his death was an accident or a suicide.
Help! I'm Alive explores the aftermath through the eyes of four people all suddenly confronted with who they have been and how they should be in the wake of such loss. Jay's former best friend, Ash, wonders what happened to their friendship and questions the relationships he has now; Winona, Jay's troubled girlfriend struggles with guilt and abandonment; Anik, Ash's older brother, is on a search for the meaning of life but hasn't left his basement apartment in months; and Pavan, Ash and Anik's mother, finds Jay's death lays bare all her personal and maternal anxieties.
Unflinching but life-affirming, Help! I'm Alive is a Gen Z and Gen X coming-to-terms story about loneliness and connection, love and suffering, and the moments that bring us together and drive us apart.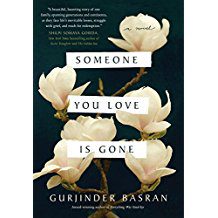 Fiction
Someone You Love is Gone
Toronto: Viking, 2017.
PS8603 .A789 S66 2017
Publisher's Synopsis
Simran is unable to move on. Grappling with the growing estrangement of her sister and daughter as well as the disintegration of her marriage, she wonders how her life has come to this. As the life she has carefully constructed unravels, she is forced to confront one of her most painful childhood memories–her parents sending her younger brother away from home.
Woven throughout are memories of Simran's mother as a young woman in 1960s India. Her world had seemed beautiful and full of hope then. But when an unexpected event occurs, the results will have repercussions for generations to come.
Selected Criticism and Interpretation
Chilana, Rajwant Singh. "Gurjinder Basran." In South Asian Writers in Canada: A Bio-Bibliographical Study. Surrey, BC: Asian Publications, 2017, 194-195.
Z1376 .S68 C45 2017