J. Torres was a child when his family immigrated to Canada from Manila, Philippines and settled in Montreal. Torres studied at McGill University and once worked as an ESL instructor. Since the early 2000s he has worked as a professional writer of comics and graphic novels. The biographical information posted by Canadian Children's Book Week 2021 notes that "Torres has written for all the major North American comic book publishers as well as some of Canada's biggest children's book publishers. He's written stories for popular characters and titles such as Avatar: The Last Airbender, Batman, Black Panther, Degrassi, Ninja Scroll, Rick and Morty, The Simpsons, Wall-E, Wonder Woman, Yo Gabba Gabba, and many others. His graphic novels for younger readers include Bigfoot Boy, Brobots, The Mighty Zodiac, How to Spot a Sasquatch, and his latest release Planet Hockey."
J. Torres won the 2006 Joe Shuster Award for Outstanding Writer. He lives in Whitby, Ontario, part of the Greater Toronto Area.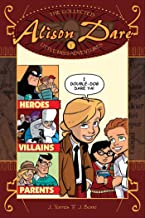 Fiction (Juvenile, Graphic novels)
Alison Dare Series
Alison Dare, Little Miss Adventures
Written by J. Torres and illustrated by J. Bone.
Oni Press, 2002-2005.
Toronto: Tundra Books, 2010.
Alison Dare, The Heart of the Matter
Written by J. Torres and illustrated by J. Bone.
Toronto: Tundra Books, 2010.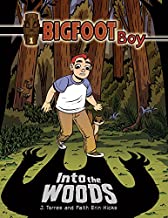 Fiction (Juvenile, Graphic novels)
Bigfoot Boy Series
Art by Faith Erin Hicks.
Toronto: Kids Can Press, 2012-2014.
Into the Woods (Bk. 1)
The Unkindness of Ravens (Bk. 2)
The Sound of Thunder (Bk. 3)
Publisher's Synopsis for Book 3 (From its website)
This conclusion to the Bigfoot Boy graphic novel trilogy adds a backdrop of Pacific Northwest mythology to the popular story about an ordinary boy who becomes a hero through the power of magic. As the book begins, Rufus, Penny and their squirrel friend, Sidney, are eager to recapture the magic totem they lost to the ravens in the previous book. But how? With Rufus no longer in possession of his powers, the trio seems destined to fail. Their luck turns, however, when they learn the local legend of Thunderbird. It seems the mighty bird had created the magic totem decades earlier to be used to ward off developers who wanted to destroy the precious Pacific Northwest forest. Developers who were much like the ones cutting down their trees today! Empowered with a newfound purpose to protect the woods, they finally know just what they have to do to save the day — and the trees!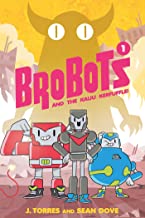 Fiction (Juvenile, Graphic novel series)
BroBots Series
Art by Sean Dove.
Portland, OR: Oni Press, 2016-2018.
BroBots and the Kaiju Kerfuffle! (Vol. 1)
BroBots and the Mecha Malarkey! (Vol. 2)
BroBots and the Shoujo Shenanigans! (Vol. 3)
Publisher's Synopsis (From its website)
Vol. 1: A trio of robot bros reel in a big challenge and must band together to battle a giant monster in this playful take on classic kaiju-mech and fairytale stories.
Vol. 2: The Brobots are back in another mecha action meets Mother Goose mash-up! This time they're up against the Semisweet ChocoWitch of Crime Brûlée Mountain and her crumby criminal cohorts. Take a half cup of Power Rangers with a tablespoon of Powerpuff Girls and add a dash of Voltron for a recipe we're calling "Brobots and the Mecha Malarkey"!
Vol. 3: The BroBots return in another thrilling, top-billing adventure—with cousins Mary Ann-droid and Barbara Ann-droid in tow! What should be a routine trip to the moon to see pop sensation Starlite quickly turns to disaster when the BroBots discover her in a deep sleep! Waking up is hard to do, but the BroBots are experts at going by the book. But where's the book that tells them how to defeat the giant, evil moon monster putting everyone to sleep? Against their biggest, baddest foe yet, do the BroBots—and their cousins—stand a chance?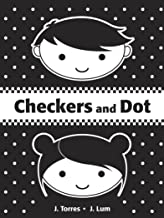 Fiction/Poetry (Juvenile, Board books)
Checkers and Dot Series
Written by J. Torres and illustrated by J. Lum.
Toronto: Tundra Books, 2012-2013.
Checkers and Dot (Bk. 1)
Checkers and Dot at the Zoo (Bk. 2)
Checkers and Dot on the Farm (Bk. 3)
Checkers and Dot at the Beach (Bk. 4)
Publisher's Synopsis for the Series (From the Penguin Random House website)
Welcome to the wonderfully patterned world of Checkers and Dot! This sweet and striking series of board books has been designed especially for babies and tots. With high-contrast, patterned art for developing eyes, simple but memorable rhyming text for reading aloud, and cute-as-a-button characters, J. Torres and J. Lum have created engaging first books that little ones and their loved ones will want to cozy up with and read again and again. A simple, sturdy, and stylish new series for those just beginning to look, listen, and learn.
Fiction (Juvenile, Picture Books)
Chirp Series
Story adaptation by J. Torres.
Toronto: Owlkids Books, 2015-2017.
Synopsis of the Chirp books series.
The Chirp books invite readers into a world of imagination where Chirp, Squawk, and Tweet work together to solve problems, using everyday objects and their limitless imaginations. Based on episodes of the Kids' CBC TV show "Chirp" and inspired by Chirp Magazine, the Chirp books are designed to encourage learning through imaginative play and will open up the world to preschoolers, one awesome adventure at a time.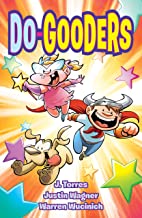 Fiction (Juvenile, Board book comic)
Illustrated by Justin Wagner and Warren Wucinich.
Portland, OR: Oni Press, 2015.
Synopsis by distributor Simon and Schuster Canada (From its website)
Do Gooders don't fight! Do Gooders do what's right! In this fun and imaginative board comic, two siblings learn what it really means to be a hero. It doesn't take bravery and strength, it takes teamwork and friendship. The perfect comic for any budding superhero!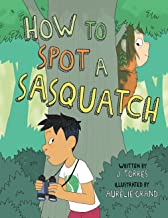 Fiction (Juvenile, Graphic novel)
How to Spot a Sasquatch
Illustrated by Aurélie Grand.
Toronto: Owlkids Books, 2018.
Publisher's Synopsis (From its website)
On a camping trip with the Junior Rangers, Jay feels like the odd one out. He's determined to get a photo of Bigfoot—but none of his friends believe Bigfoot exists. But if there's no such thing as Bigfoot, why is there a giant footprint? And who is stealing all the snacks?
Meanwhile, Sass the Sasquatch and her curious forest friends are playing practical jokes on the campers. On the last day of camp, disaster strikes when Jay falls into a rushing river. Sass comes out of the woodwork—despite her parents' warnings to stay away from humans!—just in time to save his life. Soon after, Jay and Sass become fast friends, proving that nothing is impossible when it comes to friendship.
Told in ten short chapters, this is an accessible book with an action-packed story line perfect for building early literacy skills, with sequential illustrations that provide contextual clues to the text.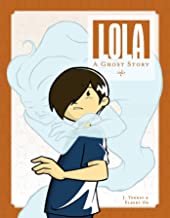 Fiction (Juvenile, Graphic novel)
Lola: A Ghost Story
Art by Elbert Or.
Portland, OR: Oni Press, 2009 or 2010.
Portland, OR: Oni Press, 2020. New ed.
Publisher's Synopsis of the New ed. (From its website)
J. Torres and Elbert Or celebrate 10 years of Lola: A Ghost Story, the critically-acclaimed graphic novel that explores family, grief and Filipino folklore in an all-new edition that includes a revised ending and updated illustrations.
Jesse didn't really know his Lola (the Tagalog word for grandmother), but he remembers that she tried to drown him as a baby. Strange stories surround Lola: she had visions, she fought off monsters straight out of Filipino folklore, and, according to some, she may have even seen ghosts.
Now Jesse is struggling with the same visions Lola had, but Lola's not around anymore, and the rest of his family are too tied up in their own personal demons to help. Personal demons that Lola might have helped with, if she were still alive. As Jesse explores his new abilities, he realizes that he might be the one who needs to step into that role—and that helping others might just help him, too.

Fiction (Juvenile, Graphic novel/Comic)
The Mighty Zodiac: Starfall
Artists Corin Howell with Maarto Laiho
Portland, OR: Oni Press, 2017.
Publisher's Synopsis (From its website)
Collects the first six issues of the fantasy and fable adventure, The Mighty Zodiac! One dark and quiet night in Gaya, six stars fall from the sky. Master Long, the ailing leader of the Mighty Zodiac, sends his warriors out to collect the stars before the Moon Rabbit Army can get their paws on them first. If the Rabbits get the stars, the balance of nature—and the fate of all of Gaya—will be in danger. But Long's plans to use the stars to "cure" his illness may be just as dangerous—and bring an end to the Mighty Zodiac itself.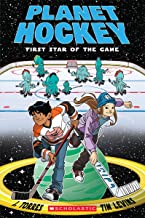 Fiction (Juvenile, Graphic novel)
Planet Hockey: First Star of the Game
Illustrated by Tim Levins.
Toronto: Scholastic Canada, 2020.
Publisher's Synopsis (From its website)
Welcome to the GHL – the Galaxian Hockey League! Isaac may be the Greatest Of All Time in online hockey, but he's an epic fail on actual ice. Too bad nobody told the Galaxians! Isaac is warped away to become the new superstar of the planet's worst team of all time. Fortunately, Isaac's friend Lily tags along — and she just might be the best goalie this side of the Milky Way.
But the interstellar game isn't quite like hockey on Earth. Opposing players are shaped like trees, or built like actual boulders, or electrified. And even if Isaac can whip his disastrous new team into shape, Emperor Mad Maroon still might put them all in the Penalty Box of Pain.
Can Isaac score a win in the big game . . . and get back to home ice?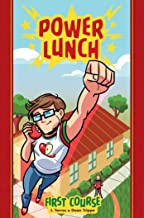 Fiction (Juvenile, Graphic novels)
Power Lunch Series
Illustrated by Dean Trippe.
Portland, OR: Oni Press, 2011-2014.
Power Lunch: First Course (Bk. 1)
Power Lunch: Seconds (Bk. 2)
Synopsis by Distributor Simon & Schuster Canada (From its website)
Bk. 1. Joey is a sickly-looking kid who's been raised to believe that he's allergic to pretty much everything with a hue. His mother has him on a strict diet that avoids a huge list of food—anything that isn't white is off the table. Literally. Why the restrictive diet? Well, it turns out every food gives Joey a different super power! Lunch time just got a whole lot crazier!
Bk. 2. When Joey joins the school soccer team, he finally begins to feel like a normal kid, especially since he doesn't need to use his food-fueled superpowers to score goals. All that changes with the star players of a rival team—two terrible twins who excel at cheating! If Joey uses his superpowers, he could teach the twins a lesson. But that would be cheating… wouldn't it?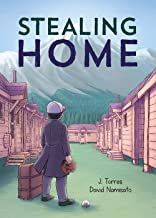 Fiction (Juvenile, Graphic novel)
Stealing Home
Illustrated by David Namisato.
Toronto: Kids Can Press, 2021.
Publisher's Synopsis (From its website)
Sandy Saito is a happy boy who reads comic books and is obsessed with baseball – especially the Asahi team, the pride of his Japanese Canadian community. But when the Japanese attack Pearl Harbor, his life, like that of every other North American of Japanese descent, changes forever. His family is forced to move to a remote internment camp, and his father must spend months away from them. Sandy, his mother and his brother cope as best they can with the difficulties at the camp. Over time, Sandy comes to realize that life is a lot like baseball. It's about dealing with whatever is thrown at you, however you can. And it's about finding your way home.
In this emotionally gripping graphic novel, J. Torres has artfully woven a fictional story into a historically accurate, thoroughly researched account of the events surrounding the internment of Japanese Canadians during World War II. Using the approachable graphic novel format, the story of this grave chapter in North American history is gently told with sensitivity and insight, and the theme of baseball runs through the story as a message of hope and renewal. The time and place are evocatively rendered in David Namisato's detailed sepia-toned art. Along with its links to social studies and history lessons, this book offers a perfect lead-in to discussions about differences, inclusion and empathy, and about why this history is relevant today. The book includes extended background information in an afterword by Susan Aihoshi and resources for learning more.
Awards and Honours
2022 Geoffrey Bilson Award for Historical Fiction for Young People (Finalist)
2023 Silver Birch Fiction Award (Honour Book #2)

Fiction (Juvenile, Graphic novels)
Teen Titans Go! Series
Illustrated by Todd Nauck and others.
DC Comics, 2014-2017.
Teen Titans Go! Titans Together! (writers J. Torres and Mike Norton). Collects #27-32, from the original series.
Titans Titans Go! Bring it On. Collects #13-18.
Synopsis for the Series
Based on the hit TV show, a new edition of Titans Together. Join Robin, Starfire, Beast Boy, Cyborg and Raven as they display their unique brand of hijinks, mayhem and justice!