Ausma Zehanat Khan earned a BA in literature and sociology from the University of Toronto, two law degrees from the University of Ottawa, and a PhD in international human rights law with a research specialization in military intervention and war crimes in the Balkans, from Osgoode Hall Law School. She practiced immigration law in Toronto, and taught law at both Northwestern University and York University. Khan now lives in Colorado with her spouse and is a prolific writer and community activist.
Khan's mystery series featuring Rachel Getty and Esa Khattak currently consists of five full-length novels available in multiple formats, and one e-only short titled Death in Sarajevo that is available as a Kindle edition.
Khan's four-book fantasy series, The Khorasan Archives, is published in Canada by HarperCollins, in the US and the UK by Harper Voyager with very different cover imagery. They are also available as Kindle editions.
Khan's other writing includes a non-fiction work for middle graders: Ramadan: The Holy Month of Fasting (Victoria, BC: Orca Book Publishers, 2018).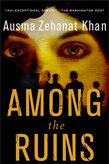 Fiction
Among the Ruins (Rachel Getty and Esa Khattak Novels ; bk. 3)
New York: Minotaur Books, 2017.
Synopsis (From the author's website)
On leave from Canada's Community Policing department, Esa Khattak is traveling in Iran, reconnecting with his cultural heritage and seeking peace in the country's beautiful mosques and gardens. But Khattak's supposed break from work is cut short when he's approached by a Canadian government agent in Iran, asking him to look into the death of renowned Canadian-Iranian filmmaker Zahra Sobhani. Zahra was murdered at Iran's notorious Evin prison, where she'd been seeking the release of a well-known political prisoner. Khattak quickly finds himself embroiled in Iran's tumultuous politics and under surveillance by the regime, but when the trail leads back to Zahra's family in Canada, Khattak calls on his partner, Detective Rachel Getty, for help. …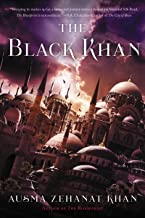 Fiction
The Black Khan (Khorasan Archives ; bk. 2)
Toronto: HarperCollins, 2018.
Publisher's Synopsis (From its website)
To fight against the cruel and superstitious patriarchy known as the Talisman, members of the resistance group known as the Companions of Hira have risked their lives in a failed attempt to procure the Bloodprint—a dangerous text that may hold the secret to overthrowing the terrifying regime. Now, with their plans in ashes, the Companions of Hira have scattered, and the lives of two brave women at the center of the plot—Arian and Sinnia—face unprecedented danger.
Yet a spark of hope flickers in the darkness—the Bloodprint has survived. It is hidden in Ashfall, the seat of Rukh, the Black Khan, whose court is ruled by intrigue and conspiracy. Treacherous enemies ruthlessly maneuver for power behind the throne, including the autocratic Grand Vizier; the deadly and secretive Assassin; the Khan's deposed half-brother; and the commander of Ashfall's army, who is also Rukh's oldest friend. …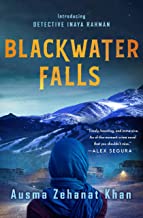 Fiction
Blackwater Falls: A Thriller (Detective Inaya Rahman series ; vol. 1)
New York: Minotaur Books, 2022.
forthcoming Nov. 2022.
Publisher's Synopsis (From its website)
Girls from immigrant communities have been disappearing for months in the Colorado town of Blackwater Falls, but the local sheriff is slow to act and the fates of the missing girls largely ignored. At last, the calls for justice become too loud to ignore when the body of a star student and refugee–the Syrian teenager Razan Elkader–is positioned deliberately in a mosque.
Detective Inaya Rahman and Lieutenant Waqas Seif of the Denver Police are recruited to solve Razan's murder, and quickly uncover a link to other missing and murdered girls. But as Inaya gets closer to the truth, Seif finds ways to obstruct the investigation. Inaya may be drawn to him, but she is wary of his motives: he may be covering up the crimes of their boss, whose connections in Blackwater run deep.
Inaya turns to her female colleagues, attorney Areesha Adams and Detective Catalina Hernandez, for help in finding the truth. The three have bonded through their experiences as members of vulnerable groups and now they must work together to expose the conspiracy behind the murders before another girl disappears.
Delving deep into racial tensions, and police corruption and violence, Blackwater Falls examines a series of crimes within the context of contemporary American politics with compassion and searing insight.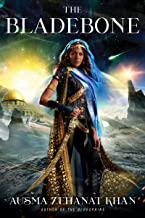 Fiction
The Bladebone (Khorasan Archives ; bk. 4)
Toronto: HarperCollins, 2020.
Publisher's Synopsis (From its website)
Armed with the powerful sorcery of the Bloodprint and supported by the Talisman, the oppressive One-Eyed Preacher is on the verge of conquering Ashfall, the Black Khan's capital in the west. Yet not all is lost for Sinnia, Arian, and the Citadel of Companions. If these brave female warriors can find an ancient magic weapon known as the Bladebone, they can defeat the Preacher and crush his cruel regime.
Neither Sinnia and Arian, nor their allies, the Mages of Khorasan, know the Bladebone's whereabouts, and not all may survive the search to uncover it. Pursued by a nefarious enemy aligned with the Preacher, they become separated, each following a different path. Then, in their darkest hour, unexpected help appears. But is the Khanum of Black Aura a friend or foe? Arian may discover the answer too late. …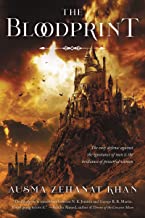 Fiction
The Bloodprint (Khorasan Archives ; bk. 1)
Toronto: HarperCollins, 2017.
Publisher's Synopsis (From its website)
A dark power called the Talisman, born of ignorance and persecution, has risen in the land. Led by a man known only as the One-Eyed Preacher, it is a cruel and terrifying movement bent on world domination—a superstitious patriarchy that suppresses knowledge and subjugates women. And it is growing.
But there are those who fight the Talisman's spread, including the Companions of Hira, a diverse group of influential women whose power derives from the Claim—the magic inherent in the words of a sacred scripture. Foremost among them is Arian and her fellow warrior, Sinnia, skilled fighters who are knowledgeable in the Claim. This daring pair have long stalked Talisman slave-chains, searching for clues and weapons to help them battle their enemy's oppressive ways. Now they may have discovered a miraculous symbol of hope that can destroy the One-Eyed Preacher and his fervid followers: the Bloodprint, a dangerous text the Talisman has tried to erase from the world. …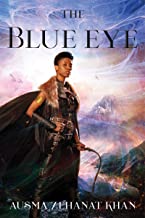 Fiction
The Blue Eye (Khorasan Archives ; bk. 3)
Toronto: HarperCollins, 2019.
Publisher's Synopsis (From its website)
The Companions of Hira have used their cunning and their magic in the battle against the patriarchal Talisman, an organization whose virulently conservative agenda restricts free thought. One of the most accomplished Companions, Arian, continues to lead a disparate group in pursuit of the one artifact that could end the Talisman's authoritarian rule: The Bloodprint.
But after a vicious battle, the arcane tome has slipped once more beyond her reach. Despite being separated and nearly losing their lives, Arian's band of allies has remained united. Yet now, the group seems to be fracturing. To continue the fight, Arian must make a dangerous journey to a distant city to recruit new allies. But instead of her trusted friends, she is accompanied by associates she may no longer be able to trust. …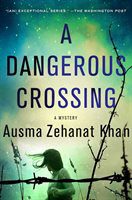 Fiction
A Dangerous Crossing (Rachel Getty and Esa Khattak Novels ; bk. 4)
New York: Minotaur Books, 2018.
Synopsis (From the author's website)
For Inspector Esa Khattak and Sergeant Rachel Getty, the Syrian refugee crisis is about to become personal. Esa's childhood friend, Nathan Clare, calls him in distress: his sister, Audrey, has vanished from a Greek island where the siblings run an NGO. Audrey had been working to fast-track refugees to Canada, but now, she is implicated in the double-murder of a French Interpol agent and a young man who had fled the devastation in Syria.
Esa and Rachel arrive in Greece to a shocking scene, witnessing for themselves the massive fallout of the Syrian war in the wretched refugee camps. Tracing Audrey's last movements, they meet some of the volunteers and refugees―one of whom, Ali, is involved in a search of his own, for a girl whose disappearance may be connected to their investigation. The arrival of Sehr Ghilzai―a former prosecutor who now handles refugee claims for Audrey's NGO―further complicates the matter for Esa, as his feelings towards her remain unresolved. …
​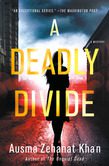 Fiction
A Deadly Divide (Rachel Getty and Esa Khattak Novels ; bk. 5)
New York: Minotaur Books, 2019.
Synopsis (From the author's website)
In the aftermath of a mass shooting at a mosque in Quebec, the local police apprehend Amadou Duchon―a young Muslim man at the scene helping the wounded―but release Etienne Roy, the local priest who was found with a weapon in his hands.
The shooting looks like a hate crime, but detectives Esa Khattak and Rachel Getty sense there is more to the story. Sent to liaise with a community in the grip of fear, they find themselves in fraught new territory, fueled by the panic and suspicion exploited by a right-wing radio host.
​
As Rachel and Esa grapple to stop tensions shutting the case down entirely, all the time, someone is pointing Esa in another direction, a shadowy presence who anticipates his every move. …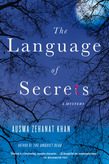 Fiction
The Language of Secrets (Rachel Getty and Esa Khattak Novels ; bk. 2)
New York: Minotaur Books, 2016.
Synopsis (From the author's website)
For months, INSET, Canada's federal intelligence agency, has been investigating a local terrorist cell in Toronto. But when one of INSET's own informants is killed at the cell's training camp, Detective Esa Khattak's unique police department is called to investigate the murder, and his partner, Rachel Getty, goes undercover into the unsuspecting mosque. As she begins forging relationships with members of the mosque and the cell operating clandestinely within it, Rachel uncovers a world where the political and ideological collide with the intensely personal in ways none of them could ever have foreseen.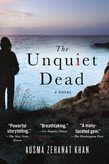 Fiction
The Unquiet Dead (Rachel Getty and Esa Khattak Novels ; bk. 1)
New York: Minotaur Books, 2015.
Synopsis (From the author's website)
A man named Christopher Drayton falls to his death from the Scarborough Bluffs, and detectives Esa Khattak and Rachel Getty of Community Policing are called in to investigate. They soon learn that Drayton may have been a war criminal with ties to the Srebrenica massacre of 1995. As Rachel and Khattak dig deeper into the life and death of Christopher Drayton, every question seems to lead only to more questions. Had the specters of Srebrenica returned to haunt Drayton at the end, or had he been keeping secrets of an entirely different nature? Or after all, did a man just fall to his death?
Awards and Honours
2016 Barry Award–Best First Novel (Winner)
2016 Arthur Ellis Award–Best First Novel (Winner)
2016? Romantic Times Reviewers' Choice Award for Best First Novel (Winner)