Michelle Kadarusman was born in Australia and grew up in Melbourne. She lived for a decade in Indonesia, the homeland of her father, prior to immigrating to Canada more than twenty years ago. Kadarusman writes for children and teens, founded a literacy agency, and works for the Scotiabank Giller Prize. She resides in Toronto.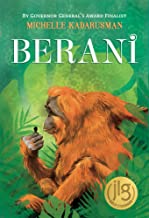 Fiction (Juvenile)
Berani
Toronto: Pajama Press, 2022.
Publisher's Synopsis (From its website)
Malia has had a privileged upbringing in Indonesia, but since her Indonesian father died, her Canadian mother wants to return to her own family on the other side of the world. Malia is determined to stay. Indonesia is her home, and she loves it. Besides, if she leaves, how can she continue to fight for her country's precious rainforests?
Ari knows he is lucky to be going to school and competing on the chess team, even if it means an endless round of chores at his uncle's restaurant. Back in his home village, he and his cousin Suni dreamed about getting a chance like this. But now he is here without her, and the guilt is crushing him. As if that weren't enough, he's horribly worried about Ginger Juice, his uncle's orangutan. The too-small cage where she lives is clearly hurting her body and her mind, but where else can she go? The rainforest where she was born is a palm oil plantation now.
Awards and Honours
2023 TD Canadian Children's Literature Award (Finalist)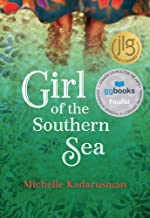 Fiction (Juvenile)
Girl of the Southern Sea
Toronto: Pajama Press, 2019.
Publisher's Synopsis (From its website)
From the time she was a little girl, Nia has dreamed up adventures about the Javanese mythical princess, Dewi Kadita. Now fourteen, Nia would love nothing more than to continue her education and become a writer. But high school costs too much. Her father sells banana fritters at the train station, but too much of his earnings go toward his drinking habit. Too often Nia is left alone to take over the food cart as well as care for her brother and their home in the Jakarta slums.
But Nia is determined to find a way to earn her school fees. After she survives a minibus accident unharmed and the locals say she is blessed with 'good luck magic,' Nia exploits the notion for all its worth by charging double for her fried bananas. Selling superstitions can be dangerous, and when the tide turns it becomes clear that Nia's future is being mapped without her consent.
If Nia is to write a new story for herself, she must overcome more obstacles than she could ever have conceived of for her mythical princess, and summon courage she isn't sure she has.
Awards and Honours
2019 Governor General's Literary Award: Young People's Literature – Text (Finalist)
2019 CCBC Best Books for Kids & Teens Starred Selection
2019 Junior Library Guild Selection
2020 Diamond Willow (Saskatchewan Young Readers' Choice Awards)(Finalist)
2020 USSBY (United States Board on Books for Young People) Outstanding International Books
2021-22 Hackmatack Children's Choice Award — English fiction (Finalist)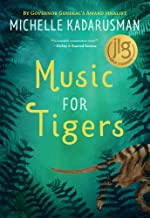 Fiction (Juvenile)
Music for Tigers
Toronto: Pajama Press, 2020.
Publisher's Synopsis (From its website)
Shipped halfway around the world to spend the summer with her mom's eccentric Australian relatives, middle schooler and passionate violinist Louisa is prepared to be resentful. But life at the family's remote camp in the Tasmanian rainforest is intriguing, to say the least. There are pig-footed bandicoots, scary spiders, weird noises and odors in the night, and a quirky boy named Colin who cooks the most amazing meals. Not the least strange is her Uncle Ruff, with his unusual pet and veiled hints about something named Convict Rock.
Finally, Louisa learns the truth: Convict Rock is a sanctuary established by her great-grandmother Eleanor—a sanctuary for Tasmanian tigers, Australia's huge marsupials that were famously hunted into extinction almost a hundred years ago. Or so the world believes. Hidden in the rainforest at Convict Rock, one tiger remains. But now the sanctuary is threatened by a mining operation, and the last Tasmanian tiger must be lured deeper into the forest. The problem is, not since her great-grandmother has a member of the family been able to earn the shy tigers' trust.
As the summer progresses, Louisa forges unexpected connections with Colin, with the forest, and—through Eleanor's journal—with her great-grandmother. She begins to suspect the key to saving the tiger is her very own music. But will her plan work? Or will the enigmatic Tasmanian tiger disappear once again, this time forever?
Awards and Honours
2020 Junior Library Guild Selection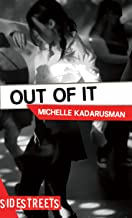 Fiction (Young adult)
Out of It
Toronto: James Lorimer, 2014. (Series: SideStreets)
Publisher's Synopsis (From its website)
Suri and Lacey have been best friends since kindergarten. Suri, the photographer, has always been the safe, responsible one, afraid to take risks. Now that the pair is in high school, she"s afraid that her more outgoing and adventurous friend will outgrow her.

Then Lacey"s wild, risk-taking personality leads her down a dangerous path — and Suri is afraid of losing her for real. But if she chases Lacey down that same path of drinking, partying, hooking up with older guys, and drugs, will Suri be able to save her friend — or herself?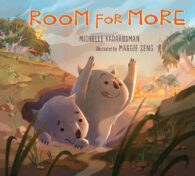 Fiction (Juvenile, Picture book)
Room for More
Illustrated by Maggie Zeng.
Toronto: Pajama Press, 2022.
Publisher's Synopsis (From its website)
When a fire sweeps through the Australian bush, wombats Dig and Scratch are glad to have a cool, damp burrow to keep them safe. But Dig notices that other animals are not so lucky. When Dig invites a wallaby mother and her joey to shelter with them, Scratch grumbles. When Dig beckons to a koala, Scratch complains. And when Dig welcomes in a tiger snake, Scratch is fit to be tied—but Dig is sure there's always room for more. And when the rains come to douse the fire and bring a new threat of flooding, a crowd of creatures may turn out to be just what the wombats need.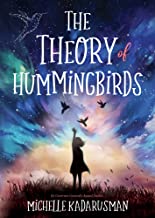 Fiction (Juvenile)
The Theory of Hummingbirds
Toronto: Pajama Press, 2017.
PZ7.K122 T46 2017
Publisher's Synopsis (From its website)
"Hummingbirds and angels don't need two good feet. They have wings." That's what Alba's mother always says. Of course, Alba doesn't have wings or two good feet: she has Cleo. Cleo is the name Alba has given to her left foot, which was born twisted in the wrong direction. When she points this out, though, her mother just smiles like the world has some surprise in store she doesn't know about yet.
Well, Alba has her own surprise planned. After one final surgery and one final cast, Cleo is almost ready to meet the world straight on—just in time to run in the sixth grade cross-country race. Unfortunately, Alba's best friend Levi thinks there's no way she can pull it off. And she thinks there's no way he's right about the school librarian hiding a wormhole in her office. Tempers flare. Sharp words fly faster than hummingbirds. And soon it looks like both friends will be stuck proving their theories on their own.
Awards and Honours
2018 Diamond Willow (Saskatchewan Young Readers' Choice Awards)(Finalist)
2018 CCBC Best Books for Kids & Teens Starred Selection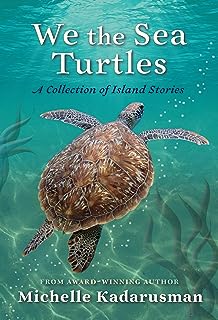 Fiction (Juvenile, Short stories)
We the Sea Turtles: A Collection of Island Stories
Toronto: Pajama Press, 2023.
Forthcoming Sept 2023
Publisher's Synopsis (From its website)
On islands around the world—from Manhattan to Phillip Island, Australia, to Komodo Island and beyond—nine children face life-changing moments: escaping a flood; embracing their identity; discovering that the adults in their lives can ease the burden of their eco-anxiety. And although each child couldn't be more different, one thing connects them all: a turtle swam into each of their lives at a critical moment, and left them changed.