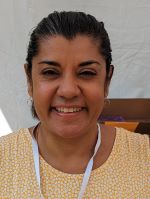 Camille Hernández-Ramdwar is a multi-racial, multicultural, multilingual, and transnational writer and scholar. She has a Bachelor degree from York University and both an M.A. and Ph.D. from the University of Toronto. Her masters thesis (1995) is titled: All o' We is Me: Mixed Race Identity in the Caribbean-Canadian Context, and her doctoral thesis (2006) is titled: From TT to T.O.: Second Generation Identities in the Caribbean Diaspora. Hernández-Ramdwar was a sociology professor specializing in Caribbean studies at Toronto Metropolitan University. Her short stories, narratives and poetry have been published in several anthologies and literary magazines. Hernández-Ramdwar's has Indo-Caribbean roots in Trinidad and Tobago.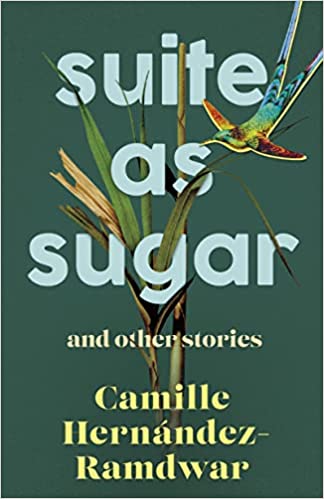 Fiction (Short stories)
Suite as Sugar and Other Stories
Toronto: Rare Machines, 2023.
On order
Publisher's Synopsis (From its website)
From Winnipeg winterscapes to Toronto's condo culture, from Havana's haunted streets to Trinidad's calamitous environs, the stories in Suite as Sugar are permeated with the violence of colonial histories, personal and intimate, reflecting legacies of abandonment and loss. The veil between the living and the dead is obscured, chaos becomes panacea, and characters take drastic measures into their own hands.
Survivors of all kinds seek strategy and solace: a group of homeless people organize an occupation of vacant condos, a new resident to a disturbing neighbourhood tries to make sense of madness, a dog investigates the sudden disappearance of his owner. The five intertwined vignettes in the title story are set in a Caribbean country where the spectre of the sugar plantation haunts everyone. Tying this collection together is the casual brutality of our everyday lives, whether seen through the eyes of animal, spirit, or human being.
Anthology (Non-fiction)
"–But Where Are You Really From?: Stories of Identity and Assimilation in Canada
Anthologised and edited by Hazelle Palmer.
Includes two contributions by Hernandez-Ramdwar.
Toronto: Sister Vision, 1997.
PS8235 .W7 B88 1997

Anthology (Short stories)
Mercury Retrograde and Other Stories by Women
Other Contributors: Sharon Mareeka Lewis, Mansa, and Ruba Nadda.
Toronto: Sister Vision, 1999.
PS8321 .M35 1999
Publisher's Synopsis
Mercury Retrograde is an engagingly provocative incursion into new Canadian writing. At the heart of this collection of short fiction beats the determination of the seeker. This is writing that enters contradiction, but refuses alienation. These are characters beset by falsifying images who nevertheless find their artistic power; characters who push down the walls of convention with humour and wit.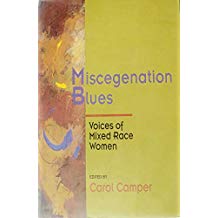 Anthology (Non-fiction)
Miscegenation Blues: Voices of Mixed Race Women
Edited by Carol Camper.
Toronto: Sister Vision, 1994.
PS8235 .W6 M58 1994
"Ms. Edge Innate" is the title of the contribution from Hernandez-Ramdwar.