Shaun Mehta, a freelance writer and teacher with an international MBA, lives and teaches in Toronto. Mehta earned a Creative Writing diploma from the Humber School for Writers. His short story, Amal, was first published in A Slice of Life and then adapted into a short film by Richie Mehta in 2004. Amal was subsequently developed into a feature length film, shot in  New Delhi, and won many international awards.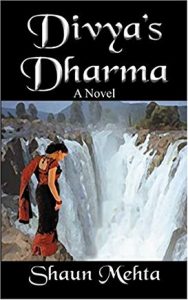 Fiction
Divya's Dharma: A Novel
[Bloomington, IN.]: Authorhouse, 2004.
PS8626 .E398 D58 2004
Publisher's Synopsis
Divya, an East Indian Canadian, travels to Southern India as an exchange student where she is overwhelmed by its extraordinary beauty and ugliness, its vibrancy and hypocrisy. As Divya discovers the past that her family has desperately tried to conceal, she is faced with a daunting choice: to fulfill her role as a dutiful daughter, or to search her soul and follow her Dharma.
Divya's Dharma is a story about tragedy, love, and spiritual growth. Issues such as India's staggering poverty, appalling corruption, and the horrors of inter-caste wars are woven into a plot driven by characters and events that change Divya's life forever.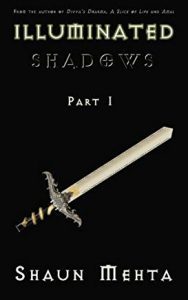 Fiction
Illuminated Shadows. Parts 1-3.
[Bloomington, IN.]: Authorhouse, 2014-2015.
Synopsis (from author's website)
Katherine Melody Chambers is an autistic savant with prodigious music skills in a psychogenic coma. To escape her traumatic reality, she lives as Queen Kaila, the protagonist of a fantasy book she loved to read.
Blaming himself for the murder of his wife and daughter, Detective Alex Knight searches for redemption by promising justice for the comatose girl.
The story switches back and forth between these two worlds until its reaches the climax—the convergence of reality and fantasy.
Part Medieval Fantasy and part Crime Mystery, Illuminated Shadows is an epic adventure in an enchanted world and a gripping police whodunit thriller that combines forensic science and investigative prowess to solve the case.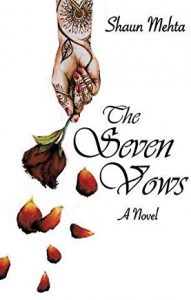 Fiction
The Seven Vows: A Novel
[Bloomington, IN.]: Authorhouse, 2017.
PS8626 .E398 S48 2017
Publisher's Synopsis
Anand Verma is a recovering alcoholic, struggling to overcome his failure as a dutiful son, husband, and father. After being abandoned by his wife to raise his possibly illegitimate child, Anand's overbearing mother sends him to India to marry Sonia, a beautiful yet unhappy stranger whose heart belongs to another.
Will Anand find his moral compass? Will he fulfill his vows? Or will he splinter his relationship with his new wife and innocent son by returning to the bottle?
The Seven Vows is a poignant story of one man's journey to adhere to his cultural values and navigate the complexities of love in order to find redemption, purpose, and peace.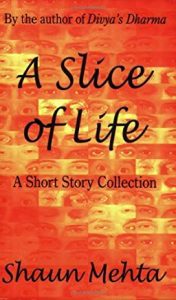 Fiction (Short stories)
A Slice of Life: A Short Story Collection
[Bloomington, IN.]: Authorhouse, 2005.
PS8626 .E398 S59 2005
Publisher's Synopsis
A Slice of Life reminds us that in spite of our geographical, racial, and cultural diversities, it is our emotions that collectively bind us. We all feel fear, apathy, and despair as well as courage, passion, and love. We all search for a meaningful purpose in our quest for fulfillment. From hardship to triumph, we all ride this roller coaster called life.