Janie Chang was born in Taiwan and lived in the Philippines, Thailand, Iran, and New Zealand before settling in Canada. She holds a degree in computer science from Simon Fraser University and has also graduated from that institution's Writer's Studio.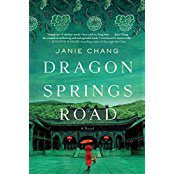 Fiction
Dragon Springs Road
Toronto: HarperCollins Canada, 2017
PS8605 .H35625 D73 2018
Publisher's Synopsis (From its website)
From the author of Three Souls ("heartbreaking and hopeful," Booklist) comes a new novel set in early-twentieth-century Shanghai, where, as an ancient imperial dynasty collapses, a new government struggles to life and two girls—one a Eurasian orphan, the other a daughter of privilege—are bound together in a friendship that will be tested by duty, honour and love.
Abandoned in the courtyard of a once-lavish estate outside Shanghai, seven-year-old Jialing learns she is zazhong—Eurasian—and thus doomed to face a lifetime of contempt from both Chinese and Europeans. The Yang family, new owners of the estate, reluctantly take her in as a servant. As Jialing grows up, her only allies are Anjuin, the eldest Yang daughter, and Fox, an animal spirit who has lived in the courtyard for more than 300 years. But when a young English girl appears and befriends the lonely orphan—and then mysteriously vanishes—Jialing's life takes an unexpected turn and gives her hope of finding her long-lost mother.
Instead, Jialing finds herself drawn into a murder at the periphery of political intrigue, a relationship that jeopardizes her friendship with Anjuin and a forbidden affair that brings danger to the man she loves. Ultimately, she learns that for years Fox has been preparing her for a very different sort of fate . . . should she choose to accept it.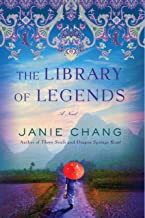 Fiction
The Library of Legends: A Novel
Toronto: HarperAvenue, 2020.
PS8605.H35625 L53 2020
Publisher's Synopsis (From its website)
China, 1937. When Japanese bombs begin falling on the city of Nanking, nineteen-year-old Hu Lian and her classmates at Minghua University are ordered to flee. Lian and a convoy of students, faculty and staff must walk 1,000 miles to the safety of China's western provinces, a journey marred by the constant threat of aerial attack. And it is not just the refugees who are at risk; Lian and her classmates have been entrusted with a priceless treasure: a 500-year-old collection of myths and folklore known as the Library of Legends.
The students' common duty to safeguard the Library of Legends creates unexpected bonds. Lian becomes friends and forms a cautious romance with the handsome and wealthy Liu Shaoming. But after one classmate is arrested and another one is murdered, Lian realizes she must escape before a family secret puts her in danger too. Accompanied by Shao and his enigmatic maidservant, Sparrow, Lian makes her way to Shanghai in the hopes of reuniting with her mother.
During the journey, Lian learns of the connection between her two companions and a tale from the Library of Legends, The Willow Star and the Prince. This revelation comes with profound consequences, for as the ancient books travel across China, they awaken immortals and guardian spirits who embark on an exodus of their own, one that will change the country's fate forever.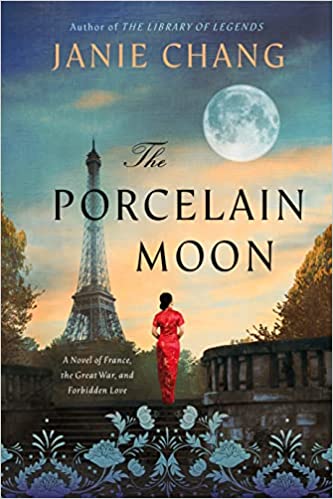 Fiction
The Porcelain Moon
Toronto: HarperAvenue, 2023.
forthcoming Feb 2023
Publisher's Synopsis (From its website)
France, 1918. In the final days of the First World War, Pauline Deng runs away from her uncle's home in Paris to evade a marriage being arranged for her in Shanghai. To prevent the union, she needs the help of her cousin Theo, who is working in the French countryside as a translator for the Chinese Labour Corps.
In the town of Noyelles-sur-Mer, Camille Roussel is planning her escape from an abusive marriage and seeking to end a love affair that can no longer continue. Camille offers Pauline a room in her house, and the two women become friends. But before long, Pauline uncovers a perilous secret that Camille has been hiding from her. As their dangerous situation escalates, the two women are forced to make a terrible decision that will bind them together for the rest of their lives.
Set against the little-known history of the 140,000 Chinese workers who were brought to Europe as non-combatant labour during WWI, The Porcelain Moon is a tale of forbidden love, identity and belonging, and what we are willing to risk for freedom.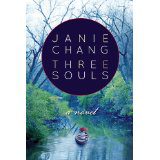 Fiction
Three Souls
Toronto: HarperCollins, 2013
PS8605 .H35625 T57 2013
Publisher's Synopsis (From its website)
Civil war China is fractured by social and political change. Behind the magnificent gates of the Song family estate, however, none of this upheaval has touched Leiyin, a spoiled and idealistic teenager. But when Leiyin meets the captivating left-wing poet Hanchin, she defies her father and learns a harsh reality: that her father has the power to dictate her fate. Leiyin's punishment for disobedience leads to exile from her family, an unwanted marriage and ultimately a lover's betrayal—followedby her untimely death. Now a ghost, Leiyin must make amends to earn entry to the afterlife. But when her young daughter faces a dangerous future, Leiyin has to make a heart-wrenching choice.
Awards and Honours
2014 Ethel Wilson Fiction Prize (BC Book Prizes) (Finalist)
2015 Dublin IMPAC Literary Award (Long list)