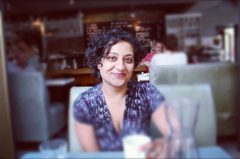 Farzana Doctor is a Toronto-based author and former co-curator of the Brockton Writers Series.  Her second book, Six Metres of Pavement was praised by Publisher's Weekly as "..a paen to second chances" and was named one of Now Magazine's Top Ten Books of 2011.  Farzana was named as one of CBC Books' "Ten Canadian Women Writers You Need to Read Now" and was the recipient of the Writers' Trust of Canada's Dayne Ogilvie Grant (2011).  She was the Autumn 2012 Writer in Residence of the Toronto Public Library.
Photograph by Vivek Shraya.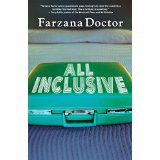 Fiction
All Inclusive
Toronto: Dundurn Press, 2015.
PS8607 .O35 A65 2015
Publisher's Synopsis (From its website)
What's it like when everyone's dream vacation is your job? Ameera works at a Mexican all-inclusive resort, where every day is paradise — if "paradise" means endless paperwork, quotas to meet, and entitled tourists. But it's not all bad: Ameera's pastime of choice is the swingers' scene, and the resort is the perfect place to hook up with like-minded couples without all the hassle of having to see them again.
Despite Ameera's best efforts to keep her sideline a secret, someone is spreading scandalous rumours about her around the resort, and her job might be at stake. Meanwhile, she's being plagued by her other secret, the big unknown of her existence: the identity of her father and why he disappeared. Unbeknownst to Ameera, her father, Azeez, is looking for her, and they both must come to terms with the reason why he abandoned her.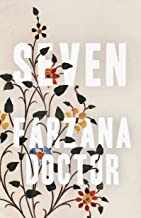 Fiction
Seven
Toronto: Dundurn Press, 2020.
Electronic book (Access restricted to the TMU community)
Publisher's Synopsis (From its website)
When Sharifa accompanies her husband on a marriage-saving trip to India, she thinks that she's going to research her great-great-grandfather, a wealthy business leader and philanthropist. What captures her imagination is not his rags-to-riches story, but the mystery of his four wives, missing from the family lore. She ends up excavating much more than she had imagined.
Sharifa's trip coincides with a time of unrest within her insular and conservative religious community, and there is no escaping its politics. A group of feminists is speaking out against khatna, an age-old ritual they insist is female genital cutting. Sharifa's two favourite cousins are on opposite sides of the debate and she seeks a middle ground. As the issue heats up, Sharifa discovers an unexpected truth and is forced to take a position.
Awards and Honours
2021 Trillium Book Award (Finalist)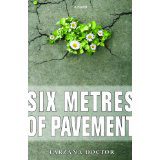 Fiction
Six Metres of Pavement
Toronto: Dundurn Press, 2011.
PS8607 .O35 S59 2011
Publisher's Synopsis
Ismail Boxwala made the worst mistake of his life one summer morning twenty years ago: he forgot his baby daughter in the back seat of his car.  After his daughter's tragic death, he struggles to continue living.  A divorce, years of heavy drinking, and sex with strangers only leave him feeling more alone.
But Ismail's story begins to change after he reluctantly befriends two women: Fatima, a young queer activist kicked out of her parents' home; and Celia, his grieving Portuguese-Canadian neighbour who lives just six metres away.  A slow-simmering romance develops between Ismail and Celia.  Meanwhile, dangers lead Fatima to his doorstep.  Each makes complicated demands of him, ones he is uncertain he can meet.
Awards and Honours
2012 Lambda Literary Award (Winner)
2012 Rainbow Award (Winner)
2012 Toronto Book Awards (Finalist)

Fiction
Stealing Nasreen: A Novel
Toronto: Inanna Publications and Education, 2007.
PS8607 .O35 S74 2007
Publisher's Synopsis
Set in Toronto with back story in Mumbai, Nasreen, an Indo-Canadian lesbian and burnt-out psychologist, becomes enmeshed in the lives of Shaffiq and his wife Salma, new immigrants to Canada.
While working in the same Toronto hospital, Shaffiq becomes increasingly fascinated with Nasreen, causing him to bring home and hide things that he "finds" in her office. Salma discovers some of these hidden treasures and suspects that something is amiss. In the meantime, Nasreen begins attending Salma's weekly Gujarati classes, and Salma too finds herself inexplicably attracted to her student. An impulsive kiss sets off a surprising course of events.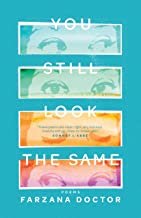 Poetry
You Still Look the Same
Calgary: Freehand Books, 2022.
e-book will be available
Publisher's Synopsis (From its website)
This debut poetry collection from acclaimed novelist Farzana Doctor is both an intimate deep dive and a humorous glance at the tumultuous decade of her forties. Through crisp and vivid language, Doctor explores mid-life breakups and dating, female genital cutting, imprints of racism and misogyny, and the oddness of sex and love, and urges us to take a second look at the ways in which human relationships are never what we expect them to be.
Selected Criticism and Interpretation
Basmadji, Ameera. "Re/Claiming Our Identities: Thinking Through Islamophobia, The Veil, and "The Muslim Woman" in Canadian Cultural Productions." M.A. diss., Toronto Metropolitan University, 2007.
Available from RShare
Chilana, Rajwant Singh. "Farzana Doctor." In South Asian Writers in Canada: A Bio-Bibliographical Study. Surrey, BC: Asian Publications, 2017, 189.
Z1376 .S68 C45 2017
Doctor, Farzana, "Farzana Doctor, August 28, 2019," interview by Kim Davids Mandar, In Appropriate: Interviews with Canadian Authors on the Writing of Difference (Guelph: Gordon Hill Press, 2020), 119-129.