Naseem Hrab is a writer, storyteller, lover of comedy and former library worker who now works in children's publishing in Toronto, Ontario. Naseem means spring breeze in Farsi and Hrab is Ukrainian for hornbeam tree. Listen to Naseem tell these meanings in her own voice.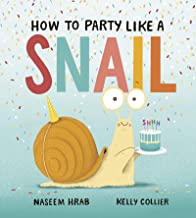 Fiction (Juvenile, Picture book)
How to Party Like a Snail
Illustrated by Kelly Collier.
Toronto: Owlkids Books, 2022.
Publisher's Synopsis (From its website)
Snail is a party animal. Well…kind of. He loves the quiet things about parties: confetti, making new friends (using his indoor voice, of course), and the silence before everyone yells, "SURPRISE!" But when parties get loud, Snail retreats into his shell. He's still partying, but no one can tell he's having a good time while he's tucked inside. His friends don't understand why he doesn't love loud parties like they do, and soon Snail's party invites begin to dry up.
In response, Snail decides to plan his own quiet party, complete with warm milk and lullaby lip-syncing. But something is missing—does Snail long for the "loud"after all? That's when Stump, a fellow introvert, chimes in with an idea. Maybe Snail isn't missing the "loud"…maybe he's just missing a friendto share the quiet. Together, Stump and Snail turn the lullabies down low and celebrate "the shush" together.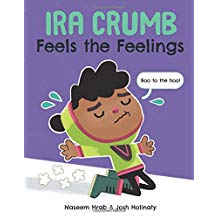 Fiction (Juvenile, Picture book)
Ira Crumb Feels the Feelings
Illustrated by Josh Holinaty.
Toronto: Owlkids Books, 2018.
Publisher's Synopsis (From its website)
Ira and Malcolm are best friends: they always make each other laugh, always eat lunch together, and always play together. But one day, a disagreement about whether to play tag or hide-and-seek sees the suddenly über-popular Malcolm run off with a crowd of tag-loving kids—and Ira all alone.
Ira's tummy hurts, his chin is wibbling, and his eyes are leaking. What's happening?! Any efforts to cheer him up fall flat. When Malcolm finally returns and asks what's wrong, Ira tells him: "I had all these feelings…and I didn't have you."
The second Ira Crumb book marks the return of an endearing character full of personality, humor, and heart. With lots of laughs and comics-style storytelling, it's a funny, touching look at how feelings can be confusing, and how processing emotions can take time—and a bit of help from a pretty good friend.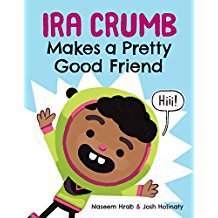 Fiction (Juvenile, Picture book)
Ira Crumb Makes a Pretty Good Friend
Illustrated by Josh Holinaty.
Toronto: Owlkids Books, 2017.
Publisher's Synopsis (From its website)
Meet Ira Crumb. He's the new kid in town. He knows what that means: when the new school year starts, he'll play alone at recess, eat alone at lunch, and walk home alone at the end of the day. So Ira launches a whole-hearted campaign to befriend neighborhood kids before the first day. But his best-laid plans — A sandwich stand! A dance-off! — fall flat, and playing it cool doesn't seem to work either.
Just as Ira decides school will be HORRIBLE, a comical misunderstanding connects him with Malcolm, who was the new kid last year and totally gets it — and who, it turns out, will make a pretty good friend.
Full of comedic touches, comics-style storytelling, and a diverse cast of quirky characters, this hilarious debut picture book puts an endearing spin on the anxiety that accompanies change and making friends.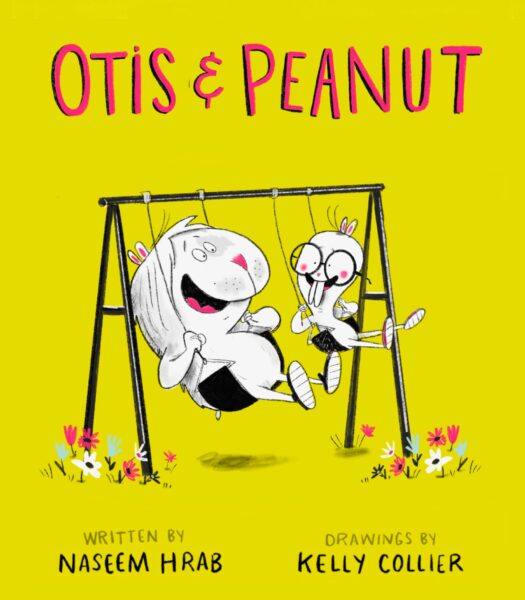 Fiction (Juvenile, Picture book)
Otis & Peanut
Drawings by Kelly Collier.
Toronto: Owlkids Books, 2023.
Publisher's Synopsis (From its website)
A long-haired guinea pig and a naked mole rat may seem like unlikely friends, but Otis and Peanut are a perfect pair!
In three stories told in graphic-novel form, Otis and Peanut explore themes of loss, fear of change, and cooperation, while demonstrating what it means to be a supportive and caring friend. In "The Haircut," Otis worries about getting a haircut because he's afraid he'll look so different that he'll no longer be himself. In "The Swing," Peanut helps Otis come to terms with missing a beloved friend. And in "The House," Otis struggles to make his house a home but succeeds with Peanut's help.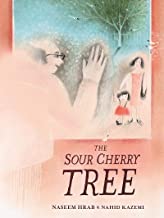 Fiction (Juvenile, Picture book)
The Sour Cherry Tree
Illustrated by Nahid Kazemi.
Toronto: Owlkids Books, 2021.
Publisher's Synopsis
After her grandfather's death, a young girl wanders through his house. As she tours each room, the objects she discovers stir memories of her grandfather—her baba bozorg. His closet full of clothes reminds her of the mints he kept in his pockets. His favorite teacup conjures thoughts of the fig cookies he would offer her. The curtains in the living room bring up memories of hide-and-seek games and the special relationship that she and her baba bozorg shared, even though they spoke different languages.
Awards and Honours
2022 Governor-General's Literary Award–Young People's Literature–Illustrated books (Winner)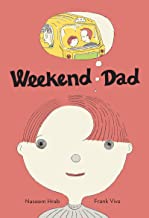 Fiction (Juvenile, Picture book)
Weekend Dad
Illustrated by Frank Viva.
Toronto: Groundwood Books, 2020.
Publisher's Synopsis (From its website)
"This home is home because my dad is here, and it's nothing like home because my mom isn't here," thinks the boy in this story when he enters his dad's new apartment for the first time. His dad moved out on Monday and now it's Friday night, the start of his weekend with his dad.
The boy and his dad follow their normal weekend routine — they eat eggs for breakfast, play cards and spend time at the park. And then they do the same things on Sunday. It is hard to say goodbye at the end of the weekend, but Dad gives his son a letter to remind him that, even if his dad can't always be there, the boy is loved.
Naseem Hrab has written a poignant yet hopeful story, strikingly illustrated in Frank Viva's signature style, about what happens when parents separate, and the new reality of having two homes.
Awards and Honours
2020 Governor General's Literary Award-Young People's Literature-Illustrated Books, English language (Finalist)
2021 Marilyn Baillie Picture Book Award (Finalist)