Taslim Burkowicz holds a bachelor's degree in political science and education from Simon Fraser University. She grew up in a Gujarati family, taught elementary school in Japan, and now lives in Surrey, BC.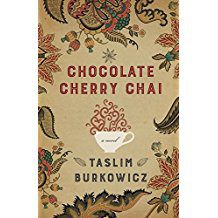 Fiction
Chocolate Cherry Chai
Halifax: Roseway Publishing, 2017.
PS8603 .U73776 C56 2017
Publisher's Synopsis (From its website)
Young, free-spirited Maya Mubeen leaves behind the pressures of family, marriage and tradition for a life of experience and adventure — proving to herself, and her mother, that she is anything but a typical Indian girl. After diving with sharks in the Philippines and a sordid breakup amidst the bustling nightlife of Tokyo, Maya's sense of who she is — and where home is — starts to falter.
An ancient chai-making ritual holds the key to Maya's past and present, unlocking the secret lives of her mother, Nina, who lived through Idi Amin's rule in Uganda, her grandmother, Nargis, forced into marriage at thirteen, her great-grandmother, Sukaina, an underground radical socialist who fled an abusive husband, and lastly, her great-great grandmother, Zainab, who left behind a luxurious life in India.
Traversing the globe and historical eras, Taslim Burkowicz's debut Chocolate Cherry Chai binds together themes of familial pressures, the immigrant experience, motherhood, love and loss into a poetic narrative.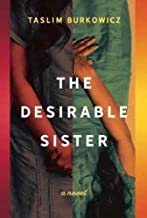 Fiction
The Desirable Sister
Halifax: Roseway Publishing, 2019.
PS8603.U73776 D47 2019
Publisher's Synopsis (From its website)
Gia and Serena Pirji are sisters, but as the first-generation born in Canada to immigrant parents, their lives play out in different ways because of their skin tone. Gia's fair skin grants her membership to cliques of white kids as a teen, while Serena's dark skin means she is labelled as Indian and treated as inferior. This superficial difference, imposed by a society obsessed with skin colour and hierarchy, sets the sisters into a dynamic that plays out throughout their lives. In a world where white skin is preferable, the sisters are pitted against each other through acts of revenge and competition as they experience adultery, ruined friendships, domestic abuse, infertility and motherhood.
Taslim Burkowicz's vivid, sensory-rich writing style brings readers to the party scene in Goa, suburban supermarkets in Vancouver and a safari in Africa, where Gia and Serena navigate through the highs and lows of a tumultuous, loving relationship. The Desirable Sister reveals the bitter games of treachery women are forced to play to achieve the ranks of beauty and success, and ultimately shows the strength of love between sisters.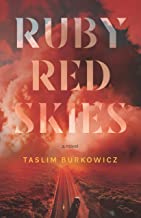 Fiction
Ruby Red Skies
Halifax, NS: Roseway Books, 2022.
forthcoming October 2022
Publisher's Synopsis (From its website)
Ruby used to be a fiery, sexy, musical genius. But when she got pregnant as a teenager in the 90s, her life took a turn into banality. Now a middle-aged Indo-Canadian woman, she feels unseen and unheard by her white husband and struggles to communicate with her mixed-race daughter. When she discovers her husband cheating, she embarks on a quest to unearth exciting secrets from her past. To find what she needs, she drives straight into B.C.'s raging wildfires, accompanied only by the fantastical stories her mother used to tell about their ancient Mughal ancestry — a dancer named Rubina who lived in the concubine quarters of the great Agra Fort. This book is at once historical fiction and political romance, deftly navigating themes of mixed-race relationships, climate change, motherhood, body shame, death and the passage of time.