Anna Yin was born in China and immigrated to Canada in 1999. She holds a B.S. from Nanjing University and a Creative Writing Certificate from the University of Toronto. Yin is a computer programmer and a poet. In 2015 she was named the inaugural poet laureate for Mississauga, Ontario for a two year term. In October 2021 Guernica Press will be publishing a collection of poetry that Anna Yin has translated: Mirrors and Windows: East-West Poems With Translations.
Poetry (Chapbook)
Beyond My Knowing
Mississauga, Ont.: Sureway International, 2005.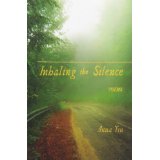 Poetry
Inhaling the Silence: Poems
Oakville, Ont.: Mosaic Press, 2013.
Poetry (Chapbook)
Jasmine Star Light
Thornhill, Ont.: Ontario Poetry Society, 2005.
Stanza break chapbook series ; #7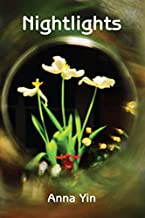 Poetry
Nightlights
Windsor, Ont.: Black Moss Press, 2017.
Publisher's Synopsis (From its website)
When Anna Yin was a child, she was intrigued by fireflies. Haiku are like these nightlights. In this troublesome world, they guide us on our journey unknown. Nightlights is a collection in six sections that illustrate the journey that is life. In the beginning one can find romance and mystery, then the haiku move to friends and family events, homesickness, daily meditation, and life's struggles. Next the journey shifts, speaking both of a season and a mood where one ponders natural disasters and human tragedies. Finally "Reflections" bring back thoughts, doubts and awakenings along the journey and finish with a haiku:
under dim stars
searching for
the road not taken
Each haiku brings to the reader a moment of wonder, beauty and magic. Every haiku will help you find a thread to the quietness of Nature and the depths of your own experience… Take your time, slow down, you will find nightlights glowing too.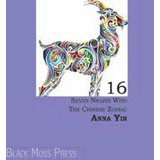 Poetry
Seven Nights with the Chinese Zodiac
Windsor, Ont.: Black Moss Press, 2015.
Publisher's Synopsis (From its website)
Seven Nights with the Chinese Zodiac was written in 2013 under the title "The Year of the Snake." It was a poem about one searching for meaning and faith during tragedies. Like the girl in Alice Munro's "Runaway" who eventually was trapped in a goat's skeleton, the poem didn't find its way out. When the Horse Year arrived, a horse poem came with the inspiration from Plato's Chariot Allegory and more animal poems gathered. She started to recognize that the zodiac in a human being's body and mind is shaped by space and time and transformed by history and reality. It called for a poetic form. Soon Seven Nights with the Chinese Zodiac was born and unleashed its animated voice and symbolic meaning in its broader and bolder ways. This collection takes on its own pace and develops into four sections: "Night Shades" meditates on fate, tragedies and loss, "Dried Roses" reflects love and longings, "Life Jars" collects incidents and stories from daily life and "The Self-Completing Tree" reveals the journey of finding identity and searching for freedom and faith.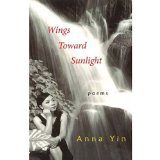 Poetry
Wings Toward Sunlight: Poems
Oakville, Ont.: Mosaic Press, 2011.
PS8647 .I5 W56 2011
Publisher's Synopsis (From its website)
Now in its second printing, Wings Toward Sunlight establishes Anna Yin's as one of the important new and original voices of Canadian poetry. Many of her poems have since been translated into Chinese and her work has received wide critical praise.