Ann-Marie MacDonald achieved considerable success as an actor and playwright before she rocketed to the best sellers lists with her first novel, Fall on Your Knees. She was born at the Canadian Forces Base in Baden-Baden, West Germany and grew up in several communities. Her Lebanese mother came from Sydney, Nova Scotia, and her father from nearby New Waterford. Fall on Your Knees draws upon her Lebanese and Cape Breton, N.S. heritage. Based on the success of her second novel, The Way the Crow Flies, the Canadian Booksellers Association nominated MacDonald for its 2004 Libris Award for Author of the Year.
MacDonald graduated from the National Theatre School in Montreal in 1980. She lives in Toronto and Montreal. On Dec. 27, 2018, MacDonald was appointed an Officer of the Order of Canada in recognition of her "multi-faceted contributions to the arts in Canada and for her advocacy of LGBTQ+ and women's rights."
Some of MacDonald's playscripts are available as digital scripts from the Canadian Play Outlet.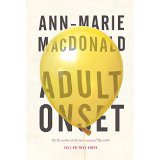 Fiction
Adult Onset
Toronto: A.A. Knopf Canada, 2014.
PS8575 .D38 A63 2014
Publisher's Synopsis (From the Penguin Random House Canada website)
Mary Rose MacKinnon—nicknamed MR or "Mister"—is a successful author who has opted to put aside her career in her 40s and devote herself to her young family. She lives in a comfortable urban neighbourhood with her partner, a busy theatre director, and their two children, trying valiantly and often hilariously to balance the demands of (mostly) solo parenting with the needs of her relentlessly spry but elderly parents. As a child, she suffered from an illness, long since cured and "filed separately" in her mind. But as domestic frustrations mount, she experiences a flare-up of forgotten symptoms which compel her to rethink her own childhood. Over the course of one outwardly ordinary week, Mister's world threatens to unravel, as the spectre of violence raises its head with dangerous implications for her and her children. Crafted with humour and unerring emotional accuracy, Adult Onset is a contemporary tale by turns searing and uplifting.
Awards and Honours
2015 Lambda Literary Award–Lesbian General Fiction (Finalist)
Fiction
Fall on Your Knees
Toronto: A.A. Knopf Canada, 1996.
Toronto: Vintage Canada, 1997.
PS8575 .D38 F3 1997
Publisher's Synopsis (From the Penguin Random House Canada website)
Following the curves of history in the first half of the twentieth century, Fall On Your Knees takes us from haunted Cape Breton Island, Nova Scotia, through the battle fields of World War One, to the emerging jazz scene of New York City and into the lives of four unforgettable sisters. The mythically charged Piper family—James, a father of intelligence and immense ambition, Materia, his Lebanese child-bride, and their daughters: Kathleen, a budding opera Diva; Frances, the incorrigible liar and hell-bent bad girl; Mercedes, obsessive Catholic and protector of the flock; and Lily, the adored invalid who takes us on a quest for truth and redemption—is supported by a richly textured cast of characters. Together they weave a tale of inescapable family bonds, of terrible secrets, of miracles, racial strife, attempted murder, birth and death, and forbidden love. Moving and finely written, Fall On Your Knees is by turns dark and hilariously funny, a story—and a world—that resonate long after the last page is turned.
Awards and Honours
1996 Commonwealth Book Prize –Best First Book (Winner)
1997 Canadian Authors Association Literary Award–Adult Fiction(Winner)
1997 Dartmouth Book Award–Fiction (Winner)
1997 Torgi Literary Awards for Books in Alternative Formats (CNIB-Produced fiction)(Co-winner)
1998 Libris Award – Fiction Book of the Year (Canadian Booksellers Association)(Winner)
2002 Oprah's Book Club
2010 Canada Reads (CBC Radio) (Finalist)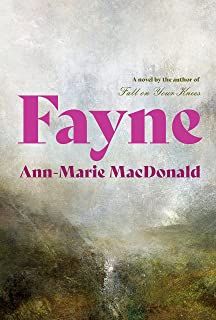 Fiction
Fayne: A Novel
Toronto: Knopf Canada, 2022.
will be ordered
Publisher's Synopsis (From the Penguin Random House Canada website)
In the late nineteenth century, Charlotte Bell is growing up at Fayne, a vast and lonely estate straddling the border between England and Scotland, where she has been kept from the world by her adoring father, Lord Henry Bell, owing to a mysterious condition. Charlotte, strong and insatiably curious, revels in the moorlands, and has learned the treacherous and healing ways of the bog from the old hired man, Byrn, whose own origins are shrouded in mystery. Her idyllic existence is shadowed by the magnificent portrait on the landing in Fayne House which depicts her mother, a beautiful Irish-American heiress, holding Charlotte's brother, Charles Bell. Charlotte has grown up with the knowledge that her mother died in giving birth to her, and that her older brother, Charles, the long-awaited heir, died soon afterwards at the age of two. When Charlotte's appetite for learning threatens to exceed the bounds of the estate, her father breaks with tradition and hires a tutor to teach his daughter "as you would my son, had I one." But when Charlotte and her tutor's explorations of the bog turn up an unexpected artefact, her father announces he has arranged for her to be cured of her condition, and her world is upended. Charlotte's passion for knowledge and adventure will take her to the bottom of family secrets and to the heart of her own identity.
Awards and Honours
2022 The Globe 100 (Globe and Mail, 2 Dec. 2022)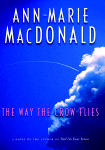 Fiction
The Way the Crow Flies
Toronto: A.A. Knopf Canada, 2003.
PS8575 .D38 W39 2003
Publisher's Synopsis (From the Penguin Random House Canada website)
In The Way the Crow Flies, Ann-Marie MacDonald takes us back to the early 1960's, a time of optimism infused with the excitement of the space race and overshadowed by the menace of the Cold War—a world filtered through the imagination of Madeleine McCarthy, a spirited nine-year-old. Unaware that her father, Jack, is caught up in his own web of secrets, she at first welcomes her family's posting to a sleepy air force base in southern Ontario.

The base, however, is home to some intriguing inhabitants, including the unconventional Froehlich family, and the odd Mr. March, whose power over the children is a secret burden that they carry. Then tragedy strikes, and a local murder intersects with global forces, binding the participants for life. As tension in the McCarthy's household builds, Jack must decide where his loyalty lies, and Madeleine learns about the ambiguity of human morality—a lesson that will become clear only when the quest for the truth, and the killer, is renewed twenty years later.
Awards and Honours
2003 Giller Prize (Nominated)
2004 Commonwealth Book Prize –Best Book (Caribbean and Canada Region)(Nominated)
2004 Libris Award – Fiction Book of the Year (Canadian Booksellers Association)(Winner)
2004 Libris Award – Marketing Achievement of the Year (Canadian Booksellers Association)(Nominated)
Anthology (Short story)
"The Hanged Man." In Gothic Toronto: Writing the City Macabre, ed. Helen Walsh. Toronto: Diaspora Dialogues, 2009, 51-64.
PS8329.7 .T6 G57 2009
Drama
The Arab's Mouth
Winnipeg: Blizzard Pub., 1995
This play was reworked into Belle Moral: A Natural History
Drama
The Attic, the Pearls and 3 Fine Girls
Co-authored with: Jennifer Brewin, Leah Cherniak, Alisa Palmer & Martha Ross.
Toronto: PUC Play Service, 1997.
Winnipeg: Scirocco Drama, 1999.
PS8500 .A88 1999
Publisher's Synopsis (Scirocco Drama website)
Jayne is a bi-sexual corporate shark, Jojo is a university professor obsessed with Brecht, and Jelly is an eccentric artist who loves boxes. A romp through the attic in the home of their recently-deceased father reminds the Fine sisters of their childhood and forces them to redefine their future together.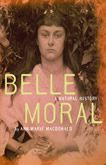 Drama
Belle Moral: A Natural History
Toronto: Playwrights Canada Press, 2005.
PS8575 .D38 B45 2005
This play is a reworking of The Arab's Mouth.
Publisher's Synopsis (From the Penguin Random House Canada website)
Set in 1899 just outside Edinburgh, the play unfolds in the venerable estate known as Belle Moral, home to Pearl MacIsaac, an avid amateur paleontologist and proud "new woman"; her maiden Aunt Flora, a sweetly maternal figure who nonetheless keeps an iron-grip on her set of keys; and a staff of quirky household retainers who seem to know more than they are willing say. As Pearl steels herself for the reading of her late father's will and the inevitable arrival of her wayward younger brother, Victor, she also does her best to dismiss the sinister signs that her home may house another occupant…one whose existence her aunt and the good Doctor Reid seem determined to keep secret.

This dark yet redemptive gothic comedy is a story both of family secrets that come to life, and the birth pangs of the modern era—but above all, it is truly a play of morals. Reaching out in two directions to reconcile the extremes of rationalism and romanticism, Belle Moral embraces a complex range of thought with Ann-Marie MacDonald's incisive insight and trademark wit.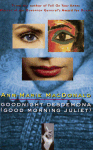 Drama
Goodnight Desdemona (Good Morning Juliet)
Toronto: Coach House Press, 1990.
Toronto: Playwrights Canada Press, 1996, c1990.
Toronto: Vintage Canada, 1998, c1990.
PS8575 .D38 G66 1997
PS8575 .D38 G66 1998
Publisher's Synopsis (From the Penguin Random House Canada website)
Goodnight Desdemona (Good Morning Juliet) is an exuberant comedy and feminist revisioning of Shakespeare's Othello and Romeo and Juliet. It takes us from a dusty office in Canada's Queen's University, into the fraught and furious worlds of two of Shakespeare's best-known tragedies, and turns them upside-down. Constance Ledbelly is the beleaguered "spinster" academic, and unlikely heroine who embarks on a quest for Shakespearean origins and, ultimately, her own identity. When she deciphers an ancient and neglected manuscript, Constance is propelled through a very modern rabbit hole and lands smack in the middle of the tragic turning points of each play in turn. Her attempts to save first Desdemona, then Juliet, from their harrowing fates, result in a wild unpredictable ride…
Awards and Honours
1990 Governor General's Literary Award–English Drama (Winner)
Selected Criticism and Interpretation
Atkinson, Andrew Peter. "Saltwater Sacraments and Backwoods Sins: Contemporary Atlantic Canadian Literature and the Rise of Literary Catholicism." Ph.D. diss., Wilfrid Laurier University, 2009.
Available from Proquest Dissertations and Theses
Breen, Margaret Sönser. "Remaking Gender Systems of Story: Sexual Violence in Bastard Out of Carolina and The Way the Crow Flies." Chap. in her Narratives of Queer Desire: Deserts of the Heart. New York: Palgrave Macmillan, 2009, 92-115.
PS153 .G38 B74 2009
Canadian Review of American Studies. Vol. 35, no. 2 (2005). Special issue: Ann-Marie Macdonald. Guest eds. Sara Matthews, Trish Salah and Dina Georgis.
Derksen, Celeste Daphne Anne. "Female Subjects in Selected Dramatic Comedies by Canadian Women." Ph.D. diss., University of Victoria, 1999.
Available from Proquest Dissertations and Theses
Flaherty, Jennifer. ""Chronicles of Our Time": Feminism and Postcolonialism in Appropriations of Shakespeare's Plays." Ph.D. diss., The University of North Carolina at Chapel Hill, 2011.
Available from Proquest Dissertations and Theses
Gordon, Neta. "Chartered Territory: Women Writing Genealogy in Recent Canadian Fiction." Ph.D. diss., Queen's University at Kingston, 2002.
Available from Proquest Dissertations and Theses
Hadfield, Dorothy Anita Lammert. "Reproducing Women's Dramatic History: The Politics of Playing in Toronto." Ph.D. diss., University of Western Ontario, 1999.
Available from Proquest Dissertations and Theses
Heiland, Donna. "Feminist, Postmodern, Postcolonial: Margaret Atwood and Ann-Marie Macdonald Respond to the Gothic." Chap. in her Gothic & Gender: An Introduction. Malden, MA: Blackwell, 2004, 156-179.
PR830 .T3 H37 2004
Howells, Coral Ann . ""How Do We Know We Are Who We Think We Are?": Ann-Marie Macdonald." In her Contemporary Canadian Women's Fiction: Refiguring Identities. New York: Palgrave Macmillan, 2003.
PS8089.5 .W6 H67 2003
Kennedy, Janet T. "Contemporary Canadian Women's Fiction: A Jungian Reading of Ying Chen's "L'Ingratitude", Christiane Frenette's "La Terre ferme", Ann-Marie MacDonald's "Fall on Your Knees", and Anne Michaels' "Fugitive Pieces"." Ph.D. diss., Universite de Sherbrooke, 2002.
Available from Proquest Dissertations and Theses
MacKay, Ellen. "The Spectre of Straight Shakespeare: New Ways of Looking at Old Texts in Goodnight, Desdemona and Mad Boy Chronicle." In Canadian Shakespeare, edited by Susan Knutson. Toronto: Playwrights Canada Press, 2010, [69]-76.
PR2880 .A1 C375 2010
Ramaswamy, S. "Beyond Feminism: Ann-Marie Macdonald's Goodnight Desdemona (Good Morning Juliet)." In his Commentaries on Canadian Literature. New Delhi: Prestige Books, 2006, 80-89.
PS8077.1 .R36 2006
Scott, Shelley. "Desdemona, Juliet and Constance Meet the Third Wave." In Canadian Shakespeare, edited by Susan Knutson. Toronto: Playwrights Canada Press, 2010, [146]-157.
PR2880 .A1 C375 2010
von Hahn, Dina. "The Challenge of Balance: A Personal Exploration of "Wuthering Heights" and "Fall on Your Knees"." M.A. diss., California State University, Dominguez Hills, 2000.
Available from Proquest Dissertations and Theses