Thao Lam is a Toronto-based illustrator and art buyer who studied illustration at Sheridan College. She is passionate about children's books and is very interested in visual storytelling. Skunk on a String, her first solo book, is a story-without-words told with cut paper collage illustrations. Lam was a toddler when her family fled Vietnam and found refuge in a camp in Malaysia prior to coming to Canada.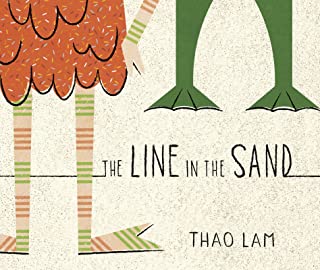 Fiction (Juvenile, Picture book)
The Line in the Sand
Toronto: Owlkids, 2022.
This is a story without words.
Publisher's Synopsis (From its website)
A monster meanders down a beach, dragging a stick behind them and leaving a line in the sand. Meanwhile, a group of friends is at play—flying kites, building sandcastles, tossing a ball—until two of them become curious about the line that now seemingly divides them. What does the line mean? Tensions mount as the two ponder the situation. Should the line be crossed? Can it be crossed? Eyes narrow, feathers get ruffled, and a scuffle starts, stemming from a series of misunderstandings and aggravated by the innocent, and very untimely, arrival of a bee. It's only when their stomping and kicking has completely erased the line in the sand that the friends realize their scrabble was senseless. They rejoin the others at play, where the line becomes part of their games, while in the background, the line's creator continues to meander across the page, oblivious to the impact of their actions.
This powerful wordless story, told in panels and illustrated in striking collage art, is at once simple, relatable, and profound and will encourage readers to think about conflict, communication, and the meaning of the lines we all draw, whether intentional or not.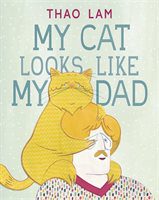 Fiction (Juvenile, Picture book)
My Cat Looks Like My Dad
Toronto: Owlkids, 2019.
PZ7.1 .L25 M923 2019
Publisher's Synopsis
Minimal text paired with bright paper-collage illustrations create comparisons on each spread in which the narrator talks about their family. A surprising twist at the end reveals the narrator's unexpected identity, also hinted at with clues in the art. It's a playful, warm and whimsical story about the love that makes a family a unit, no matter how unusual it may look from the outside.
Fiction (Juvenile, Picture book)
The Paper Boat: A Refugee Story
Toronto: OwlKids, 2020.
This is a story without words.
Publisher's Synopsis
In The Paper Boat, Thao's signature collage art tells the wordless story of one family's escape from Vietnam—a journey intertwined with an ant colony's parallel narrative.
At her home in Vietnam, a girl rescues ants from the sugar water set out to trap them. Later, when the girl's family flees war-torn Vietnam, ants lead them through the moonlit jungle to the boat that will take them to safety. Before boarding, the girl folds a paper boat from a bun wrapper and drops it into the water, and the ants climb on. Their perilous journey, besieged by punishing weather, predatory birds, and dehydration, before reaching a new beginning, mirrors the family's own.
Awards and Honours
2021-22 Hackmatack Children's Choice Award — English fiction (Finalist)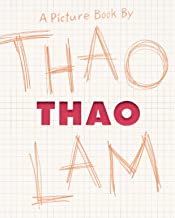 Fiction (Juvenile, Picture book)
THAO: A Picture Book
Toronto: Owlkids, 2021.
Publisher's Synopsis (From its website)
Even though it's only four simple, familiar letters long, nobody can ever pronounce Thao's name. She's been called Theo, Tail, even Towel! But the teasing names–Tofu, Tiny, China Girl–are worse. Maybe it's time to be someone else? Thao decides to try on a different name, something easy, like Jennifer.
It works, but only until she opens her lunchbox to find her mother's Vietnamese spring rolls, gỏi cuốn–Thao's favorite! Now, it feels a lot more comfortable to be herself.
Simple on the surface, this story inspired by Thao's own childhood is full of humor, heart, and important ideas of diversity, inclusion, and cultural pride. The story will be instantly relatable to readers who have ever felt different.
Designed with a playful emphasis on typography, and Thao's own childhood photos added to her signature cut-paper collage, THAO champions being true to yourself and your background, and being empathetic towards others. It is a celebration of all that's in a name and the power of owning your identity.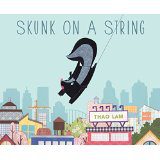 Fiction (Juvenile, Picture book)
Skunk on a String
Toronto: OwlKids, 2016.
This is a story without words.
Publisher's Synopsis (From its website)
In Skunk on a String, we meet a skunk who has been tied to the tail of a balloon. Try as he might, the persistent critter can't get anyone to untie him. In this wordless story, he is shooed and swatted through a bustling parade, past the windowpanes of the city's apartment buildings with their diverse, busy inhabitants, then up to the construction cranes high above the city. He floats through the zoo, into traffic, under water, and eventually lands atop a Ferris wheel. When he finally unties himself, the skunk misses the aerial life — so he comes up with an inspired way to fly again.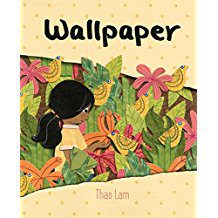 Fiction (Juvenile, Picture book)
Wallpaper
Toronto: OwlKids, 2018.
This is a story without words.
Publisher's Synopsis (From its website)
New from the creator of Skunk on a String comes Wallpaper, a wordless picture book in Thao Lam's signature paper collage style. It tells the story of a young girl whose family moves into a new house. Outside, she can hear other kids playing, but she's too shy to say hello. So she picks at the old wallpaper in her room—revealing an entryway to a fantastic imaginary adventure world behind the walls.
There, she runs between the vibrant and varied environments—surrounded by birds, swimming in a frog pond, in a herd of art-deco sheep—as she finds herself chased by a monster. He is frightening at first, until it becomes clear he simply wants to be her friend. When it comes time to go back to reality, the girl feels inspired with the courage to approach the other kids and say hello.
Awards and Honours
2018 Elizabeth Mrazik-Cleaver Canadian Picture Book Award (Finalist)