Jiv Parasram is an Indo-Caribbean multidisciplinary artist from Dartmouth (Halifax) Nova Scotia. Parasram studied at the University of Toronto where he earned an HBA in Theatre and International Relations. He began graduate studies in the Communication and Culture program run jointly by York and Toronto Metropolitan Universities. Parasram served as the associate artistic director at Theatre Passe Muraille in Toronto, and was the co-founder and artistic director of Pandemic Theatre, a socio-political theatre collective in Toronto. In 2018 he took on the position of artistic director of Rumble Theatre in Vancouver.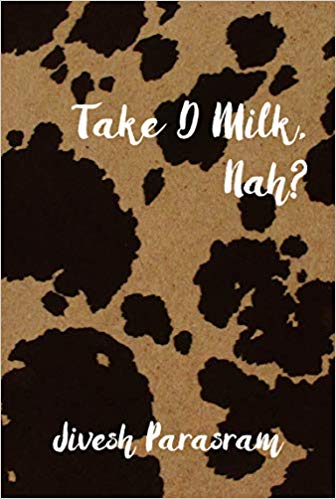 Drama
Take d Milk, Nah?
Toronto: Playwrights Canada Pres, 2021.
PS8631.A7365 T35 2021
Publisher's Synopsis (From its website)
Jiv is "Canadian. " And "Indian. " And "Hindu. " And "West Indian. " "Trinidadian," too. Or maybe he's just colonized. He's not the "white boy" he was teased as within his immigrant household. Especially since his Nova Scotian neighbours seemed to think he was Black. Except for the Black people—they were pretty sure he wasn't. He's not an Arab, and allegedly not a Muslim—at least that's what he started claiming after 9/11. Whatever he is, the public education system was able to offer him the chance to learn about his culture from a coffee table book on "Eastern Mythology. " And then he had a religious epiphany while delivering a calf in Trinidad. By now, Jiv's collected a lot of observations about trying to find your place in your world.
In this funny, fresh, and skeptical take on the identity play, Jivesh Parasram blends personal storytelling and ritual to offer the Hin-dos and Hin-don'ts within the intersections of all of his highly hyphenated cultures. This story asks the gut-punching questions: What divides us? Who is served by the constructs of cultural identity? And what are we willing to accept in the desire to belong? Then again—it doesn't really matter, because we are all Jiv.
Awards and Honours
2021 Governor General's Literary Award, Drama, English language (Finalist)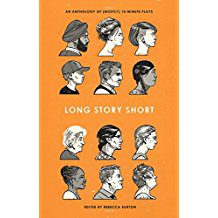 Anthology (Drama)
Long Story Short
Parasram, Jivesh. "The Only Good Indian." In Long Story Short: An Anthology of (Mostly) 10-minute Plays, edited by Rebecca Burton, 185-196. Toronto: Playwrights Canada Pres, 2016.
PS8309 .O5 L66 2016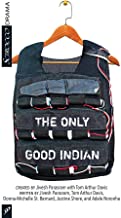 Anthology (Drama)
The Only Good Indian: Performance Texts
Presents five versions of performance texts by Jivesh Parasram, Tom Arthur Davis, Donna-Michelle St. Bernard, Justine Shore, and Adele Noronha.
Winnipeg: Scirocco Drama, 2022.
on order
Publisher's Synopsis (From its website)
The Only Good Indian is part lecture, part meditation, and part threat. Or maybe a sacrifice. Each incarnation of The Only Good Indian recruits a new artist to step into the radical headspace of a suicide bomber. In turn, each performer straps themselves into a suicide vest — and struggles to rationalize to the audience such an "irrational" decision. It dissects where our similarities begin and where they end, forcing both the performer and the audience to ask themselves: what would I die for? Blending political theory with dark satire, authors Donna-Michelle St. Bernard, Tom Arthur Davis, Adele Noronha, Jivesh Parasram, and Justine Shore take you on a wild ride through their genealogical relationships to colonization, occupation, otherness, and indigeneity.