The Fan Brothers are Eric and Terry, a creative team that made a writing debut with their illustrated children's book The Night Gardener. In a posting on Kirkusreviews.com, Vicky Smith notes that the elderly man who is the eponymous gardener and creator of the amazing topiary in the story is mentally modelled upon their Chinese father, Kuang Tih Fann. Eric Fan was born in Hawaii and raised in Toronto where he continues to live. He studied illustration, sculpture and film at the Ontario College of Art and Design (now OCADU). Terry Fan was born in Illinois and now lives in Toronto. He also received formal art training at the Ontario College of Art and Design. Eric and Terry have collaborated as illustrators of other people's work and have worked independently as illustrators.
With the publication of The Barnabus Project in 2020, the Fan Brothers now includes brother Devin Fan.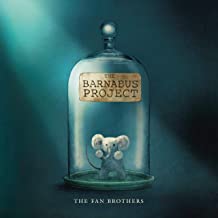 Fiction (Juvenile)
The Barnabus Project
With Devin Fan.
Toronto: Tundra Books, 2020.
Publisher's Synopsis (From its website)
In a world built for Perfect Pets, Barnabus is a Failed Project, half mouse, half elephant, kept out of sight until his dreams of freedom lead him and his misfit friends on a perilous adventure. A stunning picture book from international bestsellers The Fan Brothers, joined by their brother Devin Fan.
Deep underground beneath Perfect Pets, where children can buy genetically engineered "perfect" creatures, there is a secret lab. Barnabus and his friends live in this lab, but none of them is perfect. They are all Failed Projects. Barnabus has never been outside his tiny bell jar, yet he dreams of one day seeing the world above ground that his pal Pip the cockroach has told him about: a world with green hills and trees, and buildings that reach all the way to the sky, lit with their own stars. But Barnabus may have to reach the outside world sooner than he thought, because the Green Rubber Suits are about to recycle all Failed Projects . . . and Barnabus doesn't want to be made into a fluffier pet with bigger eyes. He just wants to be himself. So he decides it's time for he and the others to escape. With his little trunk and a lot of cooperation and courage, Barnabus sets out to find freedom — and a place where he and his friends can finally be accepted for who they are.
Awards and Honours
2020 Governor General's Literary Award-Young People's Literature-Illustrated Book, English language (Winner)
2021 TD Canadian Children's Literature Award (Winner)
2021 Marilyn Baillie Picture Book Award (Finalist)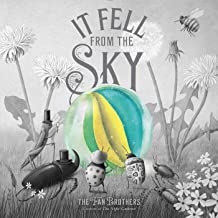 Fiction (Juvenile, Picture book)
It Fell From the Sky
New York: Simon & Schuster Books for Young Readers, 2021.
Forthcoming late September
Publisher's Synopsis (From its website)
It fell from the sky on a Thursday.
None of the insects know where it came from, or what it is. Some say it's an egg. Others, a gumdrop. But whatever it is, it fell near Spider's house, so he's convinced it belongs to him.
Spider builds a wonderous display so that insects from far and wide can come look at the marvel. Spider has their best interests at heart. So what if he has to charge a small fee? So what if the lines are long? So what if no one can even see the wonder anymore?
But what will Spider do after everyone stops showing up?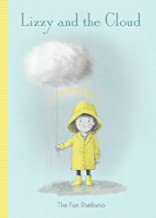 Fiction (Juvenile, Picture book)
Lizzy and the Cloud
Toronto: Simon and Schuster, 2022.
Publisher's Synopsis (From its website)
It's a little out of fashion to buy a pet cloud, but Lizzy doesn't mind. She's not looking for a big one or a fancy one, just one that's right for her. And she finds it in Milo.
Soon, she's taking Milo out on walks with her family, watering Milo right on schedule, and seeing Milo grow and grow. But what happens when her pet cloud gets too big for Lizzy to handle?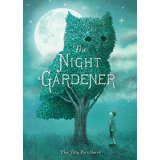 Fiction (Juvenile, Picture book)
The Night Gardener
Toronto: Simon and Schuster Canada, 2016.
Publisher's Synopsis (From its website)
One day, William discovers that the tree outside his window has been sculpted into a wise owl. In the following days, more topiaries appear, and each one is more beautiful than the last. Soon, William's gray little town is full of color and life. And though the mysterious night gardener disappears as suddenly as he appeared, William—and his town—are changed forever.
Awards and Honours
2016 Dilys Evans Founder's Award, Original Art (Society of Illustrators, New York, NY) (Winner)
2017 Ruth and Sylvia Schwartz Children's Book Awards–Children's Picture Book (Finalist)
2017 Blue Spruce Award (Ontario Library Association's Forest of Reading) (Winner)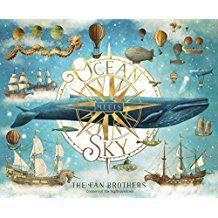 Fiction (Juvenile, Picture book)
Ocean Meets Sky
New York: Simon and Schuster Books for Young Readers, 2018.
Publisher's Synopsis
It's a good day for sailing. Finn remembers the stories his grandfather told him about a place where the ocean meets the sky: where whales and jellyfish soar and birds and castles float. Now that his grandfather is gone, Finn knows the perfect way to honor him. He'll build a boat. He'll set sail. He'll find this magical place himself!
Awards and Honours
2018 Governor General's Literary Awards, Young People's Literature, Illustrated Books (Finalist)