Vincent Lam was born in London, Ontario and raised in Ottawa. His parents are Chinese from Vietnam. Dr. Lam graduated from the University of Toronto and his early career was as an emergency physician in Toronto. For the last decade, he has worked in addiction medicine, a field that informs his latest novel, On the Ravine. Lam also lectured with the Department of Family and Community Medicine at the University of Toronto.  As a writer, Lam has published non-fiction in several Canadian newspapers and magazines including Toronto Life, and the Globe and Mail.  He has also written a brief biography of Canadian politician and social reformer Tommy Douglas published in Penguin Canada's Extraordinary Canadians series.  With Dr. Colin Lee he authored The Flu Pandemic and You: A Canadian Guide (Doubleday Canada, 2006). Lam served as executive editor and co-author of the textbook, Opioid Agonist Therapy: A Prescriber's Guide to Treatment, published in 2022.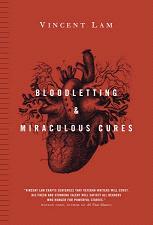 Fiction (Short stories)
Bloodletting & Miraculous Cures: Stories
[Toronto]: Doubleday Canada, 2006.
PS8623 .A467 B5 2006
Abridged Audiobook also available
Audio Visual PS8623 .A467 B5 2007
Publisher's Synopsis (From the Penguin Random House Canada website)
Following the interlinked stories of a group of medical students and the unique challenges they face, from the med school to the intense world of emergency rooms, evac missions, and terrifying new viruses. Riveting, convincing and precise, Bloodletting & Miraculous Cures looks with rigorous honesty at the lives of doctors and their patients, bringing us to a deeper understanding of the challenges and temptations that surge around us all.

In this masterful collection, Vincent Lam weaves together black humour, investigations of both common and extraordinary moral dilemmas, and a sometimes shockingly realistic portrait of today's medical profession.
Awards and Honours
2006 Giller Prize (Winner)
2007 Story Prize (Finalist)

Fiction
The Headmaster's Wager
Toronto: Doubleday Canada, 2012.
PS8623 .A467 H42 2012
Publisher's Synopsis (From the Penguin Random House Canada website)
The headmaster of the most respected English school in Saigon, Percival Chen is also a bon vivant, a compulsive gambler and an incorrigible womanizer. Fiercely proud of his Chinese heritage, and quick to spot the business opportunities rife in a divided country, Percival devotedly ignores all news of the fighting that swirls around him, choosing instead to read the faces of his opponents at high-stakes mahjong tables.

When his only son gets in trouble with the Vietnamese authorities, Percival faces the limits of his connections and wealth and is forced to send him away. In the loneliness that follows, Percival finds solace in Jacqueline, a beautiful woman of mixed French and Vietnamese heritage. But Percival's new-found happiness is precarious, and as the complexities of war encroach further and further into his world, he must confront the tragedy of all he has refused to see.
Awards and Honours
2012 Governor General's Literary Award–English language, Fiction (Finalist)
2013 Commonwealth Book Prize (Finalist)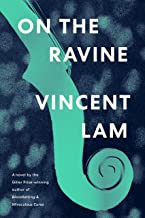 Fiction
On the Ravine: A Novel
Toronto: Knopf Canada, 2023.
Forthcoming Feb. 28, 2023.
Publisher's Synopsis (From Penguin Random House Canada website)
In his downtown Toronto condo, Dr. Chen awakens to the sound of streetcars below, but it is not the early morning traffic that keeps him from sleep. News banners run across his phone: Fentanyl Crisis; Toxic Drug Supply; Record Number of Deaths. From behind the headlines, on the same screen, glow the faces of his patients, the faces of the what-ifs: What if he had done more, or less; or something different? Would they still be alive?

Claire is a violinist; she feels at one with her music, taking flight in its melody, free in its movement. But now she rises and falls with the opioids in her system, becoming increasingly reckless. After two overdoses in twenty-four hours, she sits in the blue light of her computer, searching a notice board for recommendations: my doctor saved my life; my doctor is just another dealer. And then another message catches her attention, about Chen's clinic: be a guinea pig—why not get paid to take it?

When Claire's life intersects with Chen's, the doctor is drawn ever more deeply into the complexities of the doctor-patient relationship, the implication and meaning of his intention to treat. Chen must confront just how far he would go to save a life.