Paul Singh Sunga was born in Ottawa, Ont. He has a PhD in Medicine from the University of British Columbia as well as degrees in biology and philosophy. He worked for many years in Southern and Eastern Africa as well as Southern Asia in the fields of community development and public health. Sunga teaches medical sciences at Langara College in Vancouver, B.C., and also serves as an international development consultant.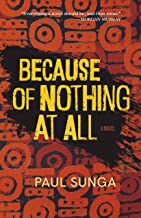 Fiction
Because of Nothing at All
Fredericton, NB: Goose Lane, 2022.
Forthcoming Sept. 2022.
Publisher's Synopsis (From its website)
Near the Kenya-Sudan border, a team of international health program evaluators are abducted and force marched under a desert moon. Their pasts and presents — and those of their abductors — unravel before them. An orphan named Money is one of 66 too hungry to sleep. A rich public health doctor is gradually losing his points of attachment. A driver tastes the river of wealth through the vehicles he's provided. Some escape; others are recaptured; a few are held at ransom. All are lured into schemes that often lead to unexpected results.
Because of Nothing at All is a story of choices, identity, and wealth, its richly drawn characters pitched into isolated and desperate circumstances. Born from the underbelly of the modern era of internationalism, Sunga's vividly compelling novel depicts the inequities of a world gone awry, where the lines between madness and sanity, between justice and injustice, are blurred, if not erased.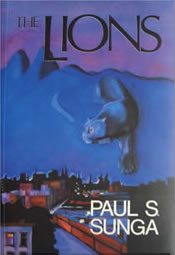 Fiction
The Lions
Victoria, B.C.: Orca, 1992.
Synopsis (From the author's website)
The Lions is the story of two men of diverse backgrounds struggling for survival in Northern and urban Canada. The vision here is one tinted by the displacement of people from their communities and families. This began, though, as a meditation on weakness of the will, the problem of akrasia, the philosophical question of whether a person can ever knowingly make a morally wrong choice. Jaswant Sijjer and Conrad Grey both grow up in broken families, and as adults they find themselves searching for ethical signposts. On a practical level they find themselves broken, running, and working together in a ditch…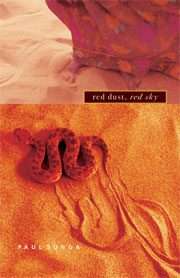 Fiction
Red Dust, Red Sky
Regina, Sask.: Coteau Books, 2008.
Publisher's Synopsis (From its website)
Red Dust, Red Sky is set in southern Africa during the time of official apartheid. A family originally from India lives in exile in the mountainous kingdom of Lesotho, a tiny country entirely surrounded by South Africa itself. The aftermath of the murder of a student activist at the hands of the South African police – betrayal, the struggle for redemption and years of life underground – is the basis for this powerful story. The language is beautiful, the plot riveting, the characters vivid, edgy and humorous, full of life and eccentric energy, sexual and otherwise.