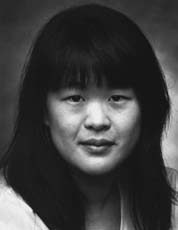 Playwright Betty Quan writes for the stage, radio and television. She is a graduate of the University of British Columbia.
Two of her plays used to be available in copyscript format from Playwrights Guild of Canada: Nancy Chew Enters the Dragon, and, The Dragon's Pearl. Other plays that have been produced include Fault Lines, and Ghost Train, that was adapted from the award winning book by Paul Yee and illustrated by Harvey Chan. Quan lives in Toronto.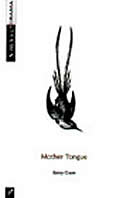 Drama
Mother Tongue
Montreal: Scirocco Drama, 1996.
PS8583 .U332 M68 1996
Publisher's Synopsis
Mother Tongue is a unique and innovative play that weaves together Cantonese, English and American Sign Language. It is about family loyalties, youthful dreams, and generational and cultural differences.
Set in Vancouver, [it] follows the life of a widowed middle-aged mother and her two children, Mimi, an aspiring architecture student, and 16-year-old Steve who lost his hearing at age 11.
Awards and Honours
1996 Governor General's Literary Award–English Drama (Nominated)
Other version:
"Mother Tongue." In Love + Relasianships: A Collection of Contemporary Asian-Canadian Drama. Volume 1, ed. Nina Lee Aquino. Toronto: Playwrights Canada Press, 2009, 163-189.
PS8309 .A75 L68 2009
Drama
Wired
Toronto: Playwrights Guild of Canada, 2013, c2009.
PS8568 .U34 W57 2013
Synopsis
A play for a juvenile audience (grades 2 to 7). This work deals with the topic of cyber bullying.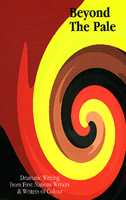 Anthology (Drama)
"One Ocean"
In Beyond the Pale: Dramatic Writing From First Nations Writers & Writers of Colour, eds. Yvette Nolan, Betty Quan, George Bwanika Seremba. Toronto: Playwrights Canada Press, 1996.
PS8307 .B49 2004 Rev. ed. selected by Yvette Nolan. 2004.
Anthology (Drama)
"Nancy Chew Enters the Dragon" [Excerpt from Scene III]
In Taking the Stage: Selections from Plays by Canadian Women, ed. by Cyndi Zimmerman. Toronto: Playwrights Canada Press, 1994.
PS8315 .T35 1994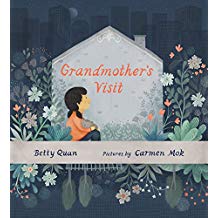 Fiction (Juvenile, Picture book)
Grandmother's Visit
Pictures by Carmen Mok.
Toronto: Groundwood Books, 2018.
Publisher's Synopsis (From its website)
Grandmother lives with Grace's family. She teaches her how to measure water for rice. She tells her stories about growing up in China and together they savor the flavors of her childhood. Grandmother says goodbye when she drops Grace off at school every morning and hello when she picks her up at the end of the day.
Then, Grandmother stops walking Grace to and from school, and the door to her room stays closed. Father comes home early to make dinner, but the rice bowls stay full. One day, Grandmother's room is empty. And one day, Grandmother is buried. After the funeral, Grace's mom turns on all the outside lights so that Grandmother's spirit can find its way home for one final goodbye.
Awards and Honours
2018 The Globe 100 (Globe and Mail, 1 Dec. 2018)
2019 IODE Jean Throop Book Award (Finalist)
2018-2019 Asian/Pacific American Award for Picture Books (Honor title)
Non-fiction (Comic book)
Nitro!
Art by Michael Dixon.
Toronto: McClelland and Stewart, 1998.
Synopsis
This is a comic book account of the Chinese labourers who helped to build the Canadian Pacific Railroad in the late 19th century. This was one of a series of comics distributed as premiums through McDonald's Restaurants (Canada).
Selected Criticism and Interpretation
Rodgers, Jenna. "Manipulating Theatrical Space to Create Physical Space: Betty Quan's Mother Tongue Reclaiming Space for the Indiviual." In Asian Canadian Theatre, ed. Nina Lee Aquino and Ric Knowles. Toronto: Playwrights Canada Press, 2011, 171-182.
PS8089.5 .A8 A835 2011
Ty, Eleanor, ""All of Us Are the Same": Negotiating Loss, Witnessing Disability," chap. in Unfastened: Globality and Asian North American Narratives. Minneapolis: University of Minnesota Press, 2010, 43-62.
PS153 .A84 T9 2010 (also available as an e-book)