Goh Poh Seng was born in Kuala Lumpur, Malaya in 1936. He studied medicine at the University College in Dublin then moved to Singapore in the early 1960s where he worked as a medical doctor for many years. He moved to Canada in 1986 and worked as a doctor in Newfoundland and Labrador for about a decade. He passed away in Vancouver in January 2010.

Poetry
As Though the Gods Love Us
Roberts Creek, B.C.: Nightwood Editions, 2000.
PS8563 .O822 A97 2000
Publisher's Synopsis
This collection … covers recent work written since his emigration to North America as well as earlier, unpublished poems. From Vancouver neighbourhoods to the Alaskan wilderness and Mexico, Goh's sensibility touches both people and landscapes, ranging in tone from the epic and political to the intimate and personal.
Poetry
Bird with One Wing: A Sequence of Poems
Singapore: Island Press, 1982.
Poetry
Eyewitness
Singapore: Heinemann Educational Books (Asia), 1976.

Poetry
The Girl From Ermita & Selected Poems 1961-1998
Gibsons, B.C.: Nightwood Editions, 1998.
Publisher's Synopsis (from it's website)
This collection by the award-winning writer Goh Poh Seng is the first volume of his poetry published in North America. It spans more than thirty-five years of his work and traverses cultures as well as continents.
Goh's settings range from the wharfs at Singapore's harbour to a backwater bar in Papeete, Tahiti, from a park in Halifax to the streets of Vancouver.
Poetry
Lines From the Batu Ferringhi

Fiction
A Dance of Moths
Singapore: Select Books, 1995.
Publisher's Synopsis (from Harbour Publishing website)
In his third novel, A Dance of Moths, Goh explores the complex lives and human relationships of two men in modern Singapore.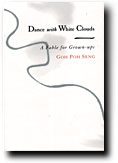 Fiction
Dance With White Clouds: A Fable for Grown-ups
Hong Kong: Asia 2000, 2001.
Publisher's Synopsis (from it's website)
[This] is the story of a man who, on his birthday, is able to reflect on the preceding 60 years with complete satisfaction. He has everything a man could want, wealth, position, family, so, of course, he is dissatisfied and does the only thing a man in his position could do. He runs away. A comic fable about the paradoxes of life as the hero attempts to remake his life again – and again?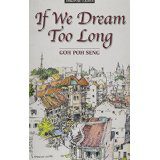 Fiction
If We Dream Too Long
Singapore: Island Press, 1972.
Singapore: NUS Press, 2010.
PS8563 .O822 I4 2010
Awards and Honours
National Book Development Council of Singapore's Fiction Book Award (Winner)
Fiction
The Immolation
Singapore: Heinemann Educational Books (Asia), 1977.
Drama
The Moon is Less Bright
Drama
When Smiles are Done