Once you've set up your course for Library Course Readings, use your @torontomu.ca email account to submit your syllabus or reading list to the Library at reserve@torontomu.ca. Library staff will add the readings to your course for you.
Your email (see example below) should contain the following information:
Course Information
Course Code/ Course Name
Term material is requested for
Section codes (if applicable)
Instructor name(s)
Department
Anticipated enrolment
Duration of the course/number of times it will run during the current academic year
If the course is run through DE (i.e. Ektron)
Citation Information
Author name
Article or chapter name
Name of journal or source book
Date of publication and/or volume and issue
Page range used
Publisher name (for book chapters)
ISSN or ISBN (if you have it)
If you are attaching a syllabus or reading list, it should be in Word rather than pdf format.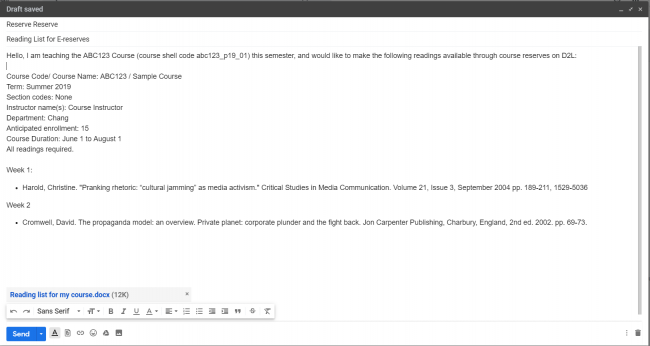 Instructor Tags
It is possible to organize your reading list in D2L by specific weeks, modules, and other subsections. These are known as Instructor Tags. The course reading list will be organized according to their tags in your course on D2L. If you would like to have your readings organized by subsections, please include that information as well.
Deadlines and Processing
Check our main e-Reserve page for request Deadlines . E-reserve requests are processed on a first-come-first-served basis, so it is best to submit requests early. We understand that contract faculty are not always able to do this due to contract start dates. Remember, if something requires permission from a publisher or creator, it will take extra time for the library to process.
If you are submitting requests for course readings after the E-Reserve deadlines, the Self Serve Readings option is often a quicker way to get your readings processed and available to students.